Football fans rejoice — the Knights return to the field this month. The reigning back-to-back American Athletic Conference Champions are the favorites to claim the league trophy once again, and they start their 2019 campaign at home Aug. 29 against Florida A&M on CBS Sports Network. The two teams will meet for the first time since 1987.
The Knights return 39 letterwinners and 13 starters from last year's team, which went 12-1 — the second-best record in program history — and finished the year ranked 11th in the Associated Press' national rankings and 12th in the Amway Coaches Poll. UCF begins this year ranked 17th in the country as one of two programs from the state of Florida to appear among the top 25.
Although the team's historic 25-game win streak snapped at the Fiesta Bowl in January, the team is still riding some streaks into this season:
UCF holds a school-record 15-game winning streak at home in Spectrum Stadium.
UCF has scored at least 30 points in 26 straight games, which is the longest run by any team in college football over the last eight decades.
UCF has forced at least one turnover in its last 32 games, dating back to 2016, a streak that leads the nation.
Whether you'll be attending your first Knights game or have been a longtime season ticket holder, this complete game day guide will help you live your best fan life.
First Game Campus Closure | Tickets | Stadium Policies | Parking and Shuttles | Game Day Safety | Tailgating | Game Day Traditions | Watch Parties | Social Media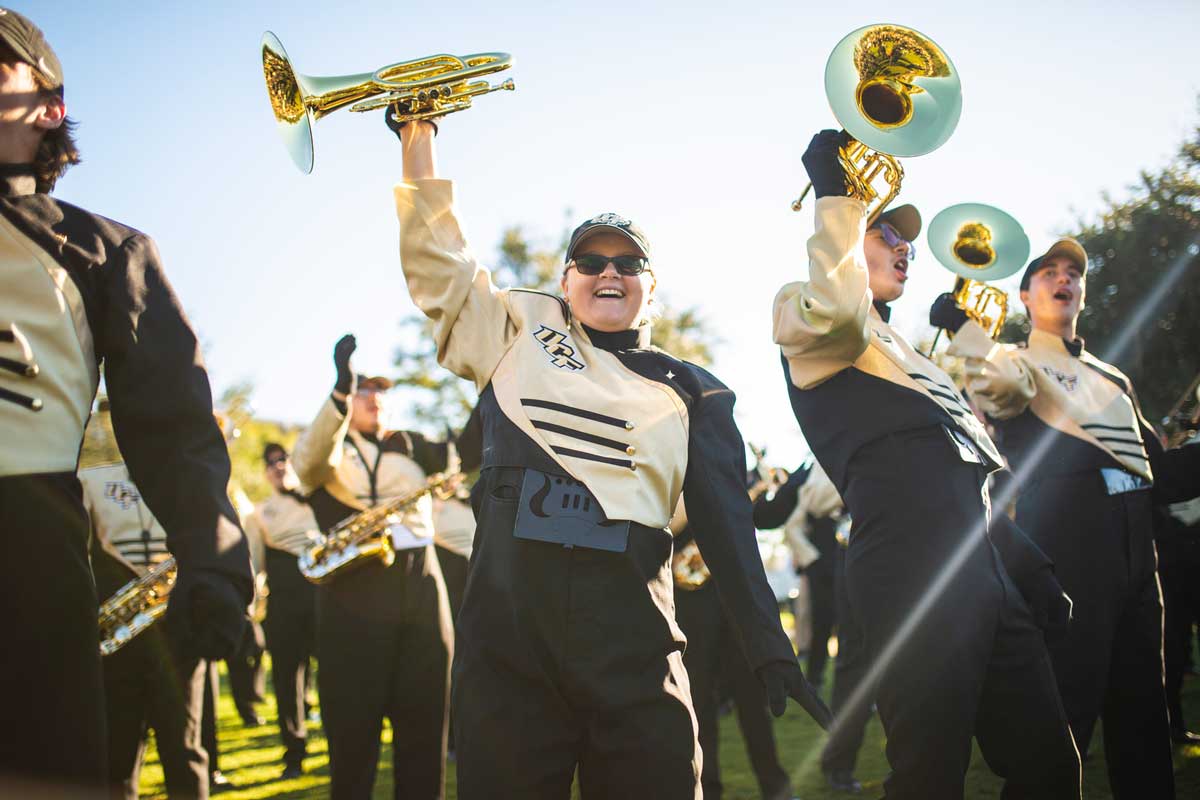 id="first">First Game
Florida A&M | Thursday, Aug. 29 | 7:30 p.m. | CBS Sports Network

Classes on the main campus, in the Central Florida Research Park, at UCF Downtown, at the Rosen College of Hospitality Management and on the UCF Connect campuses will conclude at 2 p.m. Offices at those locations also will close for normal operations at 2 p.m. in order to allow adequate time for a smooth transition to game day activities.
Regular university parking policies will be in effect until 2 p.m.
In order to provide students with additional time to study, the John C. Hitt Library will remain open until 5 p.m.
Some staff members may be required to work past the time when the university closes. In those cases, employees can speak with their supervisors about how their areas will handle operations after 2 p.m.
UCF will re-open for normal business operations, including regular class and activity schedules, at 6 a.m. Friday, Aug. 30. Staff members whose regular work hours begin prior to 6 a.m. should consult with their supervisors about starting times.
– Saturday Classes
During Saturday game days, UCF will conduct morning classes. Afternoon classes will be canceled, and classroom buildings will be locked at noon. Faculty and staff members with keys may access the buildings after noon if they are conducting official business. However, they are advised to make sure that doors remain locked after they enter/exit. Students may not access classroom buildings after noon on Saturday game days.
UCF will reserve parking lot B4 for staff and faculty members conducting official university business on campus. For more information about official university business parking, contact Peter Wallace at 407-823-3612 or peter.wallace@ucf.edu.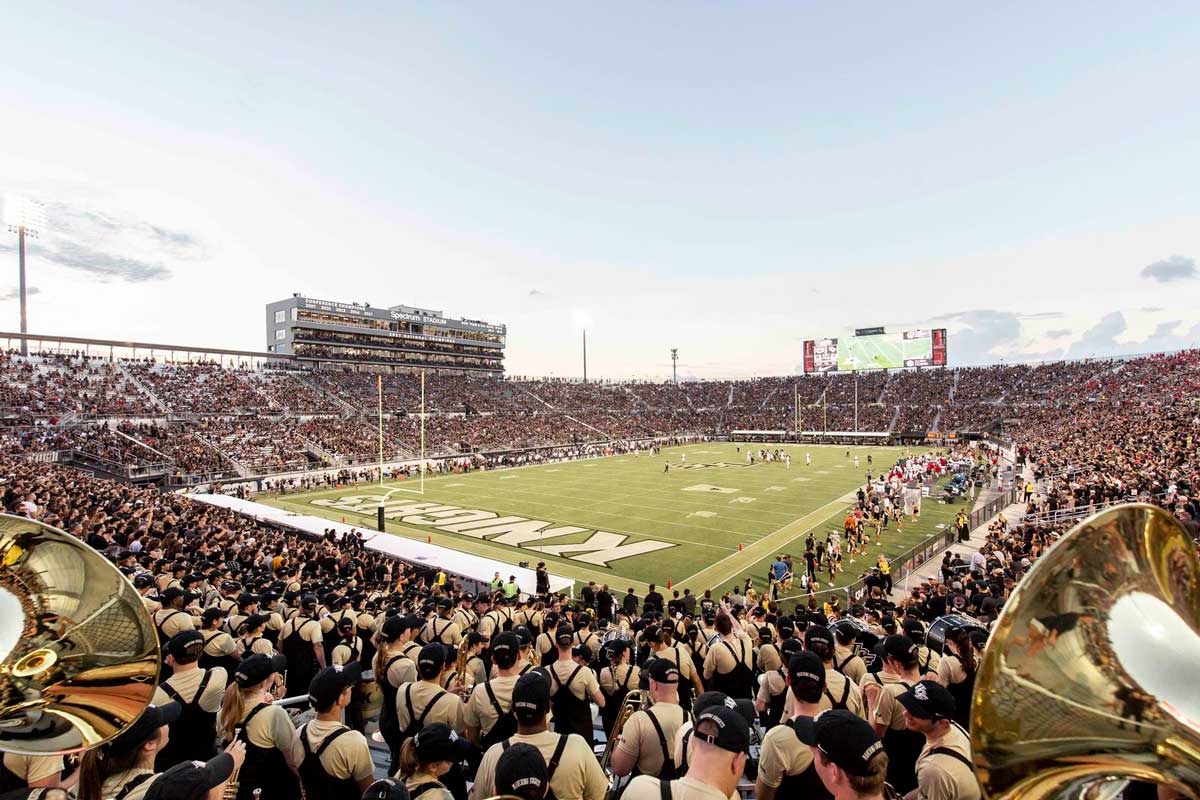 Tickets
Tickets for Knights' home games in 2019 are going to be difficult to come by. For the first time in school history, UCF has sold its entire season-ticket allotment. Minimal inventory remains based on extremely limited single-game tickets and some flexibility given the uncertainty of visiting team allotment use. If any single-game tickets are available, they can be purchased on the football tickets webpage on ucfknights.com.
Unprecedented demand for UCF football tickets has prompted the athletic department for the first time to create a formal waiting list for future season tickets. Call 407-823-1000 (option 1) to register your interest. All those individuals will be provided first access, in order of registration, at any future point that additional seating inventory comes available (either general admission or premium seat options).
– Student Passes
Admission to home games are free for UCF students, but passes must be claimed through the UCFStudentTix.com prior to game day. Claiming a free student pass does not guarantee entry as admission is first come, first served.
Step 1: To claim your free pass, log into UCFStudentTix.com using your Knights email. Note: All UCF students are allowed to claim a pass. To reiterate, claiming a pass to a game does not guarantee entry and early arrival is encouraged.
Step 2: Opt in for receiving messages. A text will be sent to your phone on Monday morning of game week to accept your seat. There is no assigned seating as the student section is first come, first served.
Step 3: Once you arrive at the gate, you must have your phone in order to scan the ticket barcode, *AND* you must show your student ID for entry into the stadium.
Student guest passes can also be claimed through the service. To claim a guest pass (one per UCF student), a separate text message will be sent Monday of game week. Guest pass pricing will be $28 through the platform at any time of the day.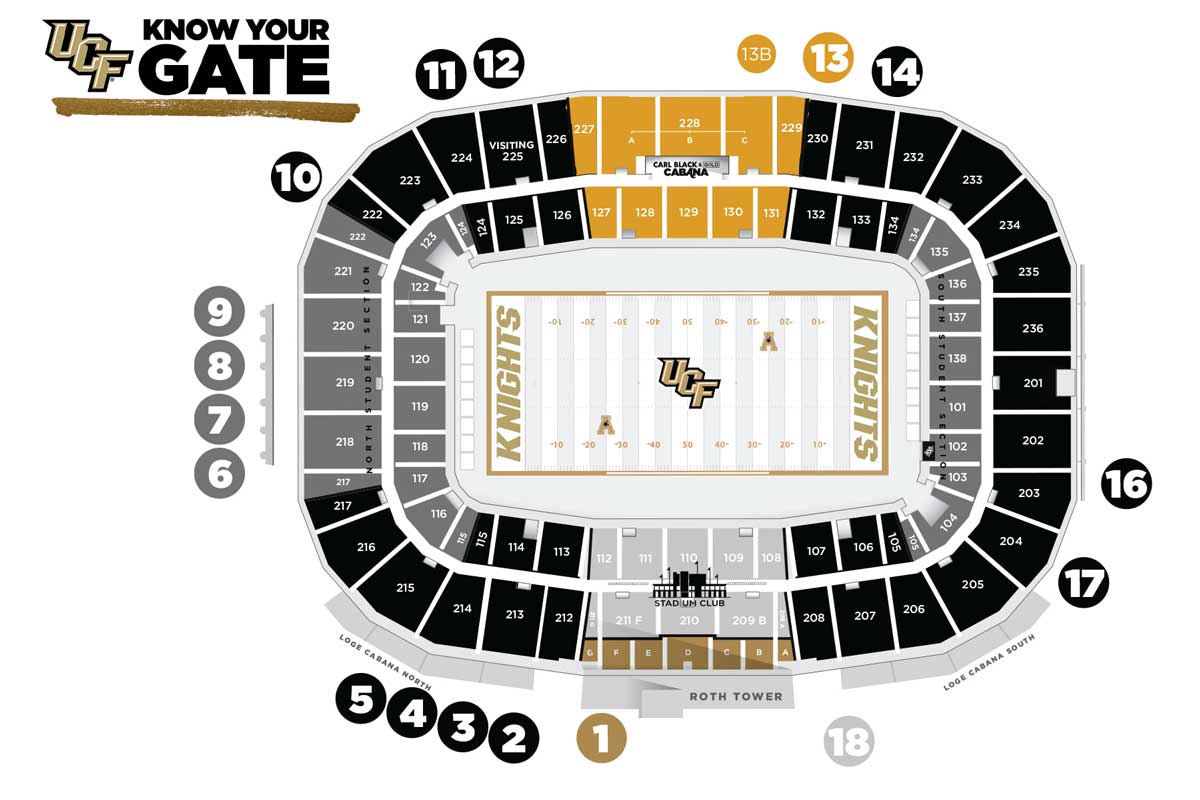 Know Your Gate Entry
It is important to know your gate before entering Spectrum Stadium. The appropriate gate is listed on your game ticket. Fans can also locate their gate, which is broken down by stadium section, listed in the graphic above.
Note: Gate 15 no longer exists as a point of entry due to the new Garvy Center for Student-Athlete Nutrition.
Clear Bag Policy
To provide a safer environment and more expedited entry for fans, UCF abides by a clear bag policy that limits the size and type of bags that may be brought into all sporting events at Spectrum Stadium. It is strongly recommended you familiarize yourself with the policy if you plan on attending a game to learn what is and is not permitted inside the stadium.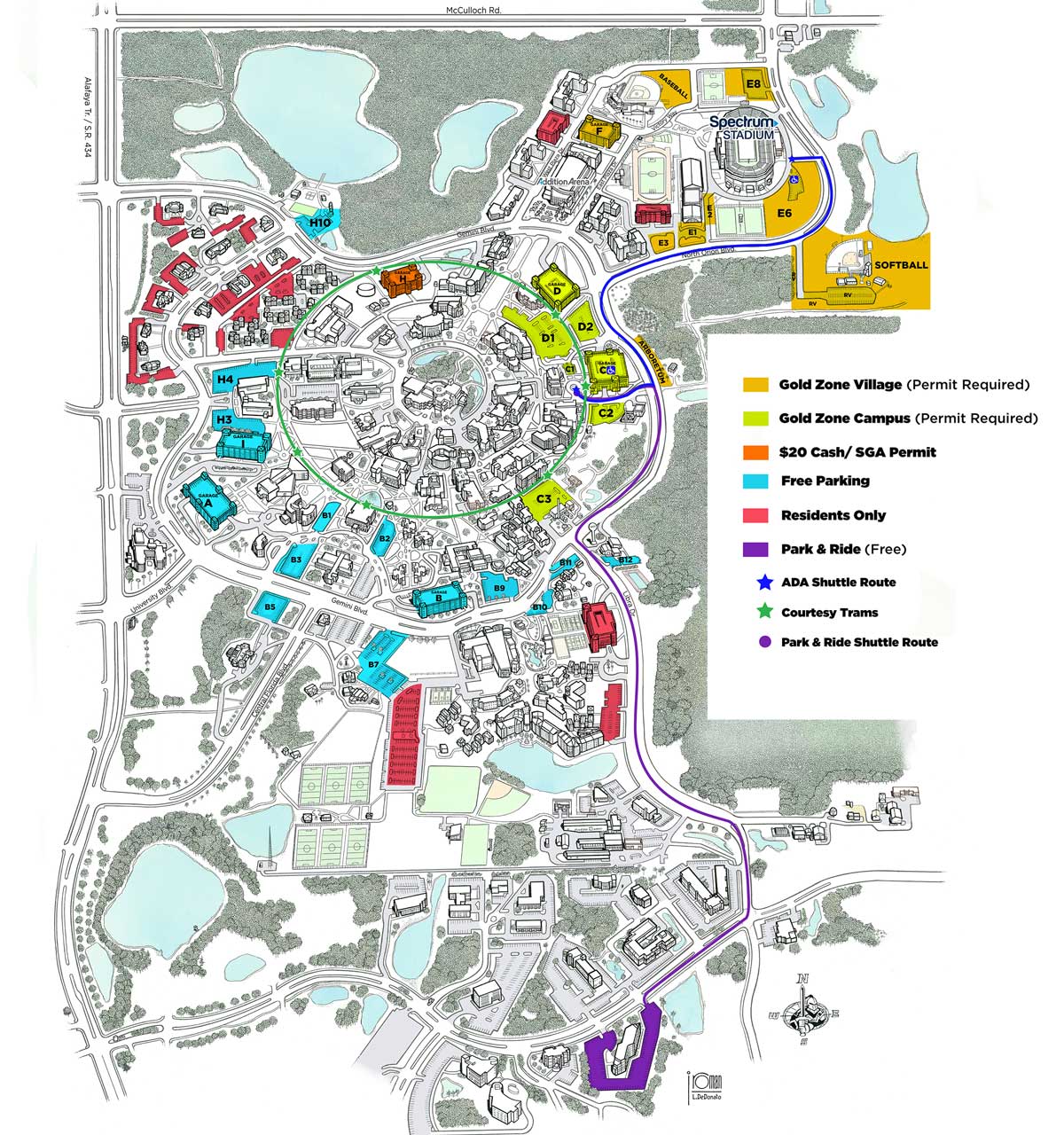 Parking and Shuttles
Free parking is available for fans on a first-come, first-served basis in certain lots and garages on campus. The Gold Zone lots near the stadium require a game day parking permit. Note: Residential lots are reserved at all times for students living on campus.
Baseball Lot, Softball Lot; Lots E1-E8 and Garage F (Gold Zone permit required):
8 a.m. for all Saturday games and USF game (Nov. 29)
2 p.m. for the FAMU game on Thursday, Aug. 29
All other campus lots:
Six hours before kickoff, but no earlier than 8 a.m., for all Saturday games and USF game (Nov. 29)
3:30 p.m. for the FAMU game on Thursday, Aug. 29
UCF will continue to offer $20 cash parking in Garage H on game days, which will be available to all fans. The proceeds fund first-generation scholarships.
– Accessible Parking
New for the 2019 season, parking for guests with disabilities has moved to the first level of Garage C to more than double the number of available spaces. Parking for guests with disabilities is available with a proper Florida Department of Highway Safety and Motor Vehicles permit on a first-come, first-served basis. The individual who was issued the permit must be with the vehicle. Garage C is located at the intersection of North Orion Boulevard and Scorpius Street. A free shuttle for patrons with disabilities and fans who accompany them will be provided from the bus stop adjacent to Garage C to Spectrum Stadium (Gate 14). Those shuttles will run from three hours prior to kickoff until two hours after kickoff. Throughout the game and postgame, shuttles will be available, picking up from Gate 14, to return patrons with disabilities to Garage C.
Additional accessible parking spaces are available throughout the campus, and these spaces are available on a first-come, first-served basis to any guest with a disability who displays an authorized Florida Department of Highway Safety and Motor Vehicles permit; however, no direct shuttle service will be available for these spaces.
For more details regarding game day parking and traffic, visit ucfknights.com.
Shuttles
Fans can avoid game-day traffic by parking at Research Pavilion and catching a Park and Ride shuttle. Fans may park at the Research Pavilion building, located at 12424 Research Parkway in the Central Florida Research Park adjacent to campus, and be transported to the Research 1 Transit drop-off, adjacent to Garage C near Memory Mall. The shuttles start four hours before kickoff and end two hours after the game ends.
Shuttles will continue to pick up students from all the apartment complexes around campus that are normally serviced, except for NorthView, Tivoli and Northgate because of their proximity to the stadium. Student shuttles start five hours before kickoff and end two hours after the game ends.
– UCF Downtown
Student shuttles operate from the UCF Downtown Campus to the Lynx Transit Center three and five hours prior to kickoff and depart UCF main campus 2 hours and 30 minutes and four hours after kickoff. For the Aug. 29 game, there will be a 3:30 and 4:30 p.m. departure from UCF Downtown and 10 p.m. and 11:30 p.m. departure from UCF Lynx Transit Center. A valid UCF ID is required to access UCF Downtown shuttles.
– Rosen College
For weekend games, student shuttles from the Rosen College of Hospitality Management depart the Rosen campus four hours prior to kickoff. The shuttle leaves campus to return to the Rosen College 4 hours and 30 minutes after kickoff from the Student Union shuttle stop. For the August 29th game, shuttles will depart Rosen College at 3:30 p.m. and leave the main campus at midnight. A valid UCF ID is required to access UCF Rosen shuttles.
– Palm Valley
Shuttles pick up passengers from the Palm Valley community 1 hour and 30 minutes and 1 hour prior to kickoff. Shuttles depart campus 3 hours and 45 minutes after kickoff from stadium gate 13.
For more details regarding shuttles, visit ucfknights.com.
Game Day Safety
Protecting campus is the UCF Police Department's top priority, so if you see activity that looks suspicious, say something. UCFPD can be reached 24/7 by calling 407-823-5555 or 911 in an emergency.
And remember to stay hydrated. Four Water Monster stations will be located inside the stadium around each of the four corners of the lower level concourse to provide fans with complimentary ice water.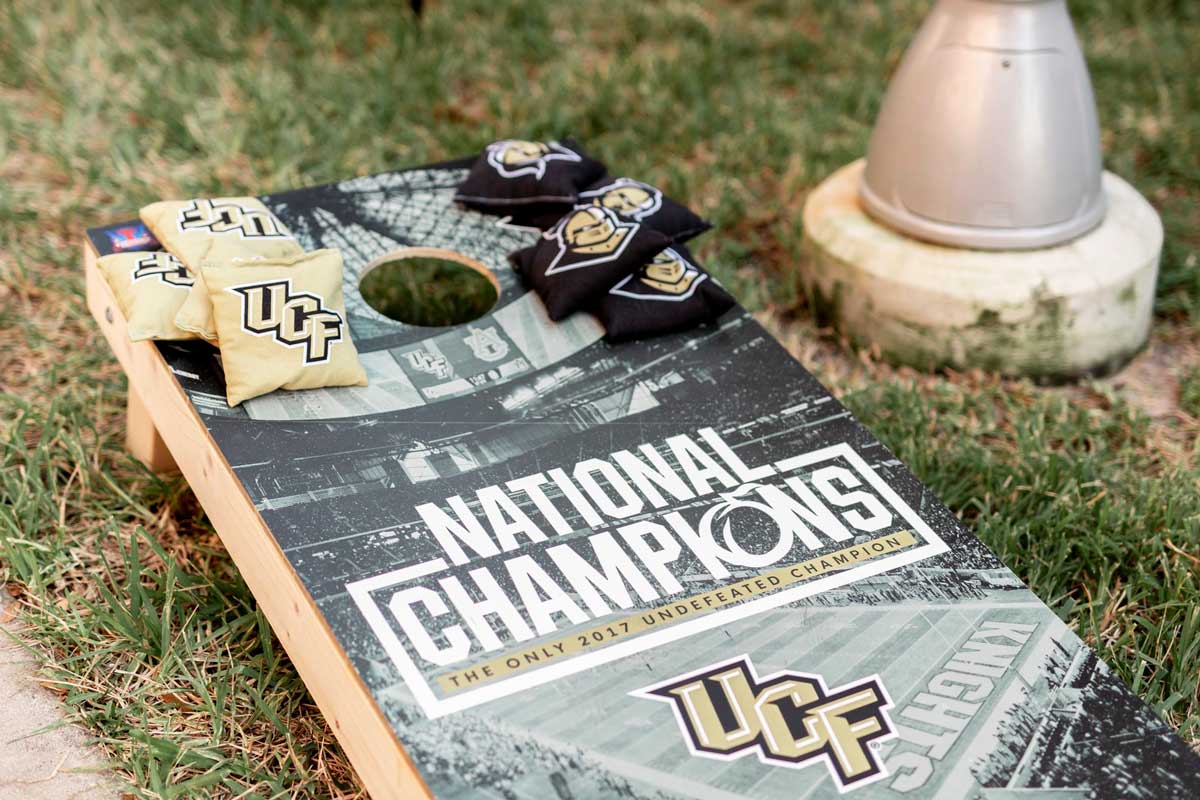 (Photo by Nick Leyva '15)
Tailgating
Please review the permitted lots and hours:
– Baseball Lot, Softball Lot; Lots E1-E8 and Garage F (Gold Zone permit required):
8 a.m. for all Saturday games and the USF game on Friday, Nov. 29
2 p.m. for the FAMU game on Thursday, Aug. 29
– All other campus lots
Six hours before kickoff, but no earlier than 8 a.m., for all Saturday games and the USF game on Friday, Nov. 29
3:30 p.m. for the FAMU game on Thursday, Aug. 29
– Memory Mall
This season, prime tailgating spots on Memory Mall are again available to students and alumni only through the Knights on the Mall online reservation system. The reservation system will open at 6 p.m. on the Sunday before each home game. The spots go fast, so reserve your space early. Only Memory Mall requires reservations. Knights fans are welcome to tailgate without reservations in any other allowed areas on campus (see above), and all fans are still welcome to enjoy the other activities on Memory Mall.
– UCF Alumni Indoor Tailgate
Alumni (and their guests) have access to a FREE indoor tailgate at the UCF FAIRWINDS Alumni Center. All you need is a valid ID/driver's license. Indoor tailgates begin three hours before kickoff and feature appearances by the UCF spirit team and Knightro, family friendly game room, barbecue available for purchase, complimentary beverages, air conditioning and clean restrooms.
And if you're looking for suggestions on how to throw the best tailgate party, you'll want to read this guide highlighted in Pegasus magazine that features advice from some UCF experts.
– Tailgate Concert Series
Smash Mouth is set to open up the UCF Tailgate Concert Series presented by Pacifico on Aug. 29. The show will begin at 5:30 p.m. on IOA Plaza.
Each UCF Tailgate Concert Series show begins approximately 2 hours prior to kickoff and are contingent on UCF football kickoff times. Check out the game-by-game concert series lineup for the 2019 season.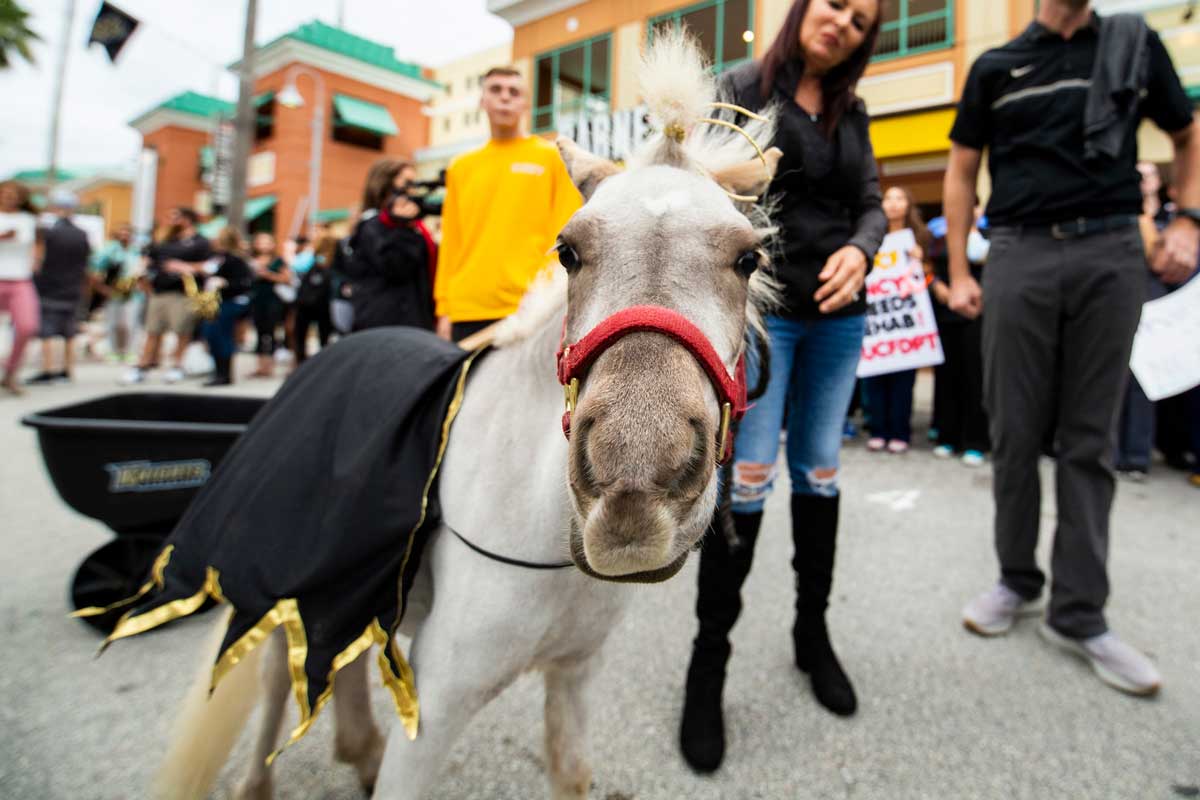 Game Day Traditions
#UCFansWear encourages fans to coordinate their colors, beginning with anthracite (gray) for the first home game Aug. 29. Check out the complete list on the #UCFansWear webpage. Need a reminder? Check Twitter (@UCF_Football) on Thursdays of game week for the wardrobe choice.
Knight Walk through IOA Plaza (starts two hours and 20 minutes before kickoff). Greet the student-athletes and coaches as they arrive on campus and make their way into the stadium.
Tailgate Concert Series (
March to Victory (90 minutes before kickoff) — join Pegasus, Knugget, Knightro, the Marching Knights and the UCF spirit teams near Knights Plaza, on the corner of Gemini and East Plaza Drive, for the fan march to the stadium.
Turn on your cell phone flashlights for kickoffs.
When you hear Zombie Nation, bounce.
Sing the alma mater after the game with the team.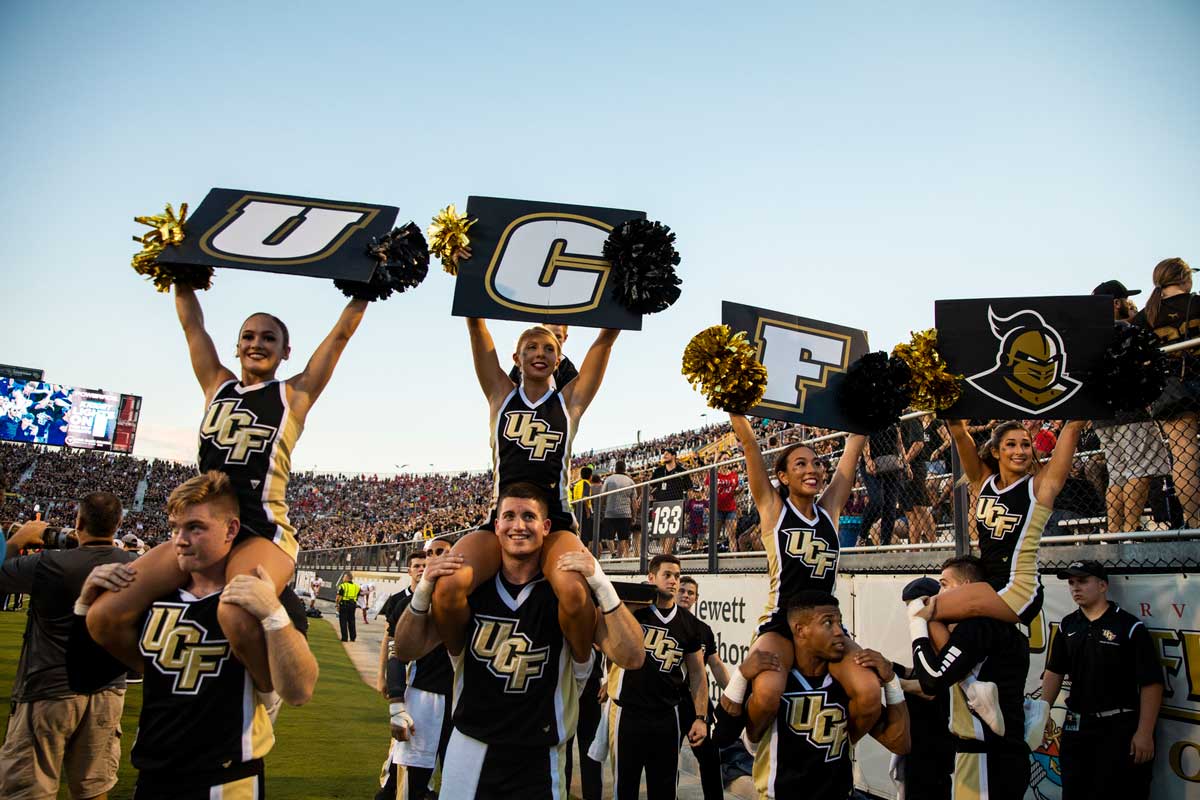 The Spirit Team and Marching Knights
It's not just the football team that impresses on the field.
UCF's cheerleaders finished second at this year's College Cheerleading National Championships, and the program has placed among the Top 10 23 times in the last 25 years under head coach Linda Gooch '85, including national titles in 2003 and 2007.
UCF's Marching Knights is celebrating its 40th season this year. The band released a new album UCF Marching Knights: Live from Driggers Field, which features 27 tracks and can be purchased for $10.
Official Watch Parties
Out of town and you can't make it to the game? Are the Knights on the road? UCF Alumni chapters and clubs around the country host official watch parties. Visit ucfalumni.com/watchparties to see an updated list every week.
Follow The Knights
Want timely game day information and insider content? Download the mobile app by searching "UCF Knights" in the App Store or Google Play. You can also follow these accounts on social media:
Twitter
@UCF_Football
@UCFKnights
Instagram
@ucf.football
@ucf.knights