Only 24 hours. That's all the time that it took for Lt. Cmdr. Jason A. Duprat '09BSN to go from civilian life to boarding a plane for New York City with the COVID-19 Navy medical response team, leaving behind his wife and 13-month-old daughter.
"Honestly, I was shocked at how fast the Navy was able to move," says Duprat of his first deployment and call to serve full-time since joining the U.S. Navy Reserve eight years ago.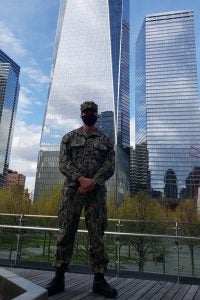 Duprat and his fellow reservists are part of an unprecedented and massive military response, including nearly 1,000 medical professionals and thousands more nonmedical professionals deployed to New York City as part of the COVID-19 pandemic.
While some of the military are serving at the Javits Center or have served on the U.S.N.S. Comfort, Duprat's team is working directly in the city's hospitals.
"This allowed us to get help where it was needed most, in the fastest way possible," he says.
He admits that it's a bit frightening to work on the front lines because you never know who will become the next statistic.
"But this is what I signed up for. People need the skills I have and I want to be there to help them," says Duprat, a certified registered nurse anesthetist (CRNA). "I have been blessed to remain healthy and COVID-free."
A Call to be Challenged and to Serve
Being a nurse wasn't Duprat's original career plan. After working in hospitality, he went back to school for a career that would serve others and push his limits. After completing an accelerated second degree program in nursing at UCF, he joined the Navy Reserve and went on to complete a master's in anesthesiology from Barry University.
His continuous pursuit to be challenged and get out of his comfort zone didn't stop there. After working as a CRNA under physician supervision at a hospital in Orlando, Duprat moved to New Mexico and opened his own practice. After an acquaintance consulted him about using ketamine for treatment-resistant depression, his career took another turn. He opened New Mexico's first and only CRNA-owned ketamine infusion clinic to help patients with PTSD, chronic pain and depression. He also launched the Ketamine Academy as well as the Healthcare Entrepreneur Academy podcast.
"I have always had great respect for the men and women who serve our country," he says. "That deep respect — and a desire to be a part of something greater than myself — inspired me to join."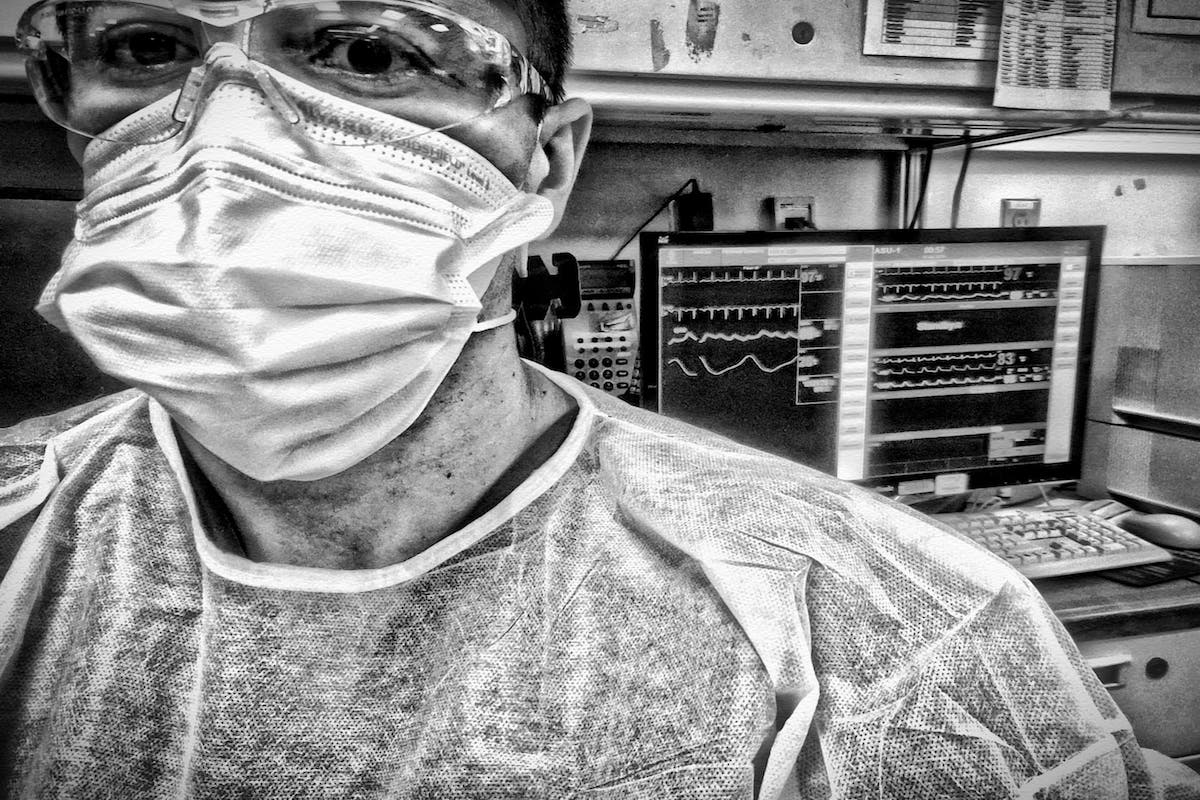 Being Part of a Solution
Surrounded by coronavirus-patients in the worst-hit part of the United States, Duprat feels fully prepared thanks to his education and training.
With his years of critical care experience and experience as an anesthesia provider, Duprat brings an extremely versatile skillset to the front lines, allowing him to serve in a variety of roles including being part of the respiratory therapy team and as an airway expert on the code team.
"I truly feel that UCF laid my foundation for an exciting career in healthcare and in the military," says Duprat. "The demands of the accelerated second degree program gave me the discipline, knowledge and confidence that I needed to be able to take on anything in life. For that I am truly grateful."
When he returns home from being a part of this historic healthcare effort, Duprat plans to continue doing what he does best — serving others and solving healthcare problems. And he'll bring with him the lessons he's learned from the front lines.
"Being part of this response has been an amazing experience, and I have learned that flexibility is the key to success," he says.