Anthony Major, an associate professor of film at UCF, has spent more than four decades creating films that depict slices of the African-American experience in the United States.
As an actor, producer, director, documentary filmmaker and professor, Major has worked with well-known actors such as Brad Pitt, Richard Pryor, Eddie Murphy and Redd Foxx of Sanford and Son fame.
Today he is finishing up a full-length documentary about the 2012 shooting death of 17-year-old Travyon Martin in Sanford, Florida. An early cut of the film won the Grand Jury Prize, Award at the Orlando Urban Film Festival last year.
But perhaps his most important contribution since arriving at UCF in 1995 has been the impact he's had on Hollywood. Some of his students have graduated and now are actors, producers, directors and talent agents in the film and theatre industry. One even has her own popular YouTube show shot in Australia.
The secret to his success?
"Help them learn to think and to network," Major says from his office in the Nicholson School of Communication and Media. "Nothing is given in this business. You have to look for opportunities and hustle. It works. We've got several UCF graduates living their dream because they are smart and they work hard."
They include:
Production assistants who have worked on Grey's Anatomy and Modern Family
A talent agent
TV producers and feature film directors
Actors who have worked on Broadway and off-Broadway, in movies and in commercials
A reality TV star in Australia
It takes talent, passion, hard work and help, Major says. He knows first-hand how important it is to network and have someone mentor you in order to succeed.
Through the years he worked with and met people such as Harry Belafonte, Dolly Parton, Robert De Niro, Francis Ford Coppola, Bob Mulligan, Alan J. Pakula and James Earl Jones on a variety of projects from the stage to the big screen. Each individual taught him something and most helped him connect with the right folks for the next step in his career.
To help his students make those connections, he helps arrange invitations to the Director's Guild of America Awards for pending graduates and recent alumni.
Earlier this month, Hailey Winslow '08, a radio-television alumna, met Major and several other UCF alumni at the awards.
"Here we were with some of Hollywood's top people and there's a table of UCF students," Winslow says. "We spent a couple of hours after the awards with (director and screenwriter) Peter Farrelly. That's just amazing and that's because of Professor Major."
Winslow, now an actress, had one acting class with Major, but he has become a lifelong mentor and friend.
"Professor Major has taught me life skills that I use every day," she says. "I hear his voice in my head all the time. I'm so grateful to him. He's not just a professor. He goes ways beyond that. UCF students are so lucky to be able to learn from him."
Winslow stars alongside her Goldendoodle, Sadie, in Outback & Under, a 12-episode adventure travel show that explores Australia. They wrangle crocodiles, dive with sharks, cuddle venomous snakes and meet a lot of crazy characters along their journey through the land Down Under.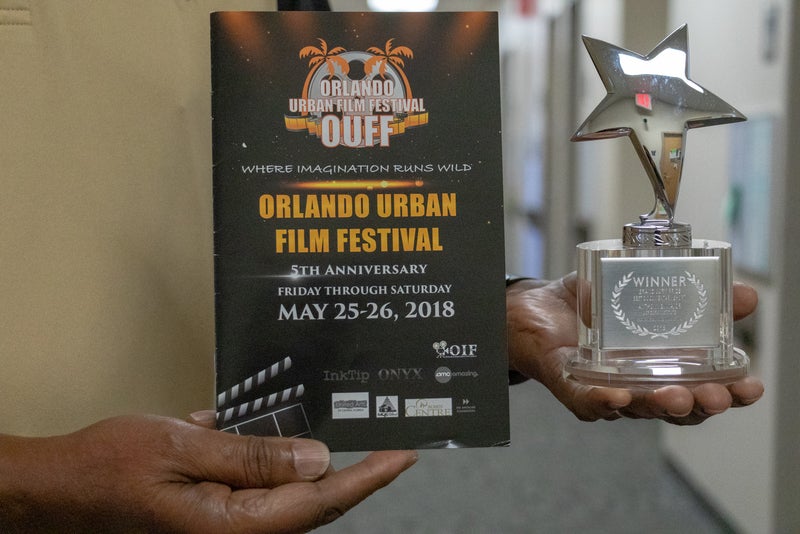 Benjamin Michel '11, a filmmaker and producer based in San Francisco, also calls Major instrumental in his career.
"He gave me real world advice that helped me be a better film director and overall artist," Michel says. "And his wisdom has really been a gift."
Michel took Major's Black Cinema class in 2009 and would often talk about his goals. Since arriving in California he's filming or making documentaries about the experiences of African-Americans, Latinos and the homeless. Several of those documentaries have aired on KQED, an award-winning public television station in San Francisco.
UCF theatre grad Lisa Chu '01 also credits Major with much of her success. She's an assistant director in Hollywood and has worked on a range of television and feature films including The Big Bang Theory, Westworld and The Last Samurai starring Tom Cruise.
"He started me on my career path to become a Directors Guild of America (DGA) Assistant Director," Chu says. She met him while a freshman in a general education theater class. "I've been a DGA AD for over 15 years and counting. I would not be who I am without Anthony Major. My life has been blessed with him as a dedicated inspiring educator, a colleague and a truly great friend. He is simply amazing."
Major's personal contributions to the local arts scene have not gone unnoticed either. The Black History Committee of Orange County honored Major with its 2010 Excellence in Education Award. The high school he attended, The Booker Performing Arts High School in Sarasota, renamed its rehearsal hall in his honor. He also served as the program director for the Zora Neale Hurston Institute for Documentary Studies for several years.
Central Floridians may also recognize him from his work as director of "A Vote, A Voice," produced for Florida Sen. Geraldine Thompson. Or perhaps from his teaching, acting and directing in the UCF Conservatory Theatre and his work with Seminole State College Theatre.
His favorite projects are those that tell an American story from an underrepresented community's point of view. It gives those communities a voice, he said. And he hopes the students he helps continue to help tell their stories.
"It's good to see them succeed," he says.