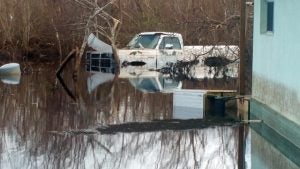 When Hurricane Joaquin completely wrecked several islands in the southern Bahamas, volunteers jumped into action and traveled to the hardest-hit areas. One of those heroic volunteers was a UCF Knight – Tamalia Hanchell.
As residents became angry and stressed over the lack of basic supplies, Hanchell, a psychologist in the Office of Counseling and Psychological Services, was there to provide emotional support, psychological first aid and resources related to coping after a natural disaster, and how to gain support after such a trauma.
Reflecting on her visit, Hanchell stated, "No amount of pictures or videos could have adequately described or prepared me for what I saw in the southern islands of the Bahamas post Hurricane Joaquin."
Over the two days, Hanchell met and debriefed 20 people individually, in groups, and with their family members from Crooked Island, Long Island and Acklins. Each survivor willingly shared their stories of their experiences from the devastating hurricane. She encouraged them to continue to reach out for resources. It will take time to rebuild what Joaquin destroyed, as well as to heal the emotional trauma residents suffered.
"One of the values molded into me by my family, my faith and the Bahamian culture is the personal responsibility to help others in need," said Hanchell. "This value is an essential part of the very fabric of my being, which ultimately led me to the field of psychology. It has created an intense urgency to return to my beloved country to offer assistance and give back."
Hanchell thanks Karen Hofmann and Chris Hanes, her supervisors from the Office of Counseling and Psychological Services, for their support.