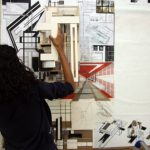 Dr. Phillips Charities has awarded the University of Florida College of Design, Construction & Planning $140,000 to develop a master's degree in architecture using Citylab-Orlando, an architectural design laboratory inside the University of Central Florida's Emerging Media Center.
The collaboration provides a two-year associate's degree in architecture from Valencia College, a two-year bachelor's degree in architecture design from UCF and a two-year master of architecture degree from UF.
"In the past, local architecture students had to leave Central Florida to receive their education," said John Ehrig, vice president of the Orlando-based architectural firm HHCP, who helped craft the UF, UCF and Valencia College partnership. "Now, through this partnership, students can remain here."
Dr. Phillips Charities also awarded the following grants:
A $74,000 grant to expand an anti-bullying program into middle schools in Osceola County.
A $41,000 grant to the Adult Literacy League of Orlando to underwrite the hiring of a volunteer coordinator to help manage the increased demand on the League's services.
A $100,000 matching pledge to Florida Hospital Foundation that includes support for staff positions for care coordination and educational advocacy of Florida Hospital's Center for Child Development.
Dr. Phillips Charities — which includes Dr. Phillips Inc. and The Dr. P. Phillips Foundation — awarded nearly $14 million in grants in 2010 to Central Florida nonprofits.
Source: Orlando Business Journal, Grant helps fund new architecture degree