Maybe they were right, Greg McCrae briefly thought back in early 2017.
Maybe all those football coaches who hadn't recruited him—all the while suggesting something without actually saying the words—truly believed he wasn't good enough.
"I've always had a chip on my shoulder from not really being recruited much in high school," says the Knights running back from Miami.
Yet McCrae clung to a belief he could prove all those people wrong.
Four years later he's earned bachelor's in kinesiology with a focus in sports and exercise science, 2,543 career rushing yards, 29 touchdowns, a national championship ring, and can say he was a key part of a 25-game winning streak.
The Path to UCF
McCrae spent a fall semester—including playing football—at the Naval Academy Preparatory School in Newport, Rhode Island, before deciding the fit wasn't right for him.
"There were a lot of good people there. I wasn't sure if I was making the right decision to leave, and I wasn't sure what my options would be in the future," McCrae says, "But I couldn't see myself making a career there."
So he contacted a former Army assistant coach who was on the football staff at UCF at the time, Jovan Dewitt, who originally recruited McCrae to go to West Point.
"To play 'em all, win 'em all and be the only team in the nation to do that, that was special."
"When I realized he was here I reached out to him and let him know I wanted to come here and play football," McCrae says. "I told him I was willing to walk on, and we worked that out."
It's hard to imagine it could have worked out much better.
His freshman season in 2017 produced a 13-0 season, a Peach Bowl win over seventh-ranked Auburn and a parade at Disney World.
"I had a lot of fun, coming in and winning like that. I didn't know what to expect, but I did not really expect that. That's rare in college football. To play 'em all, win 'em all and be the only team in the nation to do that, that was special," says McCrae, who was awarded a scholarship after that initial season.
Proving His Potential
A year later in 2018—without technically starting a game—he ran for 1,182 yards and 10 TDs while helping the Knights win all 12 regular season games. He gained 188 yards against Temple, 181 at South Florida and 206 in the American Athletic Conference Championship Game versus Memphis.
Hearing his accomplishments, the self-effacing McCrae remains modest. There's a level of pride there, yet he has no intention of saying anything that might sound braggadocious.
"I had good teammates—Taj McGowan, AK [Adrian Killins] and Otis [Anderson], they carried a lot of the load, too. It wasn't all me—collectively we were a good group," he says. So good that UCF now has produced three straight seasons running the football for more than 200 yards per game—after only one previous year in Knights' history surpassing that 200-yard mark.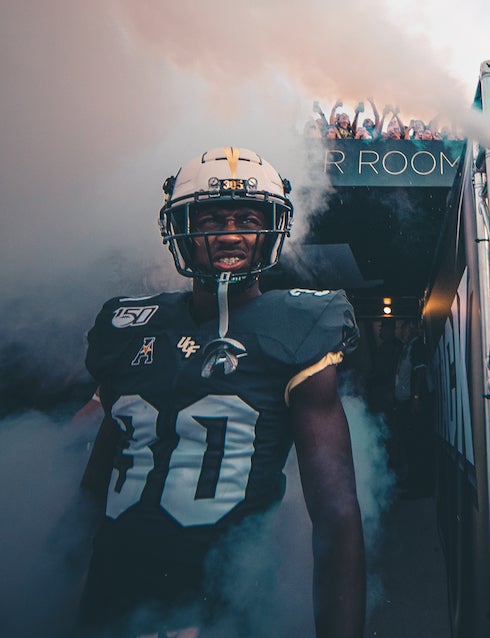 McCrae boasts an astounding 6.6-yard average per rushing attempt over his career—the third-best figure among all active college players.
And McCrae may not be done. Since the NCAA awarded all football players an additional year of eligibility due to COVID-19, a 2021 season at UCF could be an option. McCrae is still considering his future. If nothing else he has created a legion of Knight fans who are now believers.
"Even at the Navy Prep School there were doubts in my mind if I could play in college in general," he says. "I wanted to prove to myself and to other people that I was good enough to play at this level."
In the classroom McCrae has proven he can achieve excellence as well, with his 3.2-plus grade-point average as the Knights' 2020 nominee for the National Football Foundation's annual football scholar-athlete program.
"I learned so much from Dr. Jeff Duke, one of my kinesiology professors who also happens to coach football at a local high school," McCrae says. "He taught me valuable lessons that helped me create a philosophy of core values that I will utilize later down the road."
Using His Voice
The 5-10, 175-pounder has had an impact at UCF beyond the football field as one of the leaders and spokesmen for the Knights' social-justice initiatives.
"I want to see change and make a difference and use my platform," he says. "Football is not everything—there's life outside of football and people who exist outside of football. I want to bring awareness to those people.
"When I leave the field, I'm not a football player anymore, I'm Greg McCrae. Being able to speak out and step up for the people who want to be heard and don't have the voice is something I take pride in.
"We talk as players about things we want to see in the community or within the program. The 'We Are One' slogan that's on the field—that's the kind of thing that brings awareness to what we're trying to accomplish."
"When I leave the field, I'm not a football player anymore, I'm Greg McCrae. Being able to speak out and step up for the people who want to be heard and don't have the voice is something I take pride in."
Both of McCrae's parents have careers in law enforcement, as do a handful of other family members. That's colored his perspective.
"I've grown up around it," he says. "What I've learned is that sometimes we jump to conclusions without knowing everything. We need to make educated decisions and know the full story before we speak."
If McCrae doesn't come back to UCF, he hopes to give the NFL a whirl. But, eventually, he wants to be a coach.
"I want to still be close to the game," he says. "I enjoy the preparation, the camaraderie, the chess-match aspect of it. I enjoy helping people reach their goals beyond football. I want them to be better men. I feel like I've become a better man because of the coaches I've had and the lessons I've learned that aren't even related to football. You spend so much time with them on the field, in meeting rooms—and they always wanted the best for me. I want to be able to have that impact for others. … There are a lot of people out there who have stories and thoughts and I want them to be heard."
On or off the field, McCrae manages to make statements worth hearing.
Maybe he was right after all.