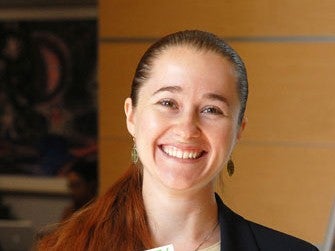 Lalita Booth, '09, who graduated summa cum laude from UCF in May with dual degrees in finance and accounting, has won the nationally prestigious Jack Kent Cooke Graduate Scholarship, worth $50,000 per year for up to six years, funded by the Jack Kent Cooke Foundation.
Bound for Harvard University this fall, Booth is one of only 30 students nationwide to receive the 2009 scholarship. Booth is the only recipient from a Florida university and is the sole recipient in the lower southeastern United States.
Jack Kent Cooke Foundation scholarships are considered among the most competitive—and the most generous—available.
The Jack Kent Cooke Foundation's Graduate Scholarship Program enables a select group of high-level achievers with demonstrated financial need to pursue graduate or professional study. The Foundation is known to recognize the accomplishments of students with compelling triumph-over-tragedy personal stories.
A formerly homeless and single teenage mother, Booth turned her life around through vigorous commitment to her studies, and a strict adherence to her "make no excuses" work ethic. In her vow to help youth who are struggling in poverty, Booth, a former welfare recipient, combined her financial acumen and her passion for public service to create Lighthouse for Dreams, a financial literacy program aimed at educating and empowering high school students.
"Founding Lighthouse for Dreams and working with high school students has been a deeply rewarding experience," Booth said. "I love knowing that I can make a difference, and hopefully prevent other teens from going through the same challenges that I did."
The Jack Kent Cooke Graduate Scholarship distinction adds to the list of impressive scholarships Booth already has won. She was honored last year with the Harry S. Truman Scholarship, one of the nation's most prestigious public policy awards. She is the first UCF student to win the $30,000 scholarship that each year recognizes up to 75 outstanding college student leaders devoted to public service.
Booth's name is not new to the Jack Kent Cooke Foundation. In 2006, she won a Jack Kent Cooke Foundation Undergraduate Transfer scholarship, which fully paid for her UCF undergraduate studies after transferring from Seminole Community College.
This fall, she plans to pursue a joint Master of Public Policy and Master of Business Administration at Harvard's Kennedy School of Government and the Harvard Business School. Her long-term career goal is to implement a variety of creative, empowerment-based reforms to welfare to help stem poverty in the United States.
Booth credits the University of Central Florida in helping to pave the road toward her success.
"At UCF, I felt tremendously supported. UCF really nurtured me. Everyone from the top down genuinely cared about my well-being and success and that is what made the difference."
She was a member of the UCF Order of Pegasus, the highest honor the university bestows upon students. During her undergraduate studies, she interned with two Florida state legislators and a United States congressman.
"The story of Lalita is a great one and all of us can find inspiration in her exceptional will to succeed," said Alvin Wang, dean of UCF's Burnett Honors College. "Lalita shows us that 'UCF stands for opportunity' is not just a tagline but a reality for students who take advantage of the opportunities that are available to them."
To read an in-depth feature of Booth's homeless-to-Harvard story published in UCF Today, visit https://www.ucf.edu/news/escape-artist/.