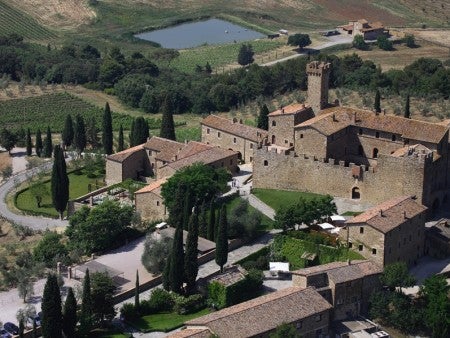 It's a case of buona fortuna for two Rosen College hospitality management majors. Andy Rattner and Jeffrey Barrientos were selected for a free tour of Italy to explore the delicious relationship between culture and cuisine, better known as "gastronomy." Professor Frank Juge will accompany the students on the June 6-14 excursion.
As a donation to the UCF Foundation, the Banfi Vintners Foundation has awarded airfare, hotels, meals, wine and instruction for the three travelers.
The itinerary includes breathtaking stops in Milan, Emelio Romano, Sienna, and Montalcino in southern Tuscany. In-depth classes on wine, food, and culture will be provided at Banfi's medieval castle. The students will visit a Prosciutto di Parma ageing center, a Parmigiano Reggiano cheese dairy, an olive oil factory, a bakery, and a pasta maker. Additionally, the trio will enjoy a cooking lesson and award-winning wines at the Castello Banfi vineyard estate. In the evenings, they will sample the delights of premier restaurants. The tour concludes with a free day in Rome.
Professor Juge describes, "The Banfi program is in its fourth year and is a very rich cultural and gastronomical experience."
The students were selected by a Rosen College Faculty Committee chaired by Dr. Juge. The decision was based on GPA, credit hours, major standing and essays.
The Banfi Vintners Foundation is the philanthropic arm of Banfi Vintners, America's leading wine importer. Each year the Foundation provides scholarships for students at select hospitality and business colleges to travel to Italy for seminars on that nation's wine and food culture. Castello Banfi has been declared International Winery of the Year an unprecedented four times at the International Enological Concourse held in Verona, Italy.