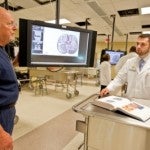 Jennifer Parsons says she loves the beach lifestyle, so living in Cocoa Beach is perfect for her. And she has no problem with the 45-minute commute to the University of Central Florida's College of Medicine in the Lake Nona area of east Orlando.
"I think it's just a tremendous, awesome opportunity," said Parsons, who as director of anatomical facilities oversees anatomy lab operations.
It's very possible that many more Brevard residents will be making that westward drive toward the new, $1.3 billion project that will reshape the medical industry in Central Florida with its two hospitals, research facilities and medical school — and, more importantly, with the projected 30,000 jobs it will help generate over the next six years.
"I think it's one of the most important developments in Florida right now," said Sean Snaith, director of the Institute for Economic Competitiveness at the UCF College of Business Administration. "I can't think of something larger right now."
Snaith said the Science & Technology Park at Lake Nona, known more commonly as Medical City, will stimulate the economy, with the ripples extending throughout Central Florida and beyond.
Indeed, Medical City is expected to have a significant economic impact on the Space Coast. Interviews with health industry officials, economic development leaders and others suggest that impact could in fact extend across sectors and boost Brevard in myriad ways, including as:
a source of a wide range of jobs for Brevard residents, from medical and support services to construction and retail;
a driver of home sales, as people looking to work at Lake Nona but live in Brevard could boost demand for housing along the Space Coast;
a provider of medical staff for local hospitals and other health care facilities;
an outlet for partnerships and catalyst for growth involving local medical and high-tech research facilities.
"I have a very positive attitude on all of this, and it will be great for us," Brevard County Health Department Director Dr. Heidar Heshmati said.
Job Opportunities
Medical City is part of the 7,000-acre Lake Nona planned community currently home to about 5,000 residents, with long-term plans for that to grow to 25,000.
While Lake Nona had been known for years as a golf community, its medical focus is more recent, dating to 2005. That's when Lake Nona owner Tavistock Group committed land and money to help develop the College of Medicine.
And as the scope of Medical City has grown, so, too, has its potential impact.
Lisa Crites, Wuesthoff Health System associate director of media strategy and new business development, sees Medical City as a project that will help Central Florida better position itself for expansion of business, technology and additional research initiatives.
And with all the jobs expected to be created as part of the 600-acre development, "it stands to reason that this will create vast job opportunities for Brevard residents," said Crites, whose health care company has hospitals in Rockledge and Melbourne.
The job impact will surge in late 2012, when the 2,100-employee Orlando Veterans Affairs Medical Center and the 800-employee Nemours Children's Hospital are scheduled to open. Those hospitals will create many job opportunities for Brevard residents, not only for those with specific medical training, but also for various service and clerical jobs.
Courtney Franchio, public affairs officer for the Orlando VA Medical Center, said her facility alone will have a total annual payroll of $150 million to $250 million, with individual annual salaries ranging from $28,000 for service workers up to $275,000 for highly specialized doctors.
"We'll have lots of job opportunities in a wide range of positions," Franchio said.
That's good news for North Brevard, which is girding for the loss of upward of 8,000 jobs when the space shuttle program ends this year.
Titusville Area Chamber of Commerce President Marcia Gaedcke sees a good fit for the laid-off space workers.
"There are definitely synergies there," she said, between the skill sets of space-industry workers and those needed in high-tech medical jobs.
Gaedcke said Medical City is a focus of both her chamber and of the multicounty MyRegion.org East Central Regional Board of Advisors, of which Titusville is a major partner.
"I think it's a big deal," Gaedcke said.
Eventually, Medical City also will include new housing and retail projects, which are likely to be developed as the hospitals prepare to open, said Rob Adams, vice president of marketing for Lake Nona. That could mean additional opportunities for construction and service jobs for local residents.
Bedrooms, Beaches
And even as Medical City could provide jobs for Brevard residents, the county could in turn provide bedrooms — and beaches — for new hires.
Jarrod Cady, public relations manager for Nemours, said he expects that the Space Coast lifestyle will be a selling point in recruiting people to work at the children's hospital, adding that "the Space Coast will definitely be a place where people will want to live."
Randy Rodriguez, a Realtor at the Port St. John office of Prudential the Property Place, said he sees positives for the local real estate market coming from the Lake Nona medical projects.
"Right now, anything that's a secure job helps this housing market," Rodriguez said. "Lake Nona could and should be a good benefit."
Rodriguez said homebuyers generally can get more for their money in Brevard compared with Orange County, where he believes the housing market stabilized sooner, so people relocating to the region still will find "tremendous bargains" on the Space Coast.
Home sales could also get a boost from companies coming to the area.
"Medical City itself and all of the businesses that will be attracted will be huge for the Space Coast," Cady said.
And an influx of residents ripples out to a host of related activity, from grocery sales to video rentals, as people commuting to Lake Nona will still carry out the bulk of their consumer spending near where they live.
Developing Links
The connections between Medical City and Brevard will go beyond the economic UCF College of Medicine Dean Dr. Deborah German said the college is developing links with Brevard County hospitals and other health care facilities under which third- and fourth-year students will work in one-month rotations as part of their medical training. In addition, local doctors are among the college's volunteer faculty members, teaching one or several sessions on specialized medical procedures.
Graduates of the college also may eventually decide to practice along the Space Coast, after becoming familiar with the region and its quality of life. This could be especially true if they have rotations at local hospitals or other medical providers, and enjoy their experiences.
Wuesthoff's Crites said the presence of the College of Medicine at Lake Nona "will help to support physician recruitment needs of Brevard hospitals."
Space Coast Cancer Center Executive Director Nancy Payne said there are many advantages to having a medical school, medical research facilities and two specialized hospitals nearby at Lake Nona.
"It definitely increases research and scientific opportunities in the community. By having a medical school in the area, it enhances medical care. It's a very positive thing," said Payne, whose center is based in Titusville, with other facilities in Cocoa Beach, Merritt Island and Rockledge.
Happy To Commute
Local economic development officials hope to attract many more people like the medical school's Parsons.
Parsons, who has lived in the Chicago area, said she is totally sold on living in Brevard and working at the College of Medicine, where she has been for 11/2 years. She said most of the commute is a straight shot along the Beachline Expressway and is less stressful than commuting through the rush-hour traffic of Chicago or even downtown Orlando.
She said she believes many fellow College of Medicine employees who live in western Orlando would find the commute to Brevard an attractive alternative.
Parsons' husband is a civilian employee of Patrick Air Force Base, and she likes it that their 16-year-old daughter and 12-year-old son attend highly rated Brevard schools.
"We love the Space Coast," Parsons said, "and we are never going to leave."
Source: Florida Today, Just to the west, new health jobs, Medical City at Lake Nona may draw Brevard workers, by Dave Berman. Contact Berman at 321-360-1016 or dberman@floridatoday.com.