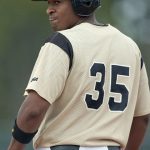 UCF senior Chris Duffy did not even start the season on the official Watch List. But less than four months later, the Orlando native learned Tuesday that he is one of five finalists for the USA Baseball Golden Spikes Award, presented to the top amateur player in the country.
"Right now I can't believe it," smiled Duffy. "I owe it all to my family, coaches, teammates, staff and friends for showing me the love during my career.
"I'm just happy for UCF, because this helps prove that this program and all of UCF athletics are on the rise. I remember watching (football All-American) Kevin Smith and (NBA second-round draft pick) Jermaine Taylor and how they blew up in a UCF uniform. I really had a feeling that was going to be me one day if I kept working hard. This is a privilege and an honor. I'm glad I can achieve something like this at UCF."
UCF fans logged on to GoldenSpikesAward.com in full force to vote for Duffy during the 30-player semifinal round, helping the Knights' all-time home run king finish second with 21 percent of the vote. In all, a total of 36,070 votes in four days were cast for the Black and Gold senior.
And once again fans are encouraged to play a part in the final voting to help determine the winner of the 2010 Golden Spikes Award. The deadline to pick Duffy will be Friday, June 18, at 5 p.m. Fans are treated as one "voter" in the voting process for the award, and their vote will count for ~0.5 percent of the overall vote (one of 191 voters in the committee). In the semifinalist round the five players receiving the highest percentage of the fan vote received one vote from the fans. In the finalist round the one player receiving the highest percentage of the fan vote will receive one vote from the fans.
A graduate of Cypress Creek High School, Duffy will travel out to Anaheim, Calif., for the live awards show on Tuesday, July 13, before the MLB All-Star Game at 2:30 p.m. ET. The 2010 USA Baseball Golden Spikes Award will be streamed live on the Internet exclusively at GoldenSpikesAward.com and MLB.com. This will be the second year in a row that the live award presentation will be held immediately preceding MLB Commissioner Allan H. (Bud) Selig's Town Hall Meeting at All-Star FanFest.
Joining Duffy as finalists are four players who were all just drafted in the top-13 of the 2010 MLB First Round Monday: Overall first pick OF Bryce Harper (College of Southern Nevada), No. 5 LHP Drew Pomeranz (Mississippi), No. 12 C Yasmani Grandal (Miami) and No. 13 LHP Chris Sale (Florida Gulf Coast). The finalists are slated to arrive in Anaheim Monday, July 12, and be escorted onto the field at Angel Stadium for the All-Star Workouts before the award is announced the following day.
Last year, the Golden Spikes Award went to Stephen Strasburg, who is scheduled to make his MLB debut tonight for the Washington Nationals. Other past winners have included David Price, Tim Lincecum, Pat Burrell, J.D. Drew, Robin Ventura, and Will Clark.
Duffy is the second player in UCF history to be a finalist for the Golden Spikes Award. In 1985, the first year the Knights were at the Division I level, Tim Barker hit .438 and set UCF single-season records with 85 games played, 324 at-bats, 92 runs and 190 total bases. But he also broke the NCAA marks with 142 hits and 104 stolen bases. His hits record still stands while just one player in the country has stolen more bases since that '85 season.
Highly-touted out of Cypress Creek, Duffy stayed in Orlando to start his college career. Originally a third baseman, the 2006 ninth-round draft pick of the Chicago White Sox would maintain a consistent .282-.285 average his first three years in a Knight uniform. He took over left field in 2009 and with the help of hitting coach Cliff Godwin, Duffy began to flourish.
In his final 26 games of the 2009 season, Duffy hit .340 with 28 RBI. He entered 2010 with 22 career homers and a .283 lifetime average. Preparing for his senior year, Duffy was showing he had a different approach at the plate and when Opening Weekend took place, everyone quickly realized this was Duffy's year.
In game two vs. Savannah State, Duffy went 4-for-5 with two homers and seven RBI. He then went 3-for-5 with a homer at Florida. All of a sudden, his batting average would never fall below .430 for the rest of the year.
And while his average sky-rocketed, the long balls continued as well. Duffy was the fastest player in the country to reach double-figures in homers in 2010, and he boasted 17 home runs in 50 games. With only four contests remaining, Duffy needed one to tie the UCF single-season record, and four to match the all-time career record.
No problem. Duffy was 2-for-2 with five RBI and a four-bagger vs. East Carolina May 16, then homered in game one at Tulane May 20. And in his final collegiate outing, Duffy produced one of the most memorable events in UCF history May 22.
His first two plate appearances resulted in walks, yet he pummeled a two-run blast to right-center in the fifth inning vs. the Green Wave. After a double in the sixth, UCF was preparing to run-rule Tulane, so the seventh inning looked like it was going to be his last at-bat as a Knight. And with the bases loaded, Duffy sent his first-career grand slam over the center-field fence to tie Bobby Kiser for UCF's career home run record.
Duffy finished the 2010 campaign with a Conference USA and a UCF record .447 batting average and a .850 slugging percentage. He drove in 81, had a .539 on-base percentage, walked 33 times, had 18 doubles, scored 54 runs and committed just one error in left field.
Along with being considered for the Golden Spikes Award, Duffy is one of 25 semifinalists for the NCBWA Dick Howser Trophy, given annually to the top player in collegiate baseball. Three finalists will be named June 19.