UCF has changed a lot over the course of Maj. Randy Mingo's 28 years with the UCF Police Department.
When he started at the university, UCF only had 36 buildings compared to the current 179. There were no late-night bite spots, a big change from the dozen options that now line Alafaya Trail and University Boulevard. He once filled multiple binders with his contacts' business cards until email changed the game.
One thing that's stayed the same?
To Mingo—as he's called fondly by the thousands of students, faculty, staff and community members he's interacted with over the years—UCF has always stood true to its promise of opportunity.
"I've always had a voice and a say in direction. My input was valued," said Mingo, who's contributed to everything from game day and agency policies to road system and curriculum designs. "Look at where we are now."
Mingo worked his last shift Sunday, Jan. 31, at the men's basketball game at the CFE Arena.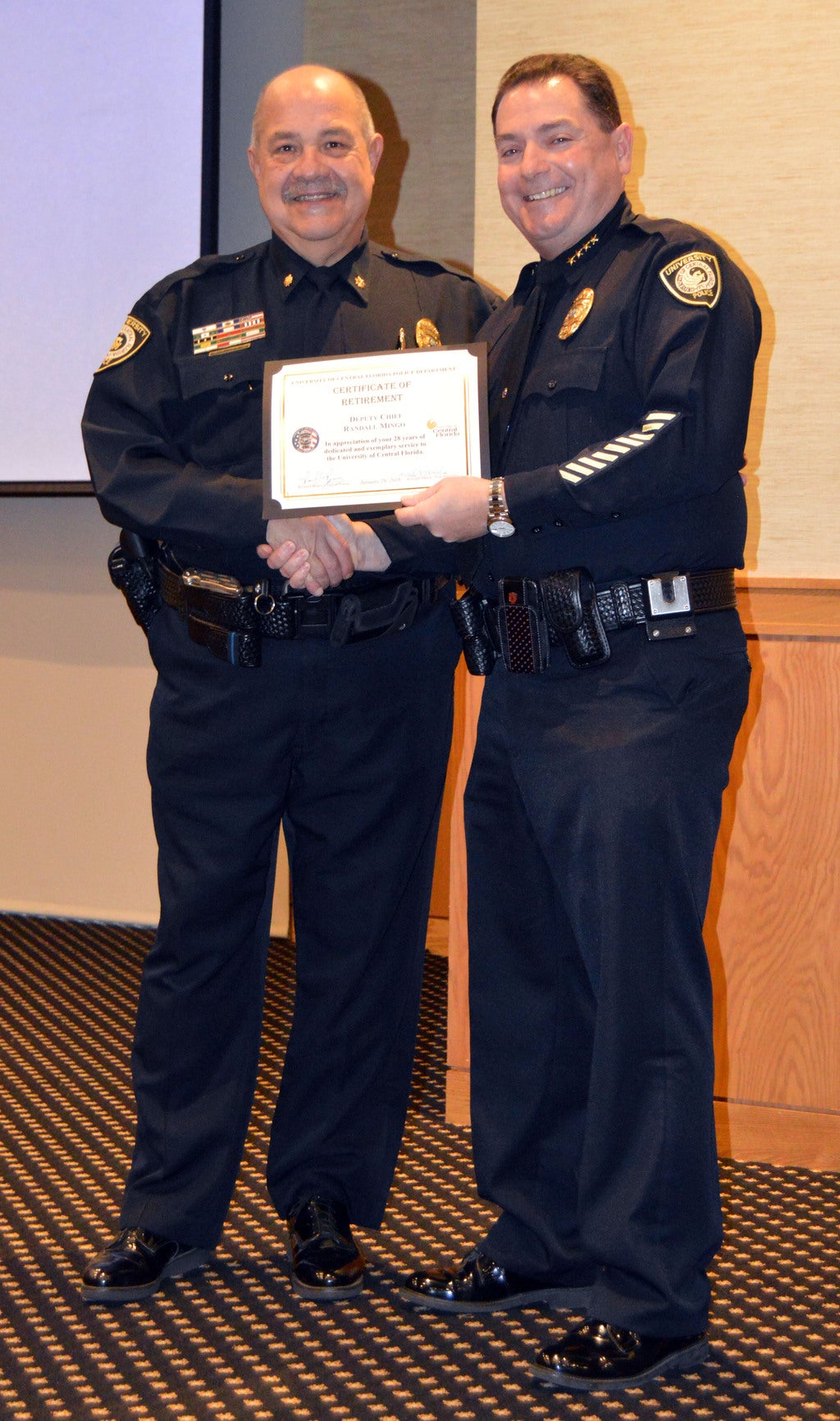 Chief Richard Beary presents Maj. Mingo with his certificate of retirement
Mingo's law enforcement career started in Ohio in the 1970s. He moved to Florida and started at the Kissimmee Police Department in 1981 and then joined UCFPD in 1988 as a dispatcher. He went on to hold nearly every job in the department, from officer to investigator to commander.
He earned two master's degrees from UCF and also spent more than 10 years as a faculty member, teaching classes in UCF's criminal justice and public administration programs.
"Where else could I go and have the opportunity to teach and mentor too? That's meaningful," said Mingo, who estimates that about a third of UCFPD's officers were once his students.
Among his proudest accomplishments, Mingo established UCFPD's K-9 program as a community relations tool that has earned support and donations from the campus and the public. He helped to design and implement plans for Bright House Networks Stadium and on-campus residence halls.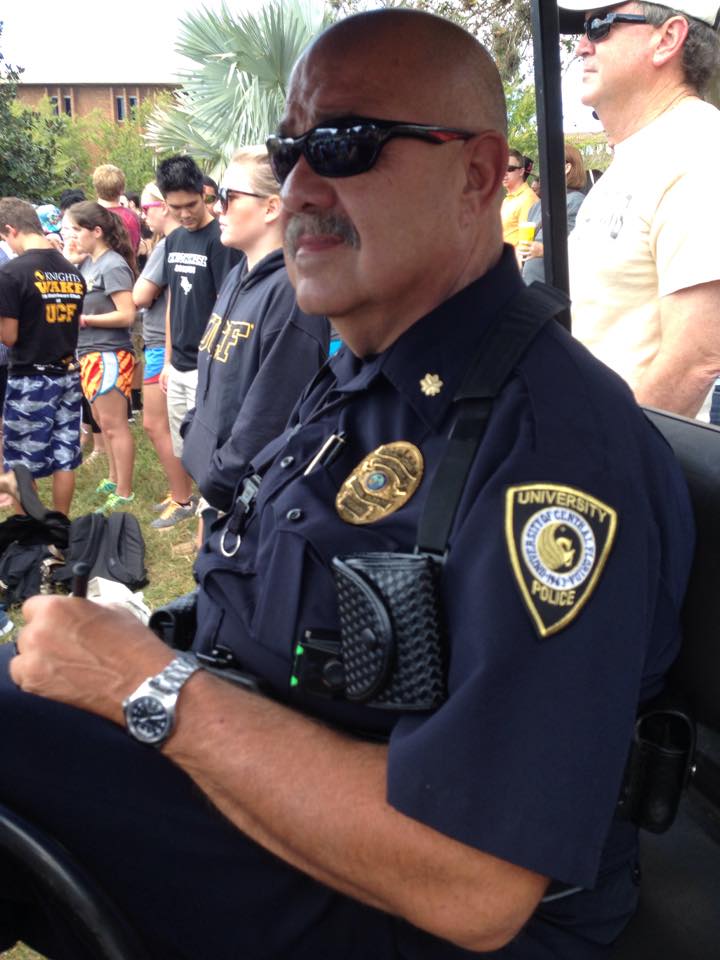 Maj. Mingo worked as campus commander on game days, ensuring that UCF remained a safe place for students, faculty and staff members and fans
"There's nothing he hasn't accomplished in his time here," UCF Police Chief Richard Beary said.
Retirement is bittersweet, Mingo said, but now is the right time.
"I'm going to miss doing the job," he said. "I'll miss being able to resolve issues and help people."
He plans on staying busy, balancing a few part-time gigs with lots of outdoor activity, such as fishing, scuba diving and riding his motorcycle.
He won't soon forget UCF. He lives close to campus and will be back for sporting events—only as a fan, not an on-duty police officer.
"This place was good to me. I didn't walk away with a fortune, but I wasn't here for that," Mingo said. "I was here for the mental satisfaction of being part of a team. I found a home here."