Each week, students in Associate Professor Margaret Zaho's Medieval Art class are transported to the past in an immersive, hands-on experience that allows them to get up close to history. The upper-level course covers art from the fifth through 13th centuries. Through a collaboration with UCF Libraries Special Collections and University Archives, Zaho has found an innovative way to ensure students gain a full appreciation and understanding of this period of art, which includes painting, architecture, sculpture, stained glass and illuminated manuscripts.
Unlike the classical Greek and Roman periods or the ever-popular Renaissance, Zaho finds the medieval period to be one of the least understood and least taught eras of art and architecture, creating a gap in the art history curriculum she hopes to fill. With this course, Zaho seeks to shed light on the period's many overlooked yet fascinating characteristics and even end some common misconceptions.
"My banner is to remind people that the Middle Ages, or the medieval art period, were not dark," Zaho says. "They were not lost. They were not forgotten. Instead, they were examples of incredible craftsmanship, and it was quite colorful. 'Dark Ages' is just such a misnomer. There's nothing dark about the Middle Ages."
As the medieval art period coincides with the rise of the codex and the replacement of the traditional scroll, students learn about and work with illuminated manuscripts, ornate texts decorated with elaborate marginalia. As most illuminated manuscripts of the Middle Ages are inaccessible due to age or restrictions — such as the Vatican Virgil, a 400 CE illuminated manuscript owned by the Vatican with highly restricted access — students instead work with manuscript facsimiles, highly detailed, exact replicas.
"Manuscript facilities are usually made in Germany or Switzerland … in a sense, for access," explains Zaho. "So, if you're a scholar, you may not be able to make it to the Vatican and you may never get clearance to see the Vatican Virgil, but you can get your hands on an illuminated manuscript facsimile that was made in the 1970s that, at the moment in time, recreates exactly what the Vatican Virgil looked like, meaning if the pages have been cut down or if things are missing, the manuscript facsimile recreates exactly that."
ARH4200 students have the opportunity to view and handle facsimiles of the illuminated manuscripts they've learned about in class.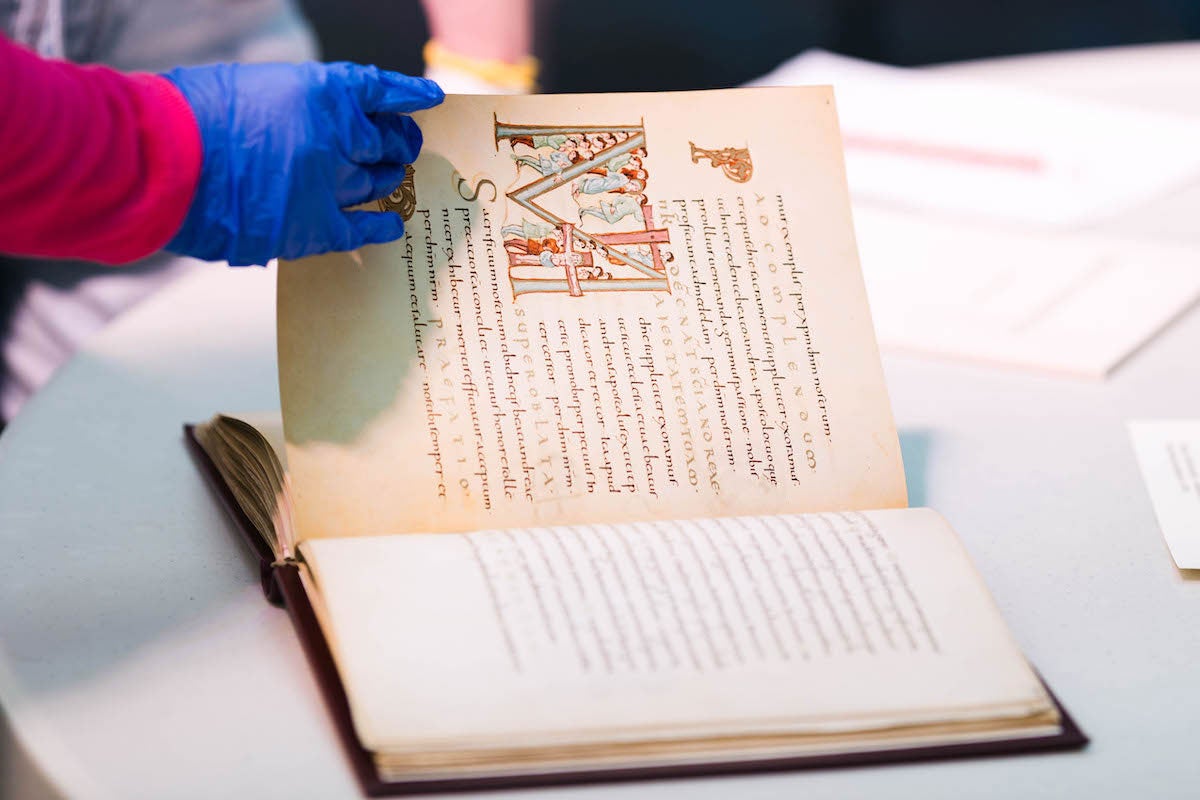 "For my students, it's one thing to talk about manuscript facsimiles, but it's another thing to go to the library, to see the pieces in person, to see an actual 15th century folio, to see what velum really looks like in person and how the ink sits on top," she says. "That, for me, is part of active learning. It's all well and good in the classroom, but any opportunity I can get to make it real and tangible, I will take."
Sam Sonken, a student in the class, details his experience working with these precious materials.
"The variety of manuscript facsimiles Special Collections has is very extensive," Sonken says. "Because of this, I could find a text that stood out to me, the Ashmole Bestiary, and I was able to explore the entire text, cover to cover, together with a few other like-minded students. There is a unique value to viewing the authentic manuscripts in addition to the facsimiles. Though they were too delicate to handle, seeing a real manuscript communicates something of the effort, value and cultural significance any original manuscript has."
These educational opportunities are the work of UCF Libraries Special Collections and University Archives. In 2008, when Zaho was serving as the library representative for the College of Arts and Humanities, she and the then-head of collections allocated funds toward the acquisition of additional manuscript facsimiles. Through the dedicated work of Special Collections and University Archives, UCF Libraries has now acquired more than 120 manuscript collections. These materials have aided a variety of disciplines, such as book binding, renaissance studies, Texts and Technology, and illustration.
"At UCF, we have, I think, what is probably the best illuminated manuscript collection in the state. We have a couple examples of original 14th and 15th century leaves, or folios, from antiphonals and a very early printed Bible from the early 16th century," she says. "We are very fortunate to have a collaborative partner in Special Collections and University Archives, headed by David Benjamin. The book conservator, Christopher Saclolo '09, was one of my students and he took this medieval art class. We had a great full circle moment. I'm really proud of what we have here at UCF and anytime I can incorporate the resources of UCF's Special Collections and University Archives into my teaching, it's a win-win for everybody."
Read more about UCF Libraries Special Collections and University Archives here.