Imagine waking up a different race in an entirely different body. Would you welcome your new life or find a way to get back to your former self?
That's the premise of graduate student Jason Gregory's TV pilot Waking Up White. Gregory's story follows a black family that wakes up one day to find they are now white. They then have 30 days to decide if they would rather return to their cultural roots or stick with the skin that they are in now.
"It's a show based on cultural identity and what is at risk of being lost. We deal a lot with gentrification [in the show] and the issue of gentrification also deals with the loss of cultural identity," Gregory says.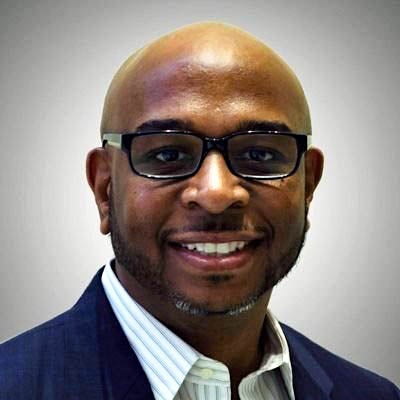 Gregory started developing the idea in 2016 as his thesis film for the Master of Fine Arts in emerging media program. Several professors suggested he turn the idea into a TV show instead and after three days of dedicated work he delivered the script for the pilot.
When the time came to start filming, Gregory put out a crew call and was surprised that so many people were interested in being a part of the project. Ultimately, 40 UCF students offered their time and assistance to take the story from a script to filming a full production in Eatonville, a historic black community, within a week.
"I was really humbled and honored by the amount of people that came out," Gregory says. "A lot of people said we couldn't film a pilot in seven days, but we got it done."
"It's a show based on cultural identity and what is at risk of being lost." – Jason Gregory, UCF student
The first screening for the pilot will air during the 30th annual Zora! Festival on Jan. 28 at the Eatonville Town Hall (307 East Kennedy Blvd.) Three showings will be 11 a.m. to noon; 12:45 to 1:45 p.m.; and 2:15 to 3:15 p.m.
This year's festival is the 30thanniversary of the multi-day, multi-disciplinary event held to celebrate the life and work of author and former Eatonville resident Zora Neale Hurston. It will be held Jan. 26 to Feb. 3 and include public talks, museum exhibitions, theatrical productions and more.
Here, Gregory shares more about Waking Up White:
How did you come up with the idea for Waking Up White?
I was watching TV one night and an African-American woman was on TV and she was responding to a news reporter's question about an African-American who had just recently been shot and killed, and she said: "This wouldn't have happened if we were white." And I just started thinking about that and realized there's a lot of power in that word "If." From there I just started creating the outline for this story.
The project is filmed entirely in Eatonville. Why did you choose this location?
There are a couple great things about Eatonville. They are their own municipality. They have their own mayor, police force, they're pretty much self-governed. And we were looking for a town to partner with. We loved the rich history and culture that they have. For the show, we actually created our own fictitious town called Wellsville, so we borrowed from some of Eatonville's history. We named our town Wellsville because of Dr. [William Monroe] Wells, who was one of the first African-American doctors in Parramore (another historic African-American community.) And then we took the "ville" from Eatonville.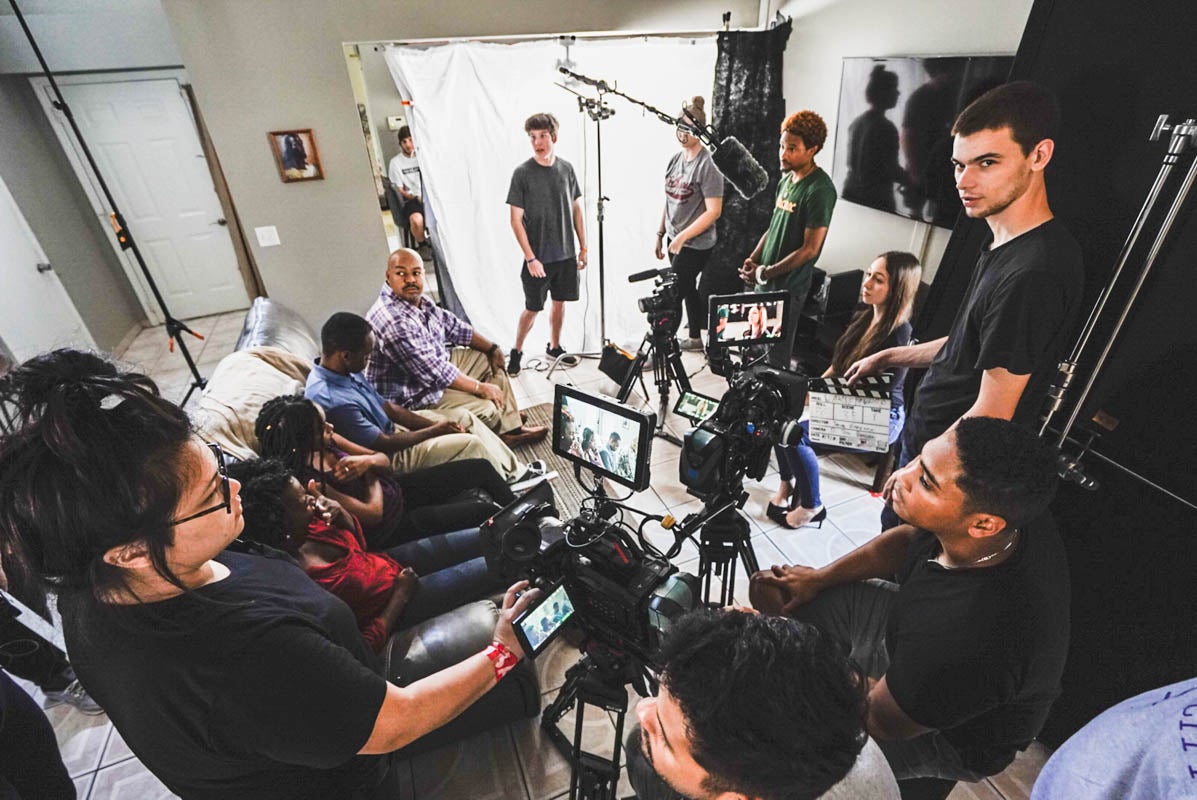 What was the most challenging part of creating this project?
Just trying to make sure that everyone had the time because everyone worked for free, from the crew to the cast. We just had to really work around people's schedules to make sure we could get it done, and we did. A lot of people said that we couldn't shoot a pilot in seven days and we got it done.
What are some of your biggest influences?
One of my biggest influences is Spike Lee's Do the Right Thing. I eat, sleep and breathe that film, so there are a lot of influences from Spike Lee [in the show.] I joke around and tell people when I was a kid everyone would say, "I want to be like Mike," because of the Gatorade commercials with Michael Jordan. I would say, "I want to be like Spike."
I have also been majorly influenced by Reginald Hudlin, who directed Boomerangand Marshall, [as well as] Ava DuVernay and Martin Scorsese.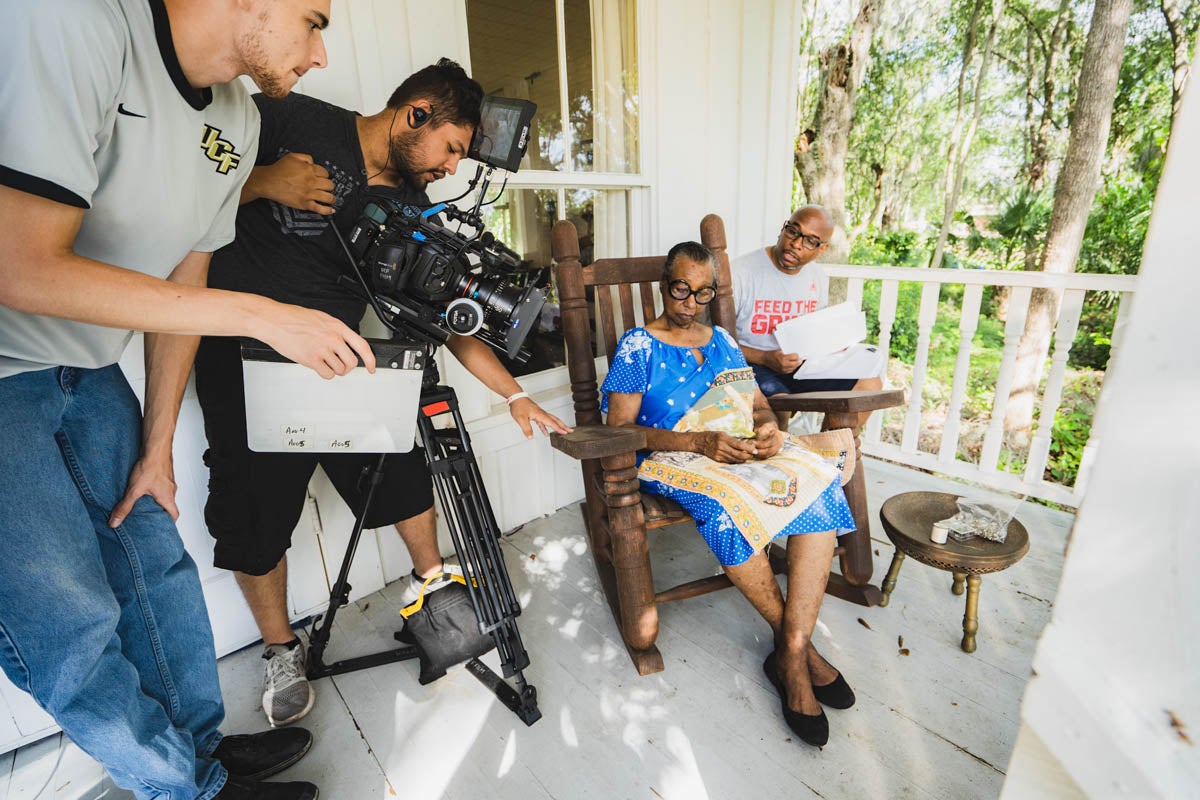 Do you have any tips for other students who are attempting similar projects?
Find a mentor very quickly. A mentor that has been through what you're attempting to go through so they can show you not only the successes, but also the failures. Become a student not only of film, but also project management and planning so you can plan accordingly. I planned so much that I even studied weather patterns over the past years on the dates we were filming just to be prepared. I made sure that if we needed to, we could shift from an exterior scene to an interior scene in case it started raining.
What are you most proud of within this project?
My proudest moment was working with a team dedicated to making quality projects, who are also motivated in advancing the Central Florida film market. We have great crews and actors here and I was honored to have them working on Waking Up White. It was a true community project. From the crew and actors to UCF and Eatonville. I'm extremely proud of what we accomplished.
What does it mean to you that the public is going to finally see this?
It means a lot. I think everyone wants to leave some type of mark on society. We have a society that is built on the word "if." If I were this, maybe I would have that. We really wanted to see if the grass is really greener on the other side and are there really opportunities out there that we are excluded from. And I'm hoping that this project will create an opportunity for dialogue so that we can get to a point to where we can identify more of what we have in common than just our differences.