Three University of Central Florida students are trailblazing a new method of teaching English language and American culture to potential Major League Baseball players.
This spring, Jessica Walker, Elizabeth Maldonado de Segura and Laura Estupiñan are living at the New York Mets baseball academy in Boca Chica, Dominican Republic, preparing about 80 players for life in the United States.
The UCF students, all part of The Burnett Honors College, spend an hour each day teaching players basic English, including baseball and cultural terminology that will help them understand their coaches and fellow players and adapt to a new life.
To supplement the players' English lessons, their UCF teachers also host activities to familiarize the athletes with American customs, foods and hobbies. Since the students live at the academy, they eat all of their meals with the players and constantly work on the players' conversational English.
Walker, a junior studying marketing and nonprofit management, said she's inspired by the willpower the players put forth every day.
"Each day the players continue to give 100 percent, and even after hours of practice come to my class ready to learn, because they know English is necessary to succeed in the United States. They never give up," Walker said. "I have tried to embody this same mentality so that I can be a positive role model for my students, and I walk home each day in awe of their persistence and dedication in bettering themselves."
Like many MLB teams, the Mets were previously using a consulting company to teach English to their academy players but said they weren't seeing much in terms of academic structure or results.
"I'm very excited about our unique partnership," said Jon Miller, director of minor league operations for the Mets. "Having UCF students teach English to our players in the Dominican Republic and helping them understand the culture and customs of the United States will be of tremendous help to them as they aspire to succeed in our organization."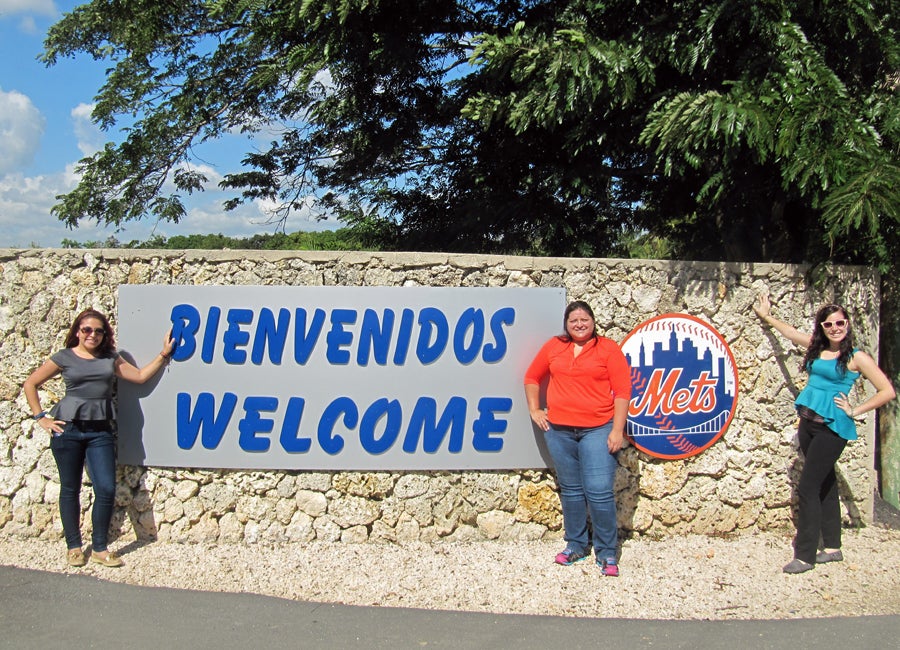 Estupiñan, Maldonado de Segura and Walker are preparing players at the New York Mets baseball academy in the Dominican Republic for life in the United States.
Kelly Astro, director of research and civic engagement for the honors college, said the social activities are beneficial because they introduce players to cities where the Mets have minor league clubs.
"Along with basic American cultural training, our students host events to familiarize the players with life in Las Vegas, Tennessee, Savannah and New York, all places where some of these players may end up while part of the Mets organization," said Astro, who hopes to have UCF students at the Mets academy every semester.
The UCF students say they're getting a lesson of their own. The players have reciprocated by giving them "Spanish class" and sharing their language with them. They've also learned baseball history.
Maldonado de Segura, a graduate student in the Teaching English to Speakers of Other Languages program (TESOL), said she and her fellow Knights have been fortunate to meet and speak with Ozzie Virgil Sr., the first Dominican to play in the major leagues.
"He has the best stories of playing with Jackie Robinson and other baseball legends," she said, adding that they even got to attend the ceremony for his induction into the Latin American Baseball Hall of Fame.
Estupiñan, a senior studying psychology, said her favorite part of the experience is witnessing the students making progress firsthand.
"Seeing where they started and where they are now is amazing," she said. "They'll personally come up to us and tell us they love the way we teach and that they learn a lot. It is very rewarding to hear that."