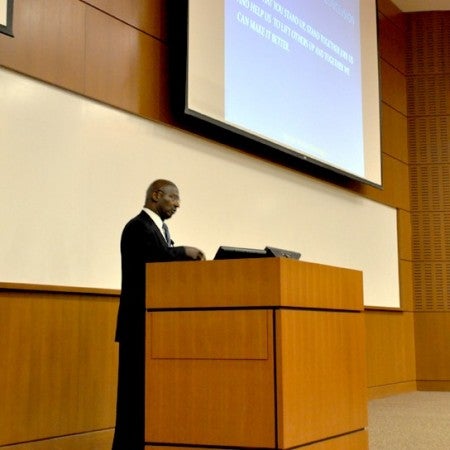 The president of the National Medical Association (NMA) urged UCF College of Medicine students, faculty and staff members Monday to do their part in ending health-care disparities, declaring, "Things are not going to get better if we just let it be."
Leonard Weather, Jr., M.D. leads the NMA, which was founded in 1895 and is the oldest and largest organization serving African-American physicians.
Dr. Weather is a practicing obstetrician/gynecologist in Shreveport, LA, who has seen the devastating health effects of environmental pollution on communities from the oil spill in the Gulf of Mexico. But he said toxic environments threaten communities of color across America, resulting in higher rates of cancer, obesity, lupus and endometriosis.
Chronic exposure to stress, unhealthy habits, and living in areas of low social capital, weak social networks and "food deserts" with no access to fresh produce, further erode health in minority communities, according to Dr. Weather. "Throughout man's history, income has been the primary determinant of health and life expectancy," he said.
Part of the challenge is getting health information to low-income communities, a point reinforced by College of Medicine M-1 student Sharise Richardson, who attended a recent NMA conference that discussed the need to better use social networking to help minority communities learn about topics such as HIV and AIDS.
As part of that effort, Dr. Weather said the NMA has begun a new initiative called "We Stand Together," radio public service announcements that offer health advice three times a day, seven days a week on African-American radio stations.
Ending health-care disparities will require everyone to get involved, Dr. Weather said. And as he looked to the College of Medicine students in the audience, he urged them, "You need to have a plan. You need to be great. You need to be good. We need you. People are sick. We need to help them be well."