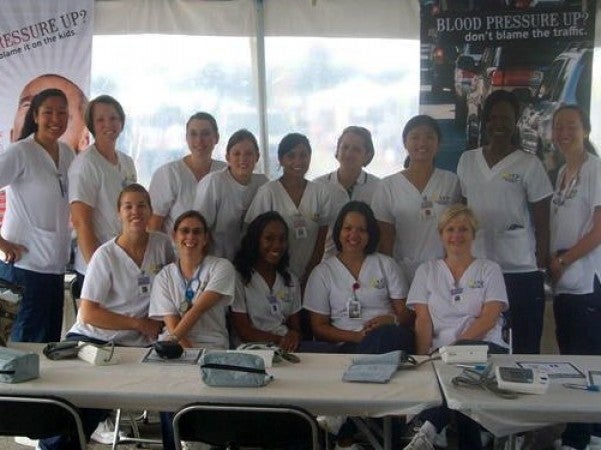 On May 23, 2009, several UCF student nurses from Daytona volunteered to help Project Pressure set a new world record for the most blood pressure readings in an eight hour period.
The new record of 2,075 blood pressure readings was recorded during the Get Healthy Florida Fest at Shane Kelly Park in Oviedo, Fla. An official adjudicator from the Guinness Book of World Records, Mariamarta "Mia" Ruano-Graham, flew in from London to verify the record onsite.
Binita Patel, president of the Student Nurses Association, UCF Daytona Chapter, stated, "It was a surreal moment to know our dedication had really paid off. Not only did we educate several hundred community members about their blood pressure, but we also helped set a new world record while doing it."
This opportunity for the nursing students and visitors at the Get Healthy Florida Fest would not have been possible if it weren't for Project Pressure. After a year of educating Central Floridians of the hazards coinciding with high blood pressure, this project initiated a plan to reduce risks. Through Project Pressure, nursing students and other health care providers in the community taught residents how to monitor their blood pressure and recognize the meaning behind their numbers.
Shannon Sayre, a member of the Get Healthy Florida organization, stated, "We are so thankful for UCF's nursing students. They did thousands of blood pressure screenings that not only benefited the community but also helped contribute to our reaching the one-million person goal and the Guinness World Record."
Under the supervision of Ariana Gross, a nursing instructor and assistant SNA advisor, the student nurse volunteers worked from 9:01 a.m. to 5:01 p.m. to ensure all event attendees over the age of 18 were accurately screened. Gross explained how the students were not only present for the experience, but more importantly volunteered to give back what they could to the community. "It's students like these who are committed to making a difference that will change the world," Gross explains.
Click to view pictures of the event.
Contributing Writers: Kristin Soto and Carolyn Petagno