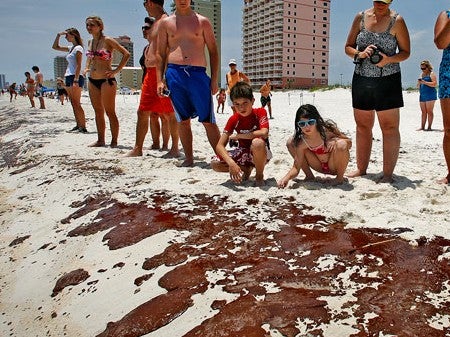 The Gulf oil spill could put nearly 195,000 Floridians out of work and cost the state $10.9 billion in spending, according to a preliminary analysis by University of Central Florida economist Sean Snaith.
Those figures reflect what would happen if Florida's 23 Gulf Coast counties lose 50 percent of their tourism and leisure jobs and spending. Snaith's analysis covers all of the coastal counties from Escambia to Monroe.
If the Gulf Coast counties lose just 10 percent of their tourism and leisure jobs and spending due to the spill, the estimated statewide losses would still be nearly 39,000 jobs and $2.2 billion in spending.
To develop his preliminary analysis, Snaith examined the values of the tourism and leisure economies in all of the Gulf counties. Combined, they produce nearly 269,000 jobs and about $12.4 billion in annual spending.
Using the 10 and 50 percent figures, he then projected the impact of losses there on other businesses in the Gulf counties and across the state. For example, produce shops no longer would supply restaurants that have closed, and trucking companies no longer would haul that produce.
Snaith, the director of UCF's Institute for Economic Competitiveness, is a national expert in economics, forecasting, market sizing and economic analysis who authors quarterly reports about the state of the economy.
Source: Orlando Business Journal, Snaith: Oil spill could cost Fla. $10.9B, Tuesday, June 8, 2010, 10:02am EDT.