A "sea of white coats" filled Addition Financial Arena Monday as two UCF medical school classes – more than 200 students — participated in a traditional White Coat Ceremony, recognizing them as colleagues in healthcare.
The College of Medicine typically holds the ceremony on the first day of class for first-year students. This year, the medical school held two ceremonies — one for the new Class of 2025 and one for second-year students in the Class of 2024 who didn't have a White Coat Ceremony last year because of COVID-19 restrictions. A year ago, those students received their white coats wrapped in plastic and placed in their car trunks during a drive-through orientation exercise that allowed for safe social distancing.
Monday, as their names were announced, each second-year student walked across the stage holding that white coat and handed it to Marcy Verduin, associate dean of students, who performed the formal coating. "You've waited a long time for this," she told students. "It's so nice to look out and see a sea of white coats and you all together in person."
Verduin was standing in for Deborah German, vice president for Health Affairs and founding dean of UCF's College of Medicine. German was diagnosed with COVID-19 last week, despite being fully vaccinated, and is isolated at home.
"This is the first year in the history of our college that I will not have the privilege of welcoming you with a white coat," German wrote in a letter that was read to both classes of students. "I wanted you to know it would take a pandemic to keep me from you on this day."
In his welcoming remarks, UCF President Alexander N. Cartwright said there has never been a better time for students to be part of UCF and its College of Medicine.
"There is a sense of entrepreneurship and optimism here — guided by compassion and a desire to make an impact — that is unique in higher education," he said.
First-year medical student Nicholas Pekmezian saw that spirit as an undergraduate at Stetson University in DeLand, which has a partnership with the UCF College of Medicine that allows students there to take classes at the medical school's Anatomy Lab with M.D. students.
"For me the people at UCF made the decision very easy for me," he says about his choice for medical school. "Whenever I visited UCF, everyone – from the students to the attending physicians – was friendly, open to answering questions and genuinely excited to teach us. Being a part of an organization that acts on their values is something very unique and important to me."
The ceremony was the first time the class of 2024 had met in-person as students had spent the last year bonded mostly over Zoom classes and study groups.
"We started medical school during a pandemic," says second-year M.D. student Etta Conteh, who received her undergraduate degree in biomedical sciences at UCF. "So it's nice to finally see everybody in person, not on Zoom, and be able to celebrate together."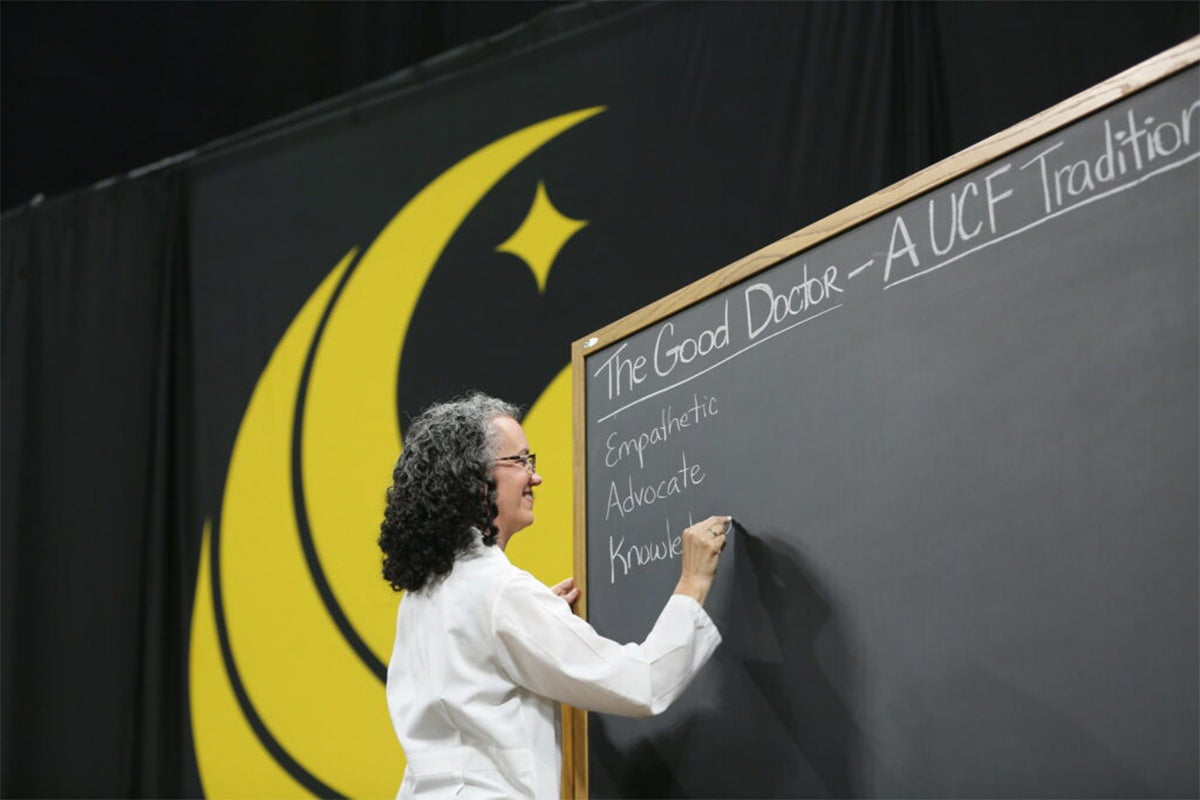 Since the College of Medicine's first class matriculated in 2009, UCF's White Coat Ceremony has included The Good Doctor – A UCF Tradition as the new students' first class of medical school. Here, German asks students to imagine the person they love most in the world is gravely ill and asks them to name the qualities of the physician they want treating their loved one. As students call out traits, she writes them on a chalkboard that is displayed in the medical school rotunda.
Last year, students emailed traits to German who wrote them on the chalkboard during a virtual ceremony. The chalkboard remained on display for the past year, even though the medical school was largely closed due to the pandemic. During their coating ceremony, Verduin pointed to the chalkboard with the Class of 2024 words that included compassionate, humble, knowledgeable, ethical and trustworthy.
"This represents your contract with your dean, your faculty, your family, your friends, your community and each other – to become the good doctor during your time in medical school," she said. "Congratulations, Class of 2024, for you are off to a great start."
This year's new students came up with 40 traits of The Good Doctor, including brave, resilient, compassionate, ethical, holistic, inspiring and culturally competent.
The med school traditionally updates the board when the next class enters medical school. Starting this year, UCF will begin a new tradition. The "Good Doctor" chalkboard will contain the words of both the first- and second-year classes on display.
"We will use both sides of the chalk board for the first time in our history," Verduin says.