It does not take an economics major to understand the effect that one missed paycheck can have on an individual or a family. It means mortgages may not be paid. Basic utility bills could be overdue. And a simple pizza night would be considered a luxury.
Many of these situations were a reality for nearly 800,000 governmental employees and their families during the federal government shutdown from Dec. 22 to Jan. 25.
"If I didn't — or if somebody didn't — do something right away, we were going to have some families that were in a lot of trouble." – Jessica Manfre, UCF Online student
Jessica Manfre, a Masters of Social Work online student, experienced the effects of the shutdown firsthand at the U.S. Coast Guard's Training Center Cape May in New Jersey. As the wife of a Senior Chief of the Coast Guard Scott Manfre, Manfre has been a part of a nonprofit organization called, Jersey Cape Military Spouses Club, which allowed her to assist families in need.
"I watched the political climate. I just knew that [the shutdown] was going to continue and we were going to miss paychecks. And if I didn't — or if somebody didn't — do something right away, we were going to have some families that were in a lot of trouble," she says.
As a result of her work helping others, Manfre recently was named the Armed Forces Insurance's Coast Guard Spouse of the Year and will be considered for the Military Spouse of the Year Award to be announced May 9 in Washington. She is nominated with spouses from the other branches of the military — Air Force, Army, Marines, National Guard and Navy.
As a student, mother and military spouse, Manfre said her passion is helping military families gain access to mental health resources, especially for veterans who are affected by substance-use disorders.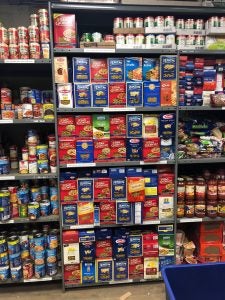 "It was the most important to me because of what my goals are for my future… I kept every book I needed because it's just something I know I'm going to fall back on."
She looks forward to graduating and meeting the UCF instructors who "changed her life without even realizing it."
With the help of her military spouse group and the USCG base commanders, Manfre launched a free food and essentials pantry with donations from local businesses, including hard-to-get products, such as meat, fresh produce, baby formula and other items for children with special needs. The pantry serviced the 500 active-duty employees at the base and thousands of other military personnel and families who heard of the pantry through the media and word of mouth. She says the pantry received a phone call from the Greater Alaska Chiefs Petty Officers Association "who told us they were having difficulty getting food and things to some of those islands that really didn't have anything. We were able to send them money and help them establish pantries of their own."
Other organizations such as the Veterans of Foreign Wars combined all their posts in New Jersey and donated $9,000 to support the club's mission of helping Coast Guard families. As donations came in, Manfre and her team purchased 500 $20 gift cards for families that still needed to get to work despite not having a paycheck.
"We were able to overnight gas money to a unit in Maine where the closest housing unit was an hour away and everyone was forced to carpool," Manfre says. "These were small things that made a big difference."