This Friday, Opera Orlando will premiere its first commissioned new work based on Marjorie Kinnan Rawlings' book The Secret River. The opera's music was composed by Pegasus Professor Stella Sung, director of the UCF Center for Research and Education in Arts, Technology and Entertainment.
Sung was first introduced to The Secret River when a friend brought the children's book to her attention. As a native Floridian, she was already familiar with Rawlings' earlier work, and was moved by the charming story and its imaginative, hopeful protagonist.
"The world seen through the innocence and imagination of a young person and her creative process, her determination to help her family and community, and her joy and hopeful outlook captured our spirits and our hearts," writes Sung in the opera's program.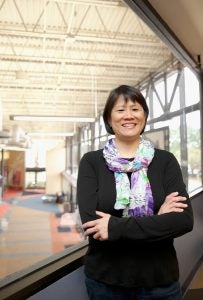 The Secret River follows Calpurnia, a young girl living near Cross Creek, Florida during the Great Depression. When her family falls on hard times, she seeks the advice of Mother Albirtha, a wise woman who lives in the forest. Mother Albirtha tells Calpurnia of a secret river teeming with fish that she can find using her imagination. On her journey to find the river, she learns the power of trusting one's imagination and the goodness within us all — a profound lesson for younger audience members.
"This is a story about family and community, and using your imagination and creative powers to reveal all the wonders hidden inside of yourself," says Sung.
The book and opera shine a unique spotlight on what life was like for Central Floridians living during the Great Depression. In addition to the stock market crash in October 1929, agriculture was negatively impacted by an infestation of Mediterranean fruit flies in the same year, killing most of the state's citrus crop.
"The boom economy associated with South Florida land sales ended after investors lost confidence following the Miami hurricane of 1926 and the Okeechobee hurricane of 1928," says Associate Professor of History Connie Lester. "Central Florida benefitted from the South Florida 'boom,' and it also felt the effects of the 'bust.'"
The Secret River is also notable for being forward-thinking for its time. The book was originally published in 1955, a time when telling a story of a struggling African American family with a young Black girl as the central character was groundbreaking. English Professor Anna Lillios credits this to Rawlings' collaborations with other female artists.
"Rawlings wrote the story in 1947, after she had become friends with Zora Neale Hurston," Lillios says. "Hurston enlightened Rawlings about race and, possibly, was behind Rawlings' insistence that Calpurnia would not speak in dialect. Fortunately, world-famous composer Stella Sung realized what a gem this story is and how much its message of self-empowerment would appeal to our Central Florida audience."
The Secret River will run from Dec. 17–19 at Dr. Phillips Center for the Performing Arts. Click here to reserve tickets.