A new program made possible by philanthropists Bruce Gould and Jeffrey Gould will help bring more joy and laughter to children in extended hospital stays. The Jeanette M. Gould Traveling Theater Fund honors their mother's love of the theater and her longtime support of the nursing profession.
In its "opening run" this semester, the fund pairs students in theatre studies in creative drama from the College of Arts and Humanities (CAH) with students from the College of Nursing as they provide interactive theatrical programming for patients at Nemours Children's Health.
"We are so grateful to the Goulds for establishing this program," says Associate Professor and Theatre for Young Audiences Director Elizabeth Horn '10MFA. "This experience is not only something that will benefit our students as they go forward in their careers but, more importantly, is also an experience that is vitally important to these children and their healing processes."
The Goulds' generosity has provided five years of funding for this program; like-minded community members can also contribute to the fund to expand its reach to more facilities.
The Goulds' gift to UCF is the latest in their generous history of giving to the university. Even though no one in the immediate family attended UCF, the Goulds have previously established nursing scholarships and supported the theatre department; they have also given generously to the UCF Flying Horse Editions, a collaborative research studio for visual artists.
Norman Gould, the family's patriarch, died in 2018.
"My father instilled within us integrity and humility," Jeffrey Gould says. His kind, compassionate and generous nature also lives on through Jeffrey and Bruce.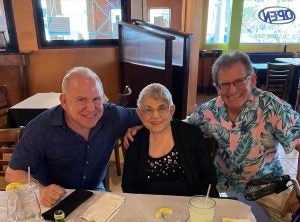 The ability to bring alternative theatrical productions to audiences who might not otherwise be able to attend them has long been a goal of Horn and was fully embraced by Associate Professor Maureen Covelli, a longtime faculty member in the College of Nursing.
"I told professor Horn's students that as nurses, we are 'actors' in the sense that we always put on our best face, no matter what stresses we are under, and we are happy to assist in this program however we can," says Covelli.
This semester's production, Wonderland, incorporates elements from Lewis Carroll's classic story Alice in Wonderland, Horn says. She will take responses and impressions from the children and incorporate them into an original play that alum Sage Tokach '22MFA and Gabby Lawlor, a graduate student in the Theatre for Young Audiences program, will develop for next semester's students to perform.
Jordan Simon, a senior in the stage management BFA program, was excited to participate in the program through the Creative Space for Drama class in CAH. She created a drama lesson plan that uses creative exercises to enhance students' imagination using themes of fantasy and curiosity with "different creatures and environments."
Support the Jeanette M. Gould Traveling Theater Fund
"I've been doing theatre since I was 12 or so," says Simon, who always loved theatre for young audiences but had not experienced theatre performances geared toward children with serious illnesses or in a clinical setting.
"It was a little difficult because there are a lot of theatre games that can be very involved when you're in person," she says. "We had to make sure that the message could still reach them through Zoom."
One of the games that Simon and her group use in a virtual setting is Imagination Walk, where the children close their eyes and "we take them on this long, really descriptive scene and lead them into their own Wonderland world," says Simon. At the end of the exercise, Simon invites the children to pantomime the things that they "saw," and act them out over Zoom using whatever body or facial expressions they choose.
Horn's graduate students developed digital scavenger hunts for the children with different QR codes posted around the pediatric areas that, when scanned, will take the children to a student-created video led by the Mad Hatter or Alice. They also assembled "treasure boxes" that include puzzles and craft activities approved by an occupational therapist as suitable activities for school-age children.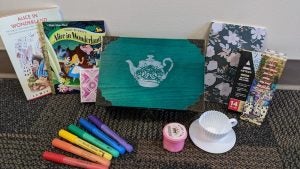 The process of developing the program has been invigorating to Horn and Covelli who believe it's not only about bringing a new program to a new audience, but the effect of the program on each student.
"As educators, we know that what we do impacts our students, but we also know that the change happens one student at a time," Horn says. "In this program, we know that one student can have a huge impact on not only a sick child, but also in the way they view their own place in the world. And that is truly life changing."
The donors also hope their gift makes a lasting, life-changing impact.
"We are honored to establish this fund in honor of our mother, who has not only been an advocate for nursing her entire life but has also understood the joy and fulfillment that the theatre arts can bring," says Jeffrey Gould. "It is our hope that theJeanette M. Gould Traveling Theater Fund will serve as an enhancement to the excellent care that nurses bring to hospitalized children."