After experiencing first-hand how education can help one reach new heights, local artist and UCF alum Christian Stanley '11 has completed a mural at UCF Downtown to remind students, faculty, staff why they're at the university.
In February 2022, guests at the campus dedication event for UCF Downtown and Valencia College Downtown were invited to help Stanley to begin painting the mural titled Elevation inside Dr. Phillips Academic Commons' east wing. Later that month, Stanley completed the mural, which depicts a graduate soaring, with diploma in hand, over Creative Village on their way to make their mark on the world.
"The inspiration behind the piece comes from the opportunity that education provides for people to reach new heights and forge a new path in life," says Stanley, who earned a bachelor's in emerging media with a track in graphic design. "I strove for the composition to be visually dynamic and provide an interesting perspective into the layout and goals of the downtown campus. The artwork is intended to uplift viewers and remind them of their goals and potential."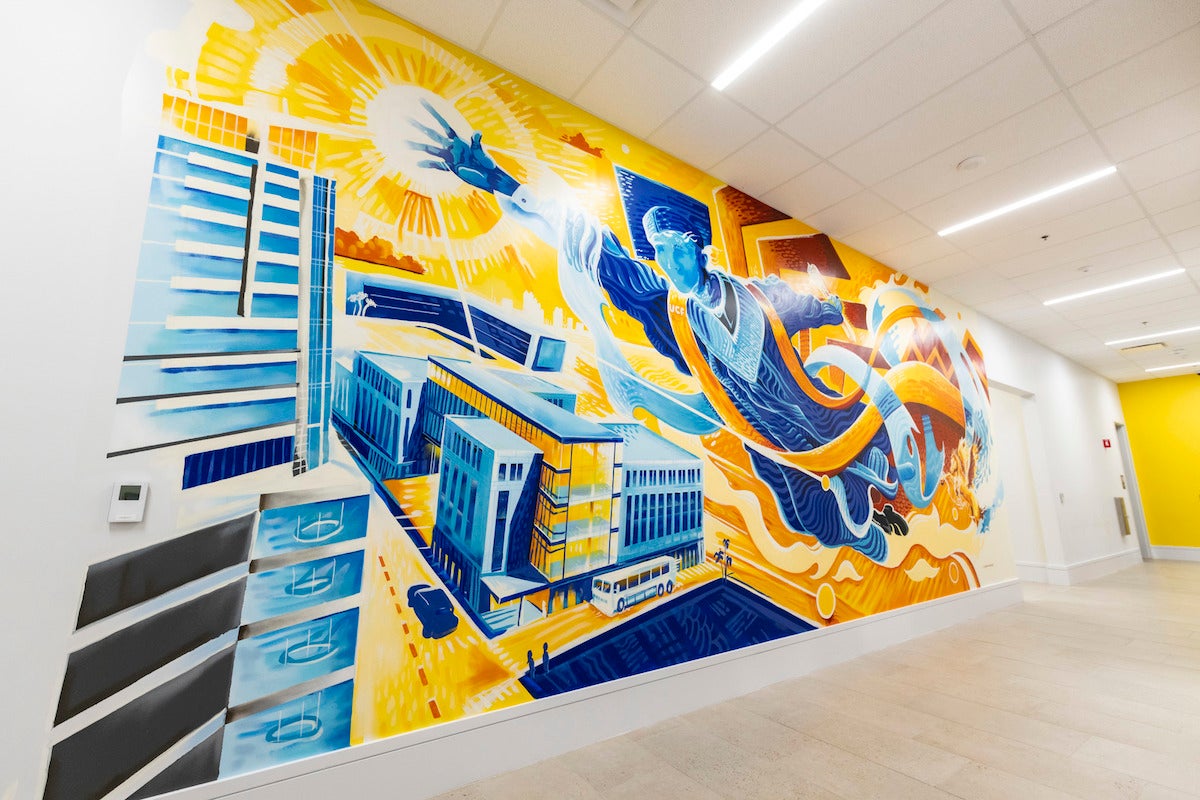 Here he shares more about his work and journey as an artist.
How long have you been an artist?
I would have to say I have been an artist from an early age. In grade school I was trying to make or do creative assignments beyond what was required of the class. Specifically, I remember being in kindergarten and having to make large paper goldfish out of newspaper cut-outs, you know, the two semi-circles flipped and overlapped as the general shape. But I wanted to do something more creative and had the teacher's assistant helping me draw the outline of a giant marlin instead. The long paper nose of the fish immediately ripped off, as one would expect of kindergarteners.
How did you know you wanted to be a visual artist?
Visual arts are always something I've gravitated towards. Creativity has many outlets but for me it was the calming and imaginative doodles I would draw nonstop in class and Sunday school that would help refine the skill of creative thought and consider how I could use it towards a career.
How did UCF prepare you to be an artist?
UCF prepared me to be an artist by introducing me to the technical side of the drawing world, teaching me skills like how to properly scale your drawing to be more accurate and define the area you are working in so the artwork stays within the canvas. In a general sense UCF showed me project management, communication, and introduced me to industry professionals and mentors while challenging me to elevate myself and my art to a professional level.
What is the most challenging aspect of being an artist?
The summer sun and rain are certainly the most physically challenging part of my art process as a muralist. The most mentally challenging part is exploring the initial concept and refining an image that resonates not only with the client but also their audience. I think [my ability to] lean into that challenge, [which] comes from my background as a graphic designer, [and] being able to pivot and adapt styles and content into a new direction gives a value to the process the customer appreciates.
How do you keep challenging yourself? What inspires your art?
Usually my project or walls will have inherent challenges or a uniqueness that requires some thought to solve. A perfect example is that I'm currently painting on spherical soccer balls for the Man of the Match trophies for the Orlando City Soccer Club. I was able to find inspiration in the familiar 3D orb sketches of M.C. Esher to create dynamic poses of soccer players that jump off the canvas. Taking time to look at famous works in museums and galleries is a great resource and a well of inspiration for me.
What else are you passionate about?
I have an adventurous spirit. Whether it's going on a hike, scuba diving or paddle boarding, being out in the wild is always something that recharges my energy and leaves me feeling both exhausted and refreshed.
Where can we see your other work?
In 2021 I was invited to the Paint Memphis Mural Festival in Memphis, Tennessee; the Dixieland Mural Project in Lakeland, Florida; the Inverness Festival of the Arts (mural installation) in Inverness, Florida.; and the legacy public art program Horse Fever in Ocala, Florida. I have also completed several projects for Heineken and Orlando City Soccer this year, and was recently selected to be a part of the 2022 Corridor Billboard Project in Orlando and the Sam Flax Wall Mural Festival in downtown Orlando.