During the last 11 months, UCF senior Konya Plummer cemented her name in the history books, saw a statue erected in her honor in her home country of Jamaica, was drafted by the Orlando Pride in the National Women's Soccer League, and is about to become the first person in her family to graduate from college when she earns her bachelor's degree May 2 in interdisciplinary studies.
When she reflects on all she has experienced, she's not entirely convinced that this is actually her reality.
"I don't know what to believe anymore," she says. "Where I came from to where I am now, I'm the same person, but everything is different."
Impressive Resume
Jamaican tradition and norms dictate that young girls stay indoors to play, but Plummer bucked that tradition, which is what led her to UCF.
At 14, she received her first soccer ball as a gift from her mother, and she took it to a field in the small Jamaican community of Epsom, Saint Mary, hoping to join a competitive evening game.
The neighborhood boys didn't think she was good enough to play, so they took her ball and sent her to sit on the side to watch.
Plummer plopped down and began braiding blades of grass to pass the time. She vowed to prove herself.
"I started training. I had to be strong and I had to be tough," Plummer says. "From then, I decided I'm never going to sit on the sideline again."
She has applied that resolve and determination to every aspect of her life, which might explain why at 22 years old, her resume is full of accomplishments that some spend an entire lifetime chasing without achieving.
As co-captain of the Jamaica women's national team, she led her country to become the first Caribbean nation to qualify for the FIFA Women's World Cup last summer. When the tournament kicked off in June, she was the youngest team captain competing on the sport's grandest stage.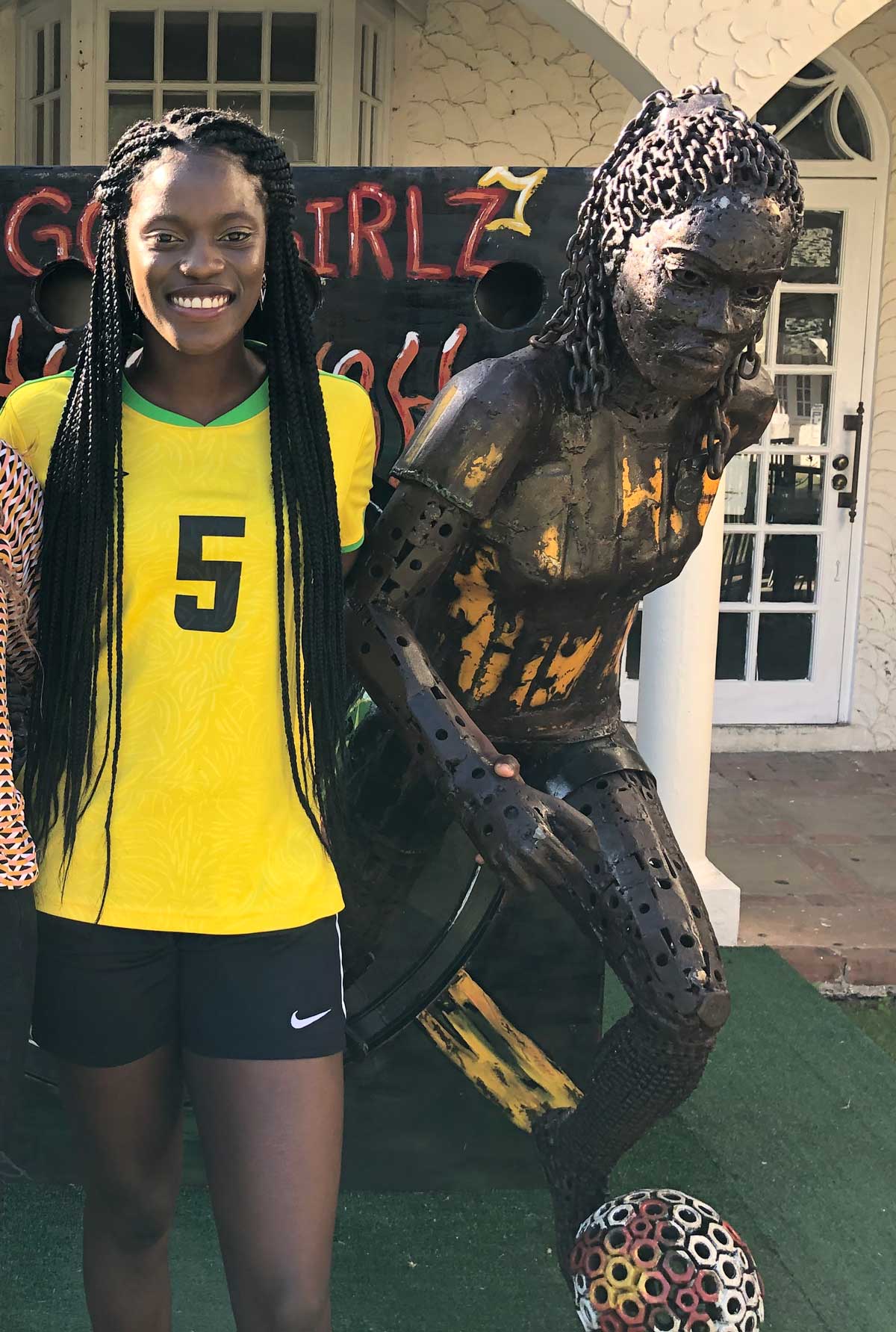 She is as highly regarded in her home country as sprinter Usain Bolt and musician Bob Marley. Following the World Cup, a statue of her was unveiled in December in Montego Bay alongside the legendary figures.
"The statue is supposed to represent the whole team. It could have been anyone, but it is me. It's crazy," she says. "I just couldn't believe that I have something permanent – that people go and take pictures with it. When I went to see it, I just thought, 'Where am I right now?'"
She returned to UCF to play her final season with the women's soccer team and was named the American Athletic Conference's Defensive Player of the Year. She followed that up by becoming the first Jamaican-born player drafted in NWSL history. Even better, she was selected by the Orlando Pride, allowing her to stay in the city where she established a second home as a UCF student-athlete.
"The morning of the draft I woke up and I was preparing myself. I thought, 'Konya, you might be going professional in America,'" she says. "Hearing my name called — that was the best feeling of my life, and that moment will stay with me forever."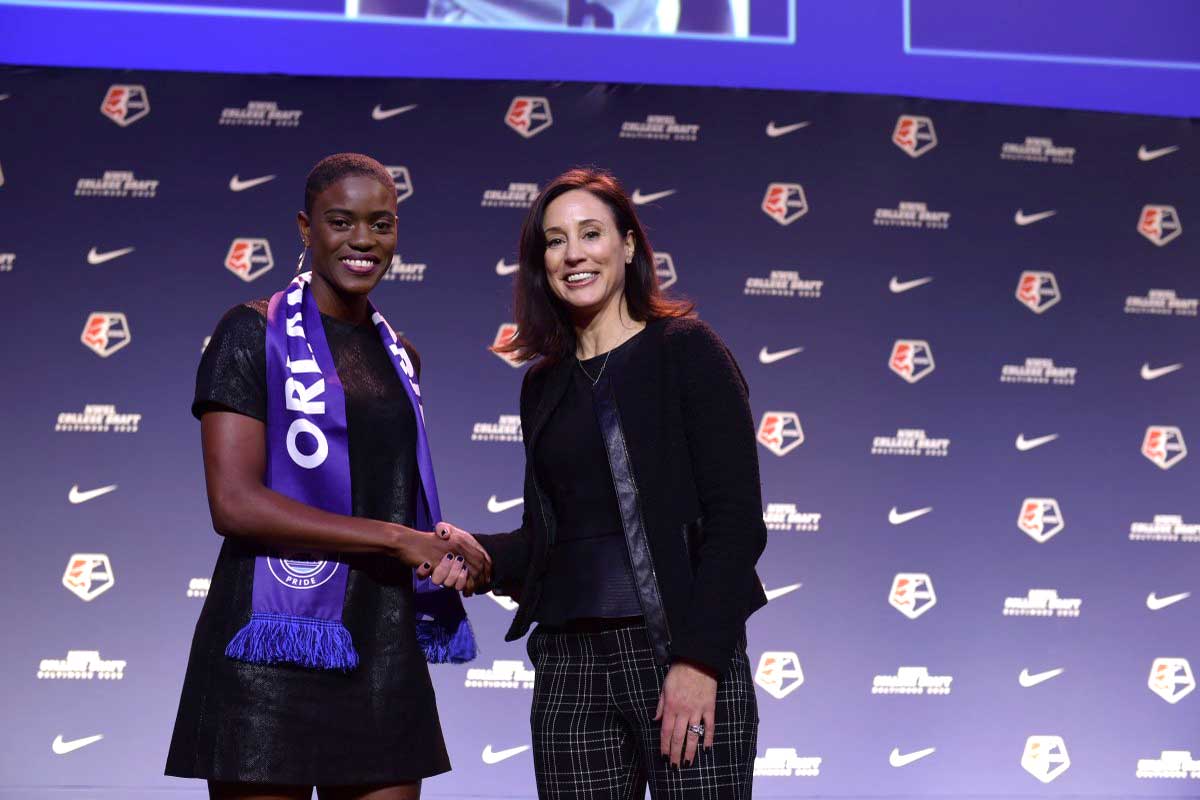 She joins fellow Knights Bridget Callahan '19 and Carrie Lawrence '19 on the team as well as soccer stars Marta, Ashlyn Harris, Ali Krieger, Sydney Leroux and Alex Morgan. Plummer says when she was younger she used to watch Marta play on television, and she is humbled to share the field with the six-time FIFA World Player of the Year and the other women she now calls teammates.
"Not everyone gets to be in this position. This is a dream come true for me, so now I just want to be the best version of myself," Plummer says. "Ultimately I want to impact the team in a positive way and just be there for my teammates, in whatever way that may be. I'm learning a lot from these women, so I'm just going to continue to work hard, and use them as an example."
"It brings me passion when I'm somewhere and I hear, 'Go Knights' and I say, 'Charge On!'"
Graduation Day
Plummer will be one of more than 8,600 UCF students who are expected to accept their degrees May 2 in a virtual ceremony — a new spring-term record for UCF.
She will be the first in her family to graduate from college, although two of her sisters have followed in her footsteps and will be graduating from other universities within the next year.
When asked what she will remember most about her time at UCF, without hesitation she says, "Go Knights, Charge On!"
"It brings me passion when I'm somewhere and I hear, 'Go Knights' and I say, 'Charge On!'" she says. "That bond we share as Knights, that's something that I'll always have. As an international student, it can be hard. But here, everyone is so passionate and loving. It makes me feel like I'm at home."