Juan Diego Vila '19 waited five days before he celebrated erasing his student loans. Any time he had made a payment during the previous six months, there was always a delay to the account balance, and he needed to see zeroes before allowing himself to relish the moment.
"I have been paycheck to paycheck my entire life. Through college, I was not making enough money to have any real savings. I had my neck barely above water," says Vila, a manufacturing engineer at Texas Instruments who paid off his debt Jan. 21. "For the first time ever, I can finally stop being paycheck to paycheck. There's no better feeling than that."
Born in Puerto Rico, Vila moved to Fort Myers at age 10. In high school, he volunteered with the local fire department and found a passion for helping people. Initially, he didn't want to go to college — he wanted to become a firefighter — but his parents, who are both college graduates, implored him to reconsider.
The decision changed the trajectory of his life.
During his first year at UCF, Limbitless Solutions was in its early stages of developing bionic prosthetics for children. Albert Manero '12 '14MS '16PhD and other members of the Limbitless team gave a presentation to Vila's Introduction to the Engineering Profession class, hoping to recruit some fellow students to join their mission.
"At the time, I was thinking about dropping out of engineering because I felt like engineering was kind of making people's lives more convenient as opposed to making a massive impact," Vila says. "Coming to UCF and finding Limbitless allowed me to bridge that gap between pursuing engineering and changing peoples' lives at the same time. I'm incredibly grateful to Limbitless, particularly Albert Manero and John Sparkman who truly believed in me."
About half of UCF students graduate with no debt. For Vila, that wasn't the case.
He earned some scholarships, which he says paid for roughly 85 percent of his tuition. The rest he needed to figure out on his own, and he ended up incurring more than the average UCF student.
"I would say I was very much like every other college student. I really didn't think about the long-term financial consequences to student loans. I just knew I needed money." — Juan Diego Vila, UCF grad
"I would say I was very much like every other college student. I really didn't think about the long-term financial consequences to student loans," says Vila, who worked jobs at Chick-fil-A, 4 Rivers Smokehouse and an aquarium shop in addition to Limbitless throughout his time in college. "I just knew I needed money and that was it. In terms of how and when I was going to pay it back, I wasn't sure."
The realization hit him hard during his final semester. Vila saw how his family struggled with financial pressure throughout his life, and he knew he didn't want that for himself.
So he quickly formed a plan to erase his debt in six months while still enjoying his life and creating a startup company.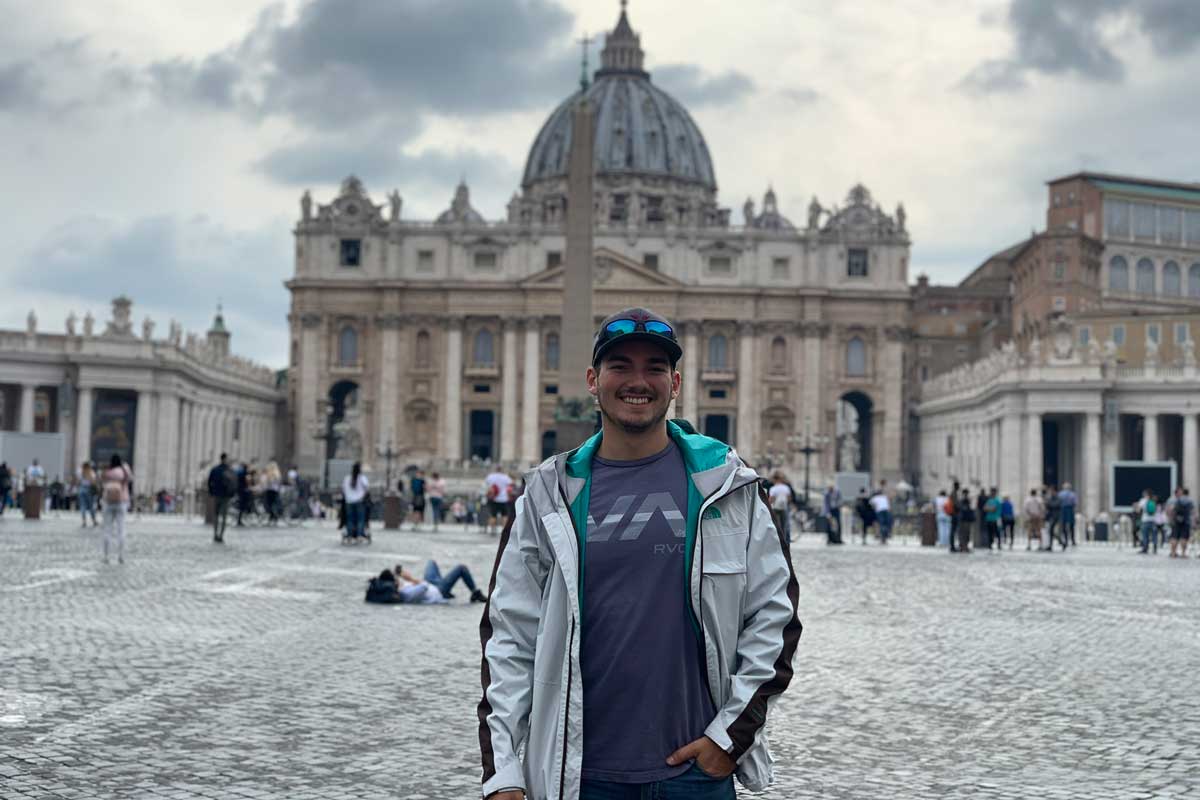 What was your plan to paying down your debt?
The technique that I used to pay off my debt is something I learned from (author, radio show host and businessman) Dave Ramsey. He has this method called "7 Baby Steps." The first step is to save $1,000. The second step is to pay off all your debt. When I was in that last semester of college, I saved $1,000 from my part-time jobs, which became my emergency fund. Then, I got into the paying-off-all-my-debt phase.
It's pretty simple. I made an Excel spreadsheet. How much money do I make? How much money do I spend? I subtracted one from the other. Now how many paychecks is it going to take for me to pay off the debt if I don't change how much I spend? I wasn't happy when I saw the result. My goal was to pay it off as soon as humanly possible.
I looked at all my expenses. I saw what I could cut away. Instead of buying food out in a restaurant, I started meal prepping. Instead of going to a coffee shop to get coffee, I made my coffee at home. Little things like that. And I put all of this in the Excel spreadsheet so I could really see the numbers go down. That established my budget. The rest of it was discipline to stick to the budget.
What was your budget?
When I graduated, I got a job with Texas Instruments. The base pay started at $76,000 and they gave me a $10,000 bonus to sign on. That $10,000 immediately went into my debt so that was a really nice jump start. Regardless of whether or not I would have gotten that, I would have had the same exact plan. It would have just taken me a little longer to pay it off.
Every single month, I would put about $3,000 into nothing but debt. About 50 percent of the money I was making every month would go straight to my student debt. The rest was to live and have fun.
Do you feel you had to make sacrifices?
I didn't suffer. A lot of people are probably going to think I ate nothing but ramen all day every day and that's not true at all. I still went out with my friends. I still had perfectly healthy food. Granted, I would meal prep and when I went out with my friends I wouldn't splurge and spend a ton of money. But I was still having fun. My life felt perfectly balanced.
"It's not that you have to sacrifice everything. It's just about being conscious about what you're spending money on."
Right after I graduated, I went to seven countries in Europe, and again I budgeted it very, very strictly. But I got to travel for the first time outside of the country. When I got back, I moved to Texas — a state I've never been to before. The whole time, I still got to hang out with my friends. I went to a music festival. It's not that you have to sacrifice everything. It's just about being conscious about what you're spending money on. The way that Dave Ramsey explains it is, it's an every-dollar budget. You know where every dollar that you are spending is going. Every dollar has been planned. That doesn't mean that it has to all go toward a debt. Some of it can go toward having fun.
Did UCF's affordability help?
Yes. I am very happy that I went to UCF because of that. UCF is a high quality education with classes that don't cost an astronomical amount. I know people [that went to other universities] who graduated with $60,000 or $90,000 in debt. If that would have been my case, again I wouldn't have changed my game plan. I would have been just as aggressive, and it just would have taken more time.
"A lot of my friends that went to other universities like UF or Ivy League schools, they have told me, 'Wow I kind of wish I went to school at UCF. It's a great education and you're not paying an incredible amount.' "
A lot of my friends that went to universities like UF or Ivy League schools, they have told me, "Wow I kind of wish I went to school at UCF. It's a great education and you're not paying an incredible amount."
Do you have tips for students who are in the same position you were in?
A lot of people who graduate decide that because of their hard work to get their degree, they want to reward themselves with a brand new car or a house while still being in student debt. I think that's the wrong way to look at things. You should instead reward yourself by getting out of debt. There's no better reward than releasing that financial pressure. There's no brand new car that's going to give you that relief.
It takes a lot of hard work and diligence. You have to know where all your money is going. Sometimes your friends are going to want to go out on a day that you hadn't planned on spending money. And you just have to be willing to say, "No. I'm on a mission and there's nothing that can stop me. And if you are going to be supportive friends, then this should be OK with you." And I'm happy that my friends were. Now all my friends are doing what I did to pay off their student debt.
How did your education and experience with Limbitless impact your life after graduation?
It made me into the person that I am, and it's going to make a massive impact for my future. The combination made me see the world differently. I've always been somebody that had high aspirations and big goals, but I never quite had the tools to be able to execute them. And I think those experiences gave me the tools that I needed to be able to bring these goals to life.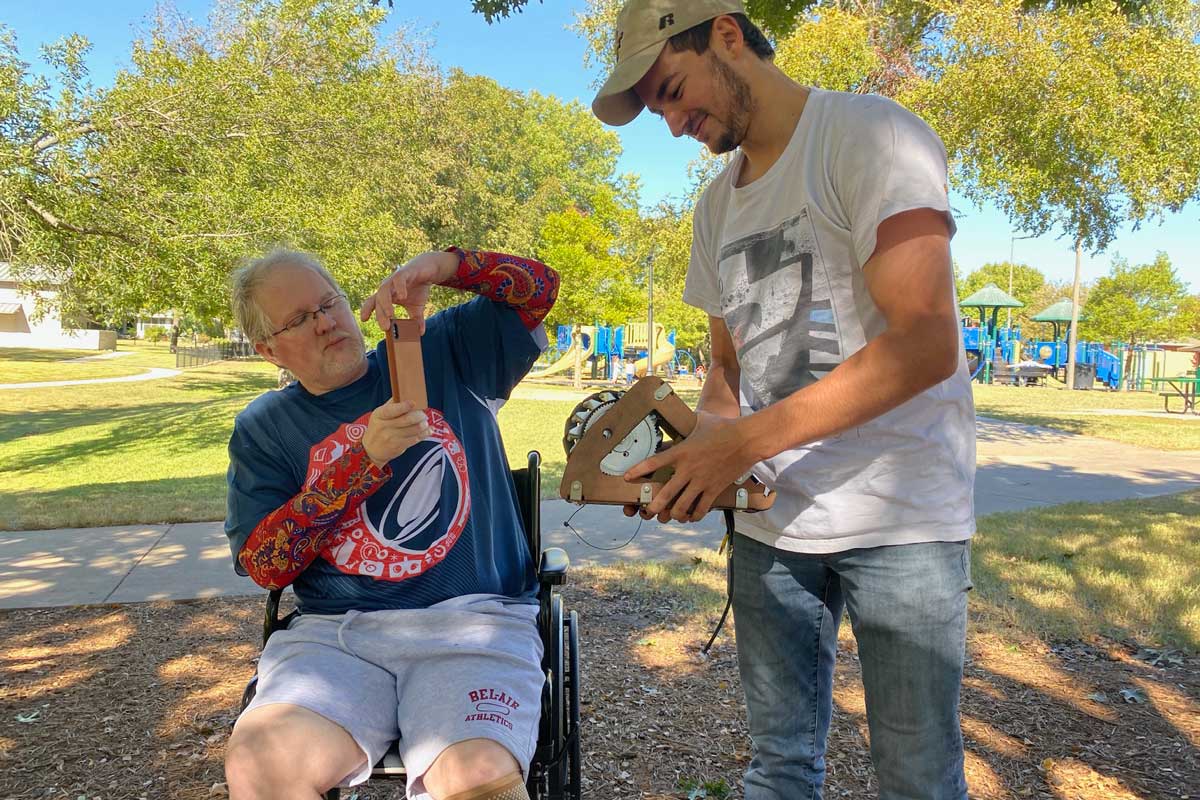 Tell me about your company, Citryne.
While I was still in college I had to do my senior design project, and I decided I wanted to do something that would make a big impact in peoples' lives. I got a team together of like-minded people and we made an electric wheel system that you can attach to the back of any manual wheelchair and it makes it fully electric. We got a provisional patent, and we recently went to the Dallas Abilities Expo and showcased our device for the first time to the public. The wheelchair users absolutely loved it. We haven't stopped since.
What are your thoughts on student debt in this country as someone who has lived it?
I don't have a strong opinion on whether college should be free. In the end, it's going to come out of someone's pockets, so I'm perfectly fine with the way things are. By going to college, you're getting a lot of value from that degree. I would have never gotten my job at Texas Instruments if it wasn't for this degree. And you're getting a lot of resources. It's a once-in-a-lifetime opportunity to surround yourself with some incredibly talented and intelligent individuals around the same age as you. I think it's OK that you have to pay for the value. Nothing in life comes free. So if you can't afford it and you have to go into student debt, that's OK. Just pay it off as quickly as possible.