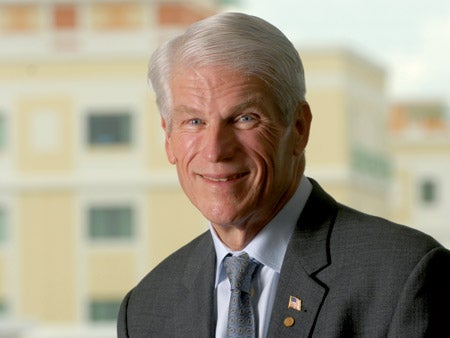 Since its beginnings more than 40 years ago, the University of Central Florida has invested time, talent and treasure to grow and diversify the regional economy. Simultaneously, these economic-development ventures expand research and academic opportunities for students, faculty members and future leaders in our community.
That is why UCF is well-known for programs in fields as diverse as optics and photonics, hospitality management, simulation and training, digital media and biotechnology. In addition, business incubators have been established, many in partnership with Central Florida counties, with the aim of stimulating the development of the regional economy.
The university's successful focus on the economy enhances Central Florida's strength and vitality. And one critical factor in UCF's ability to support the region's economic interests comes from a state program called the Public Education Capital Outlay and Debt Service Trust Fund, or PECO, for short.
PECO is Florida's financing program for capital improvements at the state's public schools, community and state colleges and universities. PECO funds are used for construction, as well as the remodeling, renovation and repair of existing educational facilities.
Today, PECO is more important than ever before.
As our state faces record unemployment, these funds provide a wealth of short- and long-term benefits to our community. In the short term, UCF's $49 million in PECO projects in the 2010-11 budget will result in the creation of badly needed local construction jobs.
The long-term impact of these PECO projects will be the continued creation of high-wage jobs in areas important to Central Florida's economy. Public universities like UCF are the principal creators of skilled local, state and national work forces.
Our ability to serve students today and tomorrow depends on facilities created by PECO funds. The university's PECO-supported facilities included in the 2010-11 budget are vital to our region's economy and include facilities that will support biotechnology researchers, nano-materials experts and high-tech entrepreneurs.
Another example of a PECO project vital to our region includes the University of Florida's research facility adjacent to the UCF College of Medicine in the medical city at Lake Nona.
That is why I commend the leaders in the Florida House and Senate, as well as the Board of Governors, for their support of wise investments in important PECO-funded projects. Thank you on behalf of all of us in Central Florida whose lives have been positively impacted by PECO projects.
John C. Hitt is president of the University of Central Florida.
Source: Orlando Sentinel, published 5/23/2010, My Word by UCF President John C. Hitt: Building Programs Needed