Through partnerships and a keen ability to always see the bigger picture, President John C. Hitt has been the driving force behind Florida's largest research center. As the final months of Hitt's presidency approach, several buildings in the Central Florida Research Park commit their purpose to preserving his vision.
During a dedication ceremony today, a plaque was placed in each of one of Research Park's five Partnership Buildings to honor Hitt's support of technological industries that have created an impact on local, state and national levels.
The event took place in Research Park, which is located adjacent to campus. Several guest speakers were in attendance, including Congressman Daniel Webster, Orange County Mayor Teresa Jacobs and the National Center for Simulation's Chief Operating Officer George Cheros.
Research Park is a hub of organizations and businesses that generate a $6 billion simulation and technology industry for the state economy. Each year, the region secures about $4 billion in government contracts due to U.S. Army, Air Force, Marine and other federal agency operations based in the 1,027-acre space.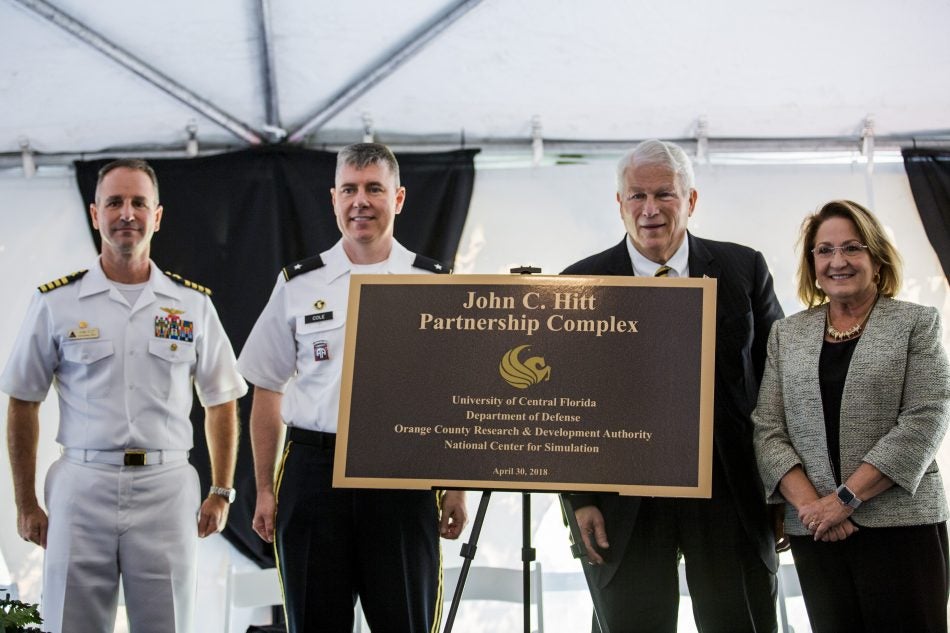 Although Research Park opened in 1978 before Hitt became president, his committed efforts to growing the center have created strong partnerships with the Department of Defense over the past 26 years. About 60,000 people employed in the park are affiliated with the military.
"During his presidency, John Hitt has championed these five buildings that are not only important to our national defense, but [also] our research opportunities for faculty and graduate students, local economy, and state-wide impact for business," says Dan Holsenbeck, UCF's senior vice president of university relations.
Most recently, UCF acquired Partnership Buildings IV and V to help keep military personnel in the area by leasing 200,000 square feet of office space to Team Orlando, the military entity comprised of the national defense organizations, federal agencies and private businesses that work to help improve human performance through simulation.
The original building in the complex, Partnership Building I, was built in the late 1990s, and is home to the Florida Space Institute, NASA Florida Space Grant Consortium and National Center for Forensic Science.
Partnership Building II includes UCF's Center for Distributed Learning, which includes UCF Online, and the Team Performance Laboratory/Partnership for Aviation Team Training Research.
One of the nation's leading simulation, training and virtual reality research centers, the National Center for Simulation, is located in Partnership Building III. The facility also holds UCF's Institute For Simulation and Training, which has secured more than $26 million in research funding over the past two years.