A team of experts from Florida and Massachusetts are evaluating a technique that may help eliminate the algae blooms that cause massive fish kills, stink up neighborhoods and disrupt the Florida economy.
A recent large-scale experiment promises a deeper understanding of how marine life responds to a red tide mitigation technique called clay flocculation.
Red tides generate massive fish die-offs along some of Florida's most famous beaches, impacting tourism hotspots like Sanibel and Captiva islands, which lost $8 million in revenue in 2018. Prolonged exposure is also linked to respiratory distress in humans.
To date there is no verified method to eradicate and prevent the red tide algae blooms. But spraying a clay mixture on top of the water has been shown to weigh down the algae and drag it to the ocean floor. The efficacy of the method and what happens next to the algae and the clay is also part of the study.
It's a routine harmful algal bloom solution in parts of Asia, but uncertainty about its long-term environmental impacts has kept it from widespread use in the U.S.
"We want to make sure the cure doesn't do more harm than the disease," says UCF Assistant Professor of Biology Kristy Lewis. She is working with scientists from the Mote Marine Laboratory and Aquarium and the Woods Hole Oceanographic Institution. WHOI Senior Scientist Don Anderson leads the project and UCF doctoral student Victoria Roberts, a member of the Lewis Lab of Applied Coastal Ecology, also played a key role in developing and designing the experiment as part of her dissertation.
Initial testing of the environmental effects of clay flocculation took place in July through a controlled experiment at Mote Marine Laboratory's Aquaculture Park in Sarasota, Florida. Researchers recreated the bottom of Sarasota Bay across nine large tanks, complete with sand, seagrass, and invertebrate marine life, such as urchins, clams, and crabs. The algae Karenia brevis was next introduced to create a red tide, followed by application of the clay.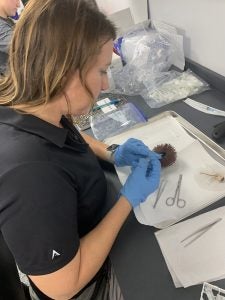 Prior to the experiment in July, Roberts tested clay flocculation impacts on crabs through a small-scale experiment with 20-liter tanks. This gave the broader research team better understanding how to maintain bottom-dwelling organisms for long periods of time in the larger experiment.
"There are a lot of variables we have to battle," says Lewis. "It's a complicated experiment because there could be a million reasons the sea creatures die in nature."
The team will study the data collected to evaluate the toxin levels in organisms exposed to red tide alone and red tide and clay together to determine if the clay reduces toxicity. Also under study is whether toxins are left in seafloor sediments and seawater. The team will next conduct an experiment performed in a natural water body using a contained enclosure called a limnocorral. That stage is expected to begin early next year.
Knowing her research carries a real-world impact on such a critical topic is at the heart of what inspires Lewis as a scientist and as a Florida citizen. A childhood snorkeling and fishing in the Sunshine State inspired her career path.
"I want my science to always be ready for use," Lewis says. "I want to answer questions not just for scientists, but for those who have the ability to make real and substantive environmental change for good."