The Adobe Max 2020 Creativity conference kicks off Tuesday and this year the event is completely virtual and free. Celebrities alongside tech gurus will discuss products and the power to use design to solve problems.
The event, one of the largest design conferences in the world, draws thousands each year and includes keynote speakers, more than 350 sessions, and a sneak peek at products under development in Adobe's labs. This year celebrities range from comedian Conan O'Brien and actress Gwyneth Paltrow to director Wes Anderson and DJ Marshmello. UCF will also be represented with speakers and announcements scheduled during the week.
Mrudula Peddinti '18, the branding director at UCF-based Limbitless Solutions will join Cat Noone, the product designer and CEO of Stark, to discuss making innovation accessible and design an inclusive process. The talk begins at 2:30 p.m. on Thursday, Oct. 22. Peddinti will share how a group of students created an organization that today creates bionic arms, which are in clinical trials, for children.
UCF School of Visual Arts and Design Associate Professor Matt Dombrowski '05'08MFA will help answer questions during the live chat that accompanies the session. Dombrowski and other SVAD faculty helped create and enhance the video games children use to help strengthen and control the muscles they will need to use the prosthetics Limbitless provides.
Graphic design student Alexander Grindle-Boettcher will also be presenting a session alongside his former high school teacher. They will speak about about student engagement in the creative learning process, and ways in which teachers can harness a student's passion to create an invested classroom.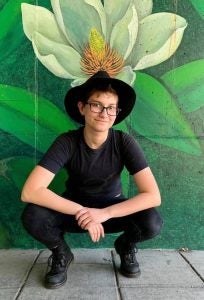 "We will also discuss taking an individualized approach to learning that focuses on the application, rather than the skills themselves, as well as barriers to that kind of learning," says the first-year student..
Grindle-Boettcher's presentation begins at 3:30 p.m. EST Tuesday.
A new collaboration between Adobe and a UCF research lab is scheduled to be announced on Tuesday.