Sharlene (Wendel) Martin '86 '93MS cradles a UCF football helmet in her hand as her son Stephen, a redshirt freshman wide receiver on the team, huddles next to her closely examining it.
"There it is: Sharlene Wendel Martin," Stephen says proudly as he points to the name listed on the center stripe of this year's space game head gear.
Martin is one of more than 100 alumni whose names are incorporated on this year's helmet — a design element that was included after the UCF Athletics official Twitter account put out a call in July for submissions from UCF employees, fans and graduates who worked with NASA's space shuttle program.
When the Knights kick off against Memphis on Oct. 22, there may not be another person in the stands with more ties to the fifth annual space game than longtime Knights fan, two-time graduate, mother of #47 and former Kennedy Space Center employee Sharlene (Wendel) Martin.
Although it's a relatively new tradition that began in 2017, the annual space game has become a fan favorite because of its special nod to the university's long-standing relationship with the United States space program. UCF was founded in 1963 with the mission of providing talent to support nearby Kennedy Space Center and Cape Canaveral Air Force Station. Today, nearly 30% of KSC employees are UCF alumni.
This year's theme honors the 40th anniversary of the space shuttle era (1981-2011), which spanned 135 missions, helped construct the International Space Station and inspired generations. Martin is one of the many Knights who helped contribute to that legacy.
Following her four years of service in the U.S. Navy and earning her master's degree in engineering management, Martin worked as a payload test conductor with the shuttle program for nearly six years.
"I love that we honor our space connection with the space center because that's why we're here — that's how [UCF] got started." — Sharlene (Wendel) Martin '86 '93MS
"The space game and the military appreciation game both hold a lot of meaning for me," she says. "I feel so much pride. I love that we honor our space connection with the space center because that's why we're here — that's how we got started. I know UCF is so huge now and we have so many opportunities, but if it hadn't been for that need to supply the engineers out there, UCF may not be here."
Stellar in STEM
On Jan. 28, 1986, Martin was an electrical engineering student in her senior year at UCF sitting in the cafeteria — now 63 South — when her friend reminded her the space shuttle Challenger was about to launch from Cape Canaveral. Martin declined the invitation to go outside. She had seen launches before and the 36-degree temperature was too cold for her South Florida blood.
"They came running back in and I'll never forget the looks on their faces," Martin says, referring to the explosion that killed all seven crew members on board. "From that point on, I never took the space program for granted again."
Although she didn't know it at the time, Martin would go on to play a significant role in the space shuttle era as a lead payload test conductor on four missions. Her role involved coordinating the process of including the scientific experiments in the cargo bay of the shuttle, which meant that come launch day, she had an active role on the launch control room floor and gave the "go, no-go" call for her area.
She cites those four launch days as her most memorable experience on the job.
"Those launches were the most exciting thing ever," she says. "To be sitting in that control room, your heart is pounding. Because of what happened with the Challenger, we would literally hold our breath until we had separation. Once separation happened, the applause in that room would fill up and the exhilaration you'd feel walking out of there, it was just incredible.
"I love being part of a team that accomplishes something. We all did this together. I feel like I was such an insignificant part when you look at the part that everybody played. But thanks to the cumulative effect of all those small parts, we got that space shuttle up in the air and ran experiments that provided the groundwork for the International Space Station, which is providing the groundwork for going to Mars."
She credits her father's encouragement and her time in the engineering program at UCF with providing her the confidence and skillset needed to pursue her career, especially in the 1980s when women in STEM were a rarity.
"My experience at UCF and within the engineering program taught me how to think and solve through problems — how to find answers even when you think there might not be one," she says. "I have always taken on any opportunity that has presented itself at full force because I never once heard, 'You can't do that,' or 'You can't succeed.' "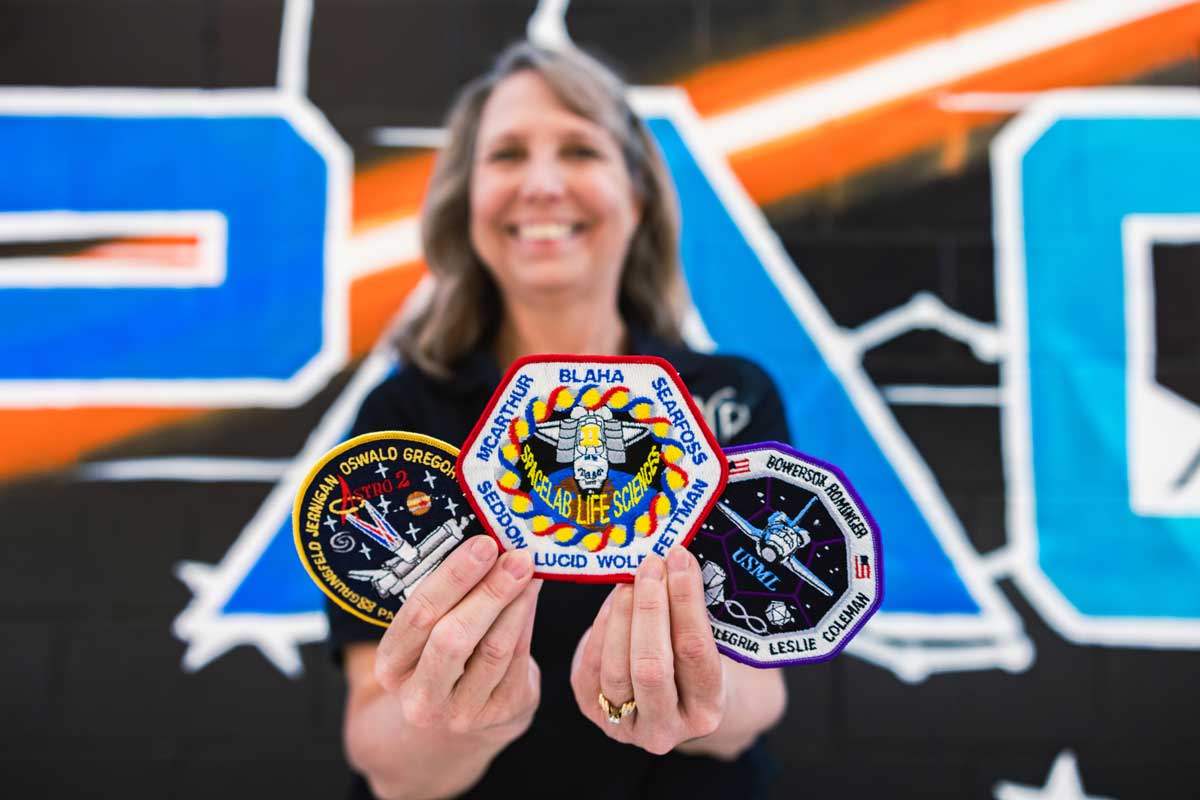 Special Bond
She left Kennedy Space Center in 1996 to start her family and help her husband, Steve Martin '87, with his increasingly expanding video production business.
But she has always found a way to continue exercising her true passion for engineering and the sciences, from playing Legos with her sons when they were young to earning her teaching certificate at UCF to become a middle school math teacher with a mission to inspire the next generation of engineers.
It appears her passion is contagious. Two of her former students now work with her at Lockheed Martin, where she serves as an integrated program planner. Her oldest son James will be graduating this December with a degree in mechanical engineering.
Stephen, who joined the football team last year, is pursuing a computer engineering degree in addition to his responsibilities as a student-athlete and has an interest in the field of self-driving cars.
"She was a pretty big influence of why I'm doing what I'm doing," Stephen says. "She always encouraged me to learn about math and science because of how powerful they are in the real world."
Stephen says he remembers traveling over to the Space Coast with his mother to witness the shuttle's final launches. Now they're getting to bond over another shared interest — UCF and the football team.
"UCF feels like home," says Stephen, who caught his first pass earlier this season against Bethune-Cookman. "It's very important in our family. And now with the space game — it means a little extra to me to go out on the field and honor my mom, all in one moment."