Three UCF alumni will return to their alma mater to speak at this summer's commencement ceremonies Aug. 3 when more than 4,000 students are expected to graduate.
This semester's expected graduates will have earned more than 3,200 bachelor's degrees, 600 master's degrees and 150 doctorates. The university has awarded 340,962 degrees since classes began in 1968.
This graduation guide provides information on ceremony schedules, tickets, arena-entry policies, live streams, parking, campus road closures, ceremony speakers, accessibility information and social media opportunities.
UCF Ceremony Speakers
Doors to Addition Financial Arena will open 90 minutes prior to each ceremony. Graduates should arrive at this time and should expect to begin lining up 60 minutes prior to the ceremony's start. For more detailed information about the ceremonies, please visit commencement.ucf.edu/2019/summer/schedule.
Dan Ward '92
President of Curley & Pynn Public Relations and chair of the UCF Alumni Board
9 a.m. Ceremony — College of Business, College of Engineering and Computer Science, College of Medicine, College of Optics and Photonics, Rosen College of Hospitality Management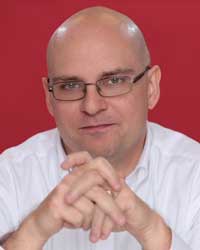 Ward has practiced public relations in Florida for more than two decades and served as vice president and partner with Curley & Pynn for 10 years prior to becoming president. The Florida Public Relations Association named him the 2013 PR Professional of the Year, and he served as president of the Public Relations Society of America's Orlando regional chapter in 2004.
He was elected as chair of the UCF Alumni Board in July 2018, was was inducted into the Nicholson School of Media and Communications' Hall of Fame in 2011 and serves on the school's advisory board.
Ward earned his degree in journalism with cum laude honors.
Falecia D. Williams '06EdD
Valencia College West Campus and Downtown Campus President
2 p.m. Ceremony — College of Arts and Humanities, College of Graduate Studies, College of Nursing, College of Sciences and College of Undergraduate Studies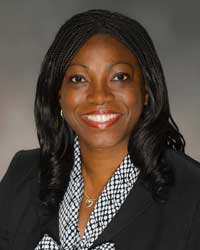 As a first-generation college student, Williams went on to earn her doctorate from UCF and has enjoyed an extensive career in post-secondary education that has focused on student success, program development, community partnerships and leadership systems.
During her tenure at Valencia College, she has worked her way up from a part-time professor to the leader of two campuses and was most recently tapped to guide Valencia's collaborative efforts with UCF that garnered state approval for the joint downtown campus, set to open in August.
In 2018, she was selected by the Aspen Institute as an Aspen Presidential Fellow for Community College Excellence.
Williams earned her Bachelor of Arts at Rollins College, Master of Arts at Stetson University, and Doctor of Education at UCF.
Gideon Lewis '00
Sports medicine physician
7 p.m. Ceremony — College of Community Innovation and Education, College of Health Professions and Sciences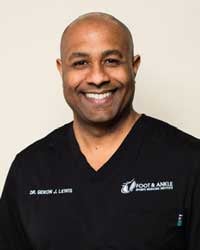 Following in his grandfather's and father's footsteps, Lewis carried on the family tradition of a career in medicine as a board-certified reconstructive foot and ankle surgeon. He is also a decorated UCF alumnus, College of Medicine faculty member and UCF Foundation Board member.
After more than a decade of practicing medicine, in 2017 Lewis established the Foot & Ankle Sports Medicine Institute in Winter Park, where he routinely treats Olympic and professional athletes from the NBA and NFL.
Lewis has maintained an relationship with his alma mater since graduating with his bachelor's degree from UCF in molecular microbiology. In 2010, he founded the UCF Surgical Internship Program and currently serves as the director. He is an assistant professor with the UCF College of Medicine, an interviewer for the college's admissions committee and serves as the chief sports medicine faculty advisor for the college's orthopedic and sports medicine interest group.
In 2010 he received the College of Medicine's inaugural Rising Star Award and in 2018 received the college's Dean's Award, which is the highest honor awarded to a faculty member in the college.
Lewis earned his doctoral degree at the California College of Podiatric Medicine. He served as a commencement speaker in Spring 2014.
Cap and Gown Distribution
Students who have filed their intent to graduate and ordered their regalia through Herff Jones can pick up their cap and gown at the UCF FAIRWINDS Alumni Center from July 22-26 at the following times:
Monday-Wednesday: 9 a.m. until 6 p.m.
Thursday-Friday: 9 a.m. until 5 p.m.
Students who did not pre-order their cap and gown can order their regalia at the Alumni Center July 24-26.
All rental regalia, specifically gowns, hoods, and tams, must be returned immediately following your commencement ceremony at the Barnes & Noble at UCF near Addition Financial Arena. Bachelor's and master's graduates are allowed to keep the cap and tassel only. The book store will observe extended business hours Aug. 3 in order for graduates to return their regalia. Credit cards will be charged full price for any regalia not returned by 9:30 p.m. on Aug. 3.
Tickets, Arena Policies and Live Stream
Tickets
Graduating students will receive up to five tickets for their guests when they pick up their cap and gowns. Each guest, including children and infants, entering the arena must have a ticket for the ceremony. In other words, all humans need a ticket to enter Addition Financial Arena.
Students can enter the extra ticket lottery online. Log onto my.ucf.edu and follow this navigation: Student Self Service > Student Center > My Academics (drop down menu) "Other academic…," choose "Commencement Ticket Lottery" and click on the >> button. Follow the instructions to apply for up to five extra commencement tickets. Extra tickets are not guaranteed.
Arena Policies
Addition Financial Arena does not allow backpacks of any kind or bags larger than 12x6x12 inside the arena. Guests who bring backpacks or large bags will be asked to return them to their car before entering the building.
A security check will be conducted for all guests and graduates entering the arena, and guests should anticipate long lines and wait times, so plan to arrive 90 minutes prior to the ceremony. Guests interested in sitting together should arrive together. Seating is available on a first-come, first-served basis.
Review the full list of prohibited items on Addition Financial Arena's FAQ page.
Live Stream
Guests who do not have tickets for Addition Financial Arena seating will have the opportunity to view a live telecast of the ceremony at the UCF FAIRWINDS Alumni Center and the Student Union. Seating is available on a first-come, first-served basis.
A live stream of each ceremony, which is closed caption, is also available on UCF's YouTube channel.
Traffic and Parking
Please anticipate road closures and traffic delays on campus Aug. 3. Doors will open 90 minutes before the start of each ceremony.
Gemini Boulevard in front of Addition Financial Arena between East and West Plaza Drives will be closed for most of the day.
Traffic flow patterns will be interrupted and access to areas around Addition Financial Arena will be limited during the traffic exit after each event. These exit changes are made for the safety of graduates, faculty and staff members, and commencement ceremony guests.
Graduates and guests with mobility impairments should park in Garage D. Free parking for all guests is available in the garages surrounding Addition Financial Arena.
Accessibility Information
Those with state disability parking permits may park in Garage D.
Graduates who use a wheelchair, motorized scooter, service animal, walking cane, white cane, sign language interpreter, or assistive listening devices, have hearing or visual impairments, or need special accommodations should contact Student Accessibility Services at 407-823-2371 in advance to make special arrangements.
Guests with mobility impairments should use the main entrance of Addition Financial Arena. An elevator is located on the west side, to the left upon entering the main door of the lobby, to access seating areas. However, wheelchairs are not provided at Addition Financial Arena; guests must bring their own.
An American Sign Language interpreter and reserved seating will be provided at UCF commencement ceremonies. Closed captioning is also provided on large screens near the stage. Assistive listening system receivers are available at Guest Relations, located on the main concourse level at the arena. Contact Student Accessibility Services at 407.823.2371 to arrange reserved seating.
Social Media
When sharing their milestone and big day with the world, graduates are encouraged to tag their social media photos and videos with #UCFgrad.
Remember to be courteous and conscious about your photo opportunities around campus. Please clean up any props you may use for your photos, and under no circumstances should glitter be used on campus, especially in the Reflecting Pond.
Students who decorate their caps can enter a contest sponsored by UCF Alumni to win some UCF swag. Grads can even decorate their caps with free supplies at the FAIRWINDS Alumni Center after picking up their regalia. The deadline to enter is July 31 at 11:59 p.m. Learn more about the contest entry requirements at ucfalumni.com/gradcapcontest.
You can also submit a request to the official UCF graduation Spotify playlist — the perfect soundtrack for celebrating.