Getting into the spooky season through over-the-top confectionery, Food Network's Halloween Wars returned for another season of ghoulish storytelling through sweets.
The reality show premise is for five teams of cake decorators, candy makers and pumpkin carvers — one of whom was School of Visual Arts and Design grad James Hall '05 '10MFA — to compete for a $50,000 cash prize. Hall was on the winning team in 2016 and returned to compete again this season as part of the Frosted Freakshow team.
Spoiler alert: Frosted Freakshow won the cash prize in the season finale. The two-time winner of Halloween Wars and two-time alumnus studied art as an undergraduate student and earned a master's in studio art and the computer from the university. Hall took a break from his whirlwind week to share some pumpkin carving tips and chat about how he came to sculpt squash.
How did you get into pumpkin carving?
I started carving pumpkins when I was about 7—when my parents trusted me to use a knife instead of a marker. I always loved it, and I started trying out tools and techniques from clay and wood working. While it always meant a lot to me, it never really occurred to me that it could be anything more than holiday fun to anyone else. Then I started entering into online contests, and after I won some prizes I started realizing that other people loved this stuff, too.
How does it feel to win Halloween Wars again?
I have been fortunate to be on Food Network's Halloween Wars twice, and to win both times. I watched the show every year with my mom—she loved Halloween. After she died I decided to try out for the show in her honor, and I was selected for the 2016 season. Winning once was amazing, I went in not knowing what to expect, and I just wanted to do well for my team. Winning a second time was really unbelievable. I knew what I was in for, and decided to take bigger risks.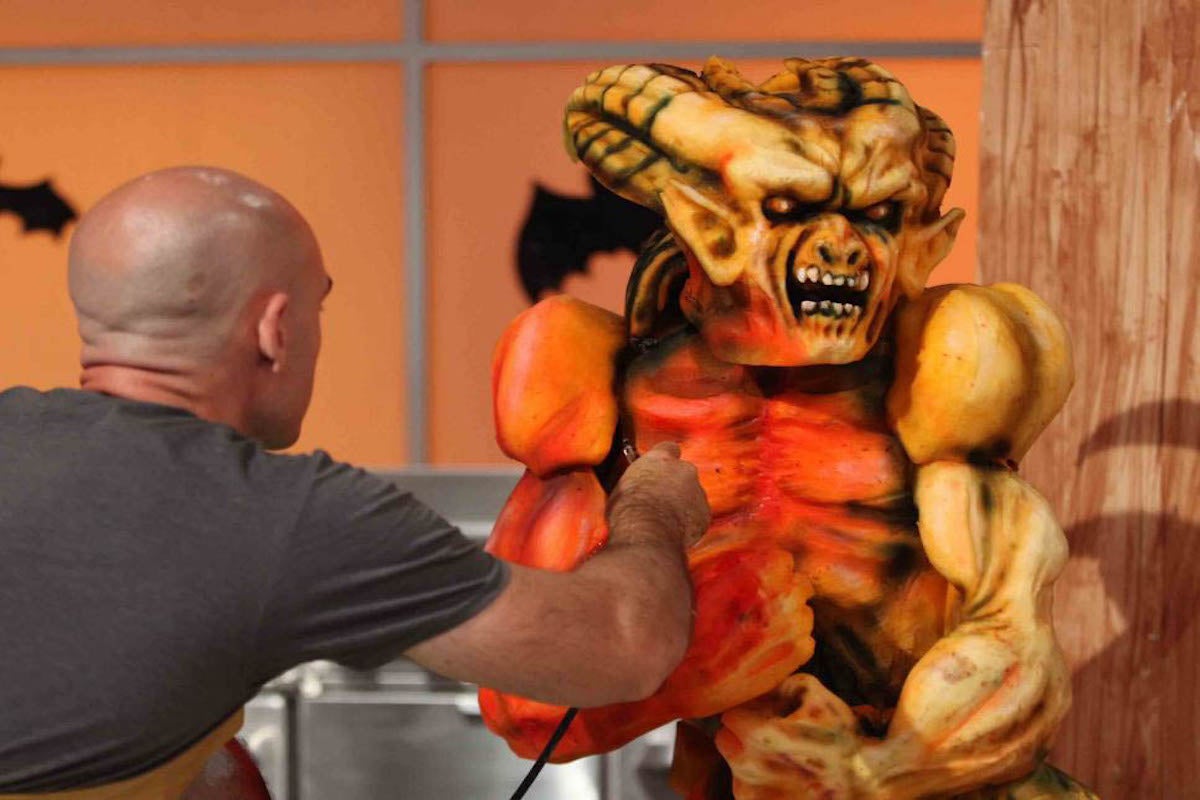 Do you have any advice for the folks at home about how to carve a pumpkin? Any secrets to an awesome carving?
For anyone getting into pumpkin carving, I would say just have fun trying out everything. No matter what you do, your sculpture is going to be reduced to green pudding in a week, so messing up really doesn't cost you much. Try different tools, anything sharp can be used to carve. If you do want your pumpkin to last an extra few days, cover any cut areas in petroleum jelly. It keeps the air from rotting it.
What should art students know about pursuing unique, creative or non-mainstream design fields like pumpkin carving?
For any student wanting to pursue an odd form of art, I would say, don't be afraid to go for it. Art is supposed to be about exploration about yourself, humanity, the world around you. Why not explore with materials? Even something that may not seem like art to some people can be pushed to something impressive. I mean, I got on national TV for cutting up gourds! And who is to say what art should be? If it means something to you, it probably does to somebody else out there, too. Besides, that's how you make things nobody has seen before.
UCF students are carrying on the tradition: in 2018 Halloween, the "Arts at UCF" team crafted a "Bob Moss" pumpkin for the Student Union's Pumpkin Palooza and won first place. German Salazar '19 performed the expert carving. Perhaps he will follow in Hall's footsteps someday! "I love the Bob Moss pumpkin!" Hall said.
Nicholson School of Communication and Media student Jarid Altmark was also a contestant in this year's Halloween Wars, making his TV debut.