It was the 2012 men's basketball season. With the help of his boss, Austin Hittel '13, a UCF Athletics student videographer, was on the catwalk of CFE Arena (Now Addition Financial Arena) for the first time in his emerging career, capturing footage of the team. That experience in the rafters would serve as an entry point into new ways to cover sports, which led the radio/television alum to the career and accolades he now enjoys with the Atlanta Falcons.
Hittel, the Falcons' senior director of video production and broadcast, shoots footage from the roof of Mercedes-Benz Stadium, Atlanta's home stadium. Using an 8K Red Digital V-Raptor XL camera harnessed to his body, he shoots video, motion tracks the football in the clips using Adobe After Effects, and adds sounds from the field. The result is a unique perspective of the game that has led to 102 million views of running back Bijan Robinson's behind-the-back catch and an NFL Network segment inspired by the video. Elements of his work are even appearing in the NBA.
The idea to get "roof cam" footage came from a desire to create shots that were unique from others. Hittel also describes himself as an adventurous person, climbing mountains in his free time. Mixing those two qualities, Hittel shot from the catwalk a few times during basketball games at UCF and from the catwalk at the Georgia Dome, the Falcons' home from 1992-2016. That footage was used in Atlanta's introduction videos when they played in Super Bowl LI in 2017.
Because of his current role and responsibilities to the staff, Hittel isn't shooting as often as he did when he first started with the Falcons. However, he has been able to get to the roof a few times this season, starting with a Week 2 matchup against Green Bay that led to the first roof cam clip of an elusive run by Robinson.
Every Sunday, the NFL sidelines are full of video and photo producers capturing game content. With many ways to capture content and showcase the players, Hittel and the Falcons' production staff are focused on new, creative ways to spotlight the team's world-class athletes.
"Anything we can do in our area of expertise that can really make these guys feel larger than life that's what we're going to try," Hittel says. "Whether it's the speed ramping or the slow-mo and emphasizing these big moments, Bijan's cut cuts and his behind-the-back catch, Drake London and just the radius of his wingspan, his catch radius is just incredible. With the tools that we have, we're always trying to emphasize showcasing those heroics on the field."
Hobby to Profession
Hittel started capturing athletic heroics as a hobby in his hometown of Apopka, Florida. He was an early adopter of YouTube, creating sports content on the website in 2008. He covered Apopka High School's football state championships in 2012 and 2014 and covered other high school football games across Central Florida. A highlight of Apopka running back K.J. Dillon diving into the end zone received 1.1 million views on YouTube, and some of his clips of high school games ended up on SportsCenter. The success of his channel and wanting to build upon it while in college played a big part in his decision to stay local and go to UCF.
His time at UCF was an opportunity to gain more skills in and out of the classroom. As a student in UCF's Nicholson School of Communication and Media, Hittel learned the versatility needed as a video producer. Faculty such as George Bagley, a former professor at Nicholson, provided Hittel with support and guidance for career-related questions the student had.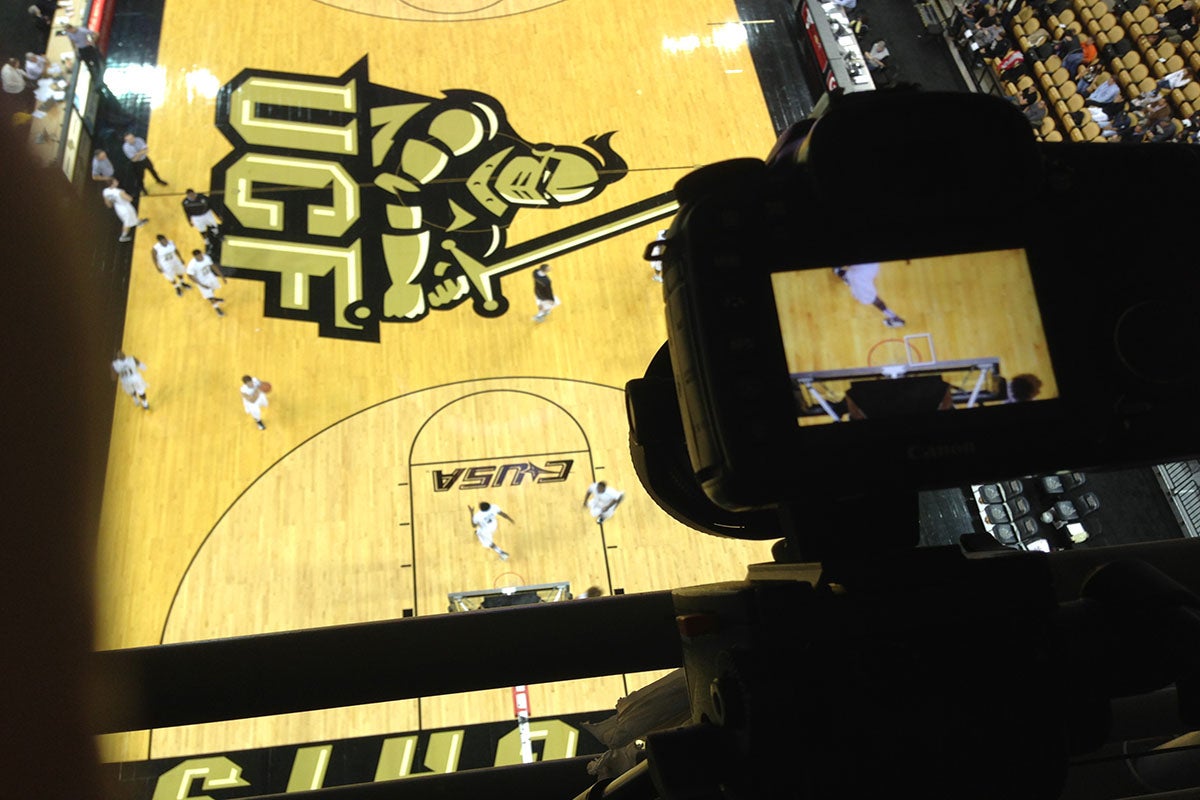 He'd be able to apply those skills learned working in the athletics department for a year as a student producer, covering teams for coaches, and working in the production department. While working in Athletics, Hittel and his roommate built their own Steadicam, an apparatus that holds the camera still while the person recording is moving. As the Knights football team ran out of the tunnel before the game, they'd run behind them getting footage with the Steadicam, an early creative way to get footage that is standard for many sports content crews now.
"That was incredibly impactful for me," Hittel says. "I probably learned more than I've ever learned my one year [there]. That was my transition phase, in terms of, 'This is a cool hobby to this is a profession and this can be [my] profession.' "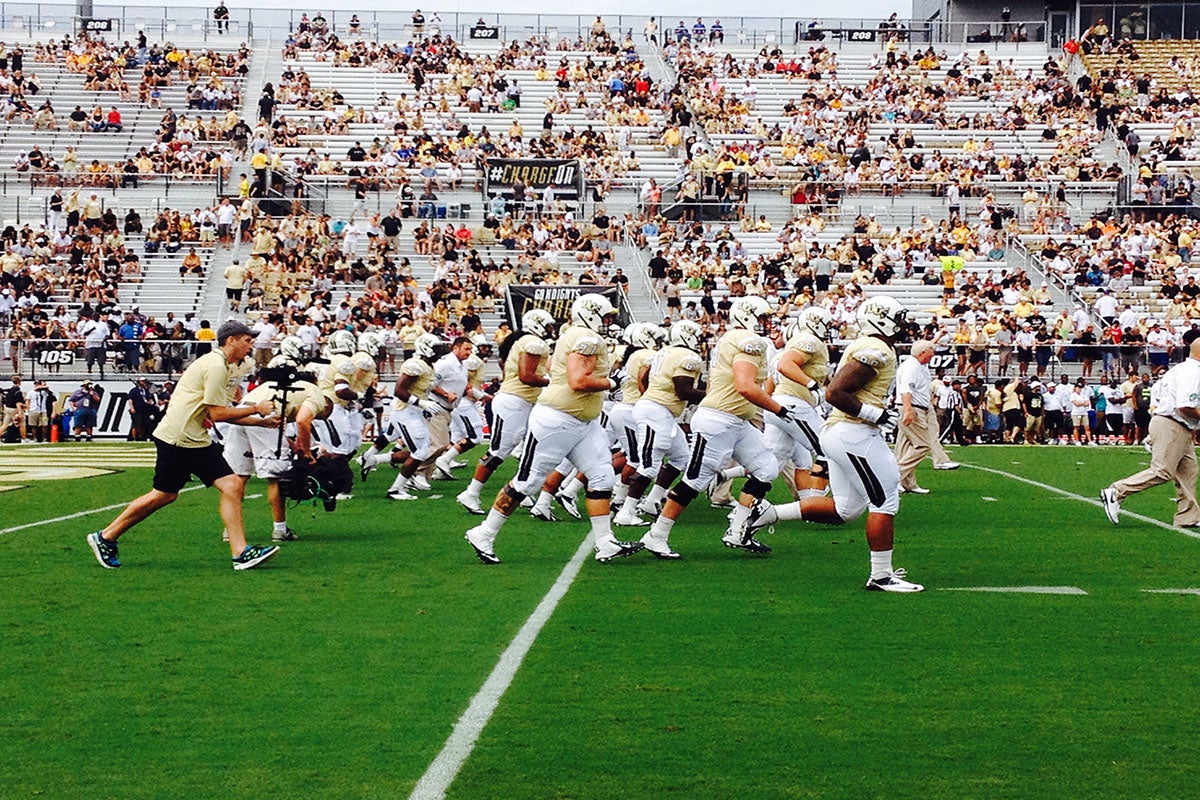 A Start-Up Mindset
In addition to his time at Nicholson, Hittel also spent many class hours at the College of Business, understanding the business side of his profession and the role content plays in a company's overall plan. It was a class taught by Senior Instructor of Sport Business Management Scott Buckstein that another opportunity to expand his skills arose.
On the board behind Buckstein were a list of sports media opportunities, featuring sports media companies ESPN and Fox Sports. Next to them was a local upstart soccer club playing in a newly rebranded minor league named USL Pro.
The team? Orlando City.
The team was looking for interns to work with the few full-time associates they had, and the chance of getting hired there fared better for the then-freshman Hittel, compared to the established sports channels interested in experienced upperclassmen. However, the job would be another chance to gain field experience and handle more responsibilities. In 2011, Hittel started his career with the Lions, interning for a year, then taking a part-time job, then a full-time one.
As a minor league club, Orlando City's video production team was constantly finding ways to be creative and increase the club's visibility. One of those ways came from Jamie Watson, a forward with OCSC 2011-2013 and a current match analyst with Apple TV's MLS Season Pass. After scoring a goal in a May 2013 contest against the Wilmington Hammerheads, Watson ran up to the camera Hittel was operating and celebrated by signing the lens.
"It was really like a start-up mindset there, it was really cool to be part of," Hittel says. "We were an incredibly fast moving and growing organization, where we went basically from scratch to MLS in a couple of years,"
Seeing Orlando City's progression provided special memories for Hittel, such as Nov. 19, 2013, when the team announced they were moving to the MLS in 2015. However, as the organization was growing, Hittel was growing, too.
Evolution of Content
Living in the Orlando area for most of his life, he was interested in what other video opportunities were out there. A goal was to shoot an NFL game at the end of the year, so he reached out to some connections with UCF ties to see about availability. In August 2014, Hittel was watching an episode of HBO's Hard Knocks, a documentary series covering the training camp of an NFL team. The Atlanta Falcons were the subject of that season.
The show inspired him to look at NFL job openings online, and there was an opening for a producer role with the Falcons. Hittel has now been with Atlanta for nine years.
Much like his role, the department he works for and the duties required have evolved over the years. In 2014, there were three video staff members, which has now tripled. After not having a permanent facility for producing digital and creative content, the Atlanta Falcons built Ticketmaster Studios, which opened in 2022 and Hittel was the project lead of Ticketmaster Studios features multiple production spaces, including a main studio that for traditional television and cinematic storytelling. There is also a podcast studio with space for remote multi-camera productions and a second studio space for photo sessions and additional videos.
The organization's dedication to building a multi-million-dollar facility is an example of the change in the importance of content creation, as it has gone from being exclusively entertainment to part of a company's business objectives, says Hittel. It also allows the team to dig into deeper stories behind the players, such as a project in 2020 Hittel was a part of that covered then-Falcons tight end Hayden Hurst's journey to the NFL and the mental health challenges he endured along the way.
"You can go to them and provide them content in their daily lives, which is really important to be able to connect our fanbase to our team and our players and tell the stories of the players that we do," Hittel says. "The roof content is really cool because it's eye-popping and everything, but we've gotten the ability to use our content and our platform to be able to tell some stories that can change lives."