As UCF approaches its inaugural season as the youngest member of a Power 5 conference, the athletics department is taking a look back to commemorate this special moment in history. The following feature is a part of UCF's 12 for XII series — 12 stories that define UCF and the meteoric rise of the Knights in their journey to the Big 12 Conference.
---
In February 2021, Terry Mohajir was introduced as UCF's vice president and director of athletics. Seven months later the Big 12 Conference issued an invitation to UCF to join its league. This is Mohajir's take on the events of those months — and how the conference question factored into his early days on the job.
There's no doubt the conference situation was on the radar from the very beginning. That's one of the things I thought was attractive about this job. I thought UCF was poised to be the next school up to join the club. Being part of the Autonomy 5 is what we were trying to do, what everyone wants to do. I think for the last few years the alumni base and fan base have believed UCF could participate at that level. It came up during the interview process, and I told President (Alexander N.) Cartwright, "I've been through conference realignment six times. I would be surprised if you could find anybody that has been through the process as much as I have." Not only that, but I'd also been through realignment twice before in the Big 12.
Usually, when you get hired, you have a little bit of time to get settled. But I had to hire a football coach. Gus (Malzahn) and I talked about it (potential realignment). But you've got to be careful when you hire coaches not to overpromise. I told him I would work hard at it, and he knew I would. But at that point, we were already in a pretty good conference and we needed to figure out how to get back on top.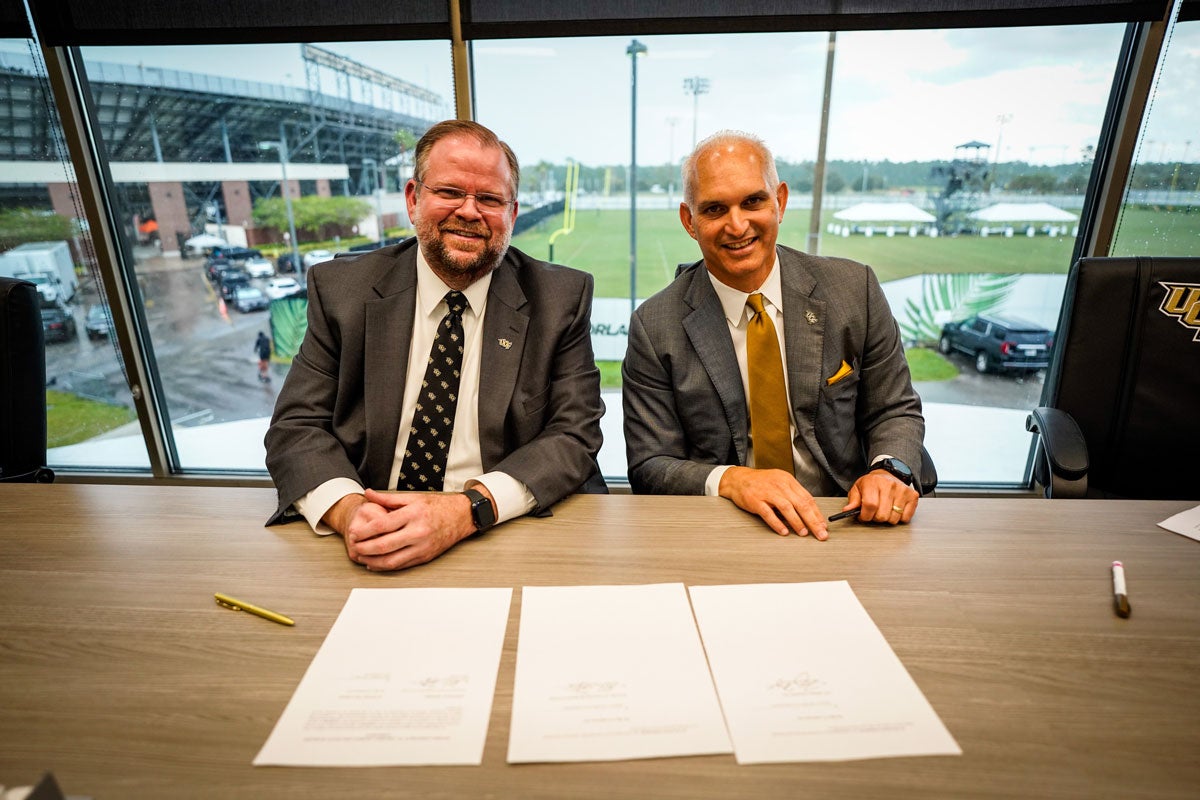 After we hired Gus I immediately started looking at conference realignment. We kept hearing things that suggested the conference landscape might change, even if we did not know when it might be. I talked to a couple of commissioners. I felt like our next biggest priority was to generate more revenue, but also we had to think about our national narrative so we would be attractive if there was another change.
I reached out to a lot of people to let them know we were open to the idea and we were ready. I talked to President Cartwright about the idea of constantly having this drip, drip, drip in the national media — making sure we were top of mind. And the president agreed it was a good strategy. He's been an incredible partner for UCF Athletics. The trustees are crazy about our meteoric rise — they want to help us be nationally competitive and compete with the top teams in this state.
We hired an architect to do some conceptual drawings because we understood the role facilities could play in any potential realignment. We modified some of the renderings of the football campus, and at my first Board (of Trustees) meeting I was allowed to present our vision for the athletics village. It was about telling people that we had a unique opportunity to build something that would be second to none. We were ready to take that next step. I told the president that once we released the renderings people would have a lot of ideas and questions, and we just had to stay the course.
After the announcement in July 2021 about Texas, Oklahoma and the SEC, you start looking at dominos. The Big 12 was very cautious about any interference through contacting schools. I knew about that from previous experience — so we reached out to them and when the time was right they reached back to us. The fact we made contact first was good. The day it happened with Texas and Oklahoma I reached out to a couple of commissioners. We didn't wait. I didn't want it to get cold, and it was hot at that time.
I was calling all the national media about our facilities plan and trying to get their take. I made a lot of calls and it made national news. I had my list of media people I knew and when I'd drive home I'd call this person and this person and this person. I had that call list for about three weeks. It gave us a real opportunity to talk about who we are. The announcement of having Gus on board had a big impact as well. He'd been in the SEC, played for a national championship as a head coach, won a national championship as a coordinator.
At the same time, you get into the mode of 'What do we have to do to prepare?' You pull your team together, a very intimate group of people. Then we went into action.
UCF had laid some groundwork five years earlier by preparing some materials for the prospect of moving to another conference, so we had a solid foundation to work with. Plus, UCF had accomplished a lot during those five years, so our brand had a lot to offer. A lot of it has to do with timing. At that time (five years ago) I don't think the Big 12 was particularly interested in expansion. This time they had an interest in our market and had done a lot of research on our market. We became a national fit as they looked for some viewership to fill the void left by Texas and Oklahoma.
A week or so before Labor Day, the Big 12 reached out and wanted to have a conversation. Bob Bowlsby flew to Orlando and met at my house with me, Alex Cartwright and (Board of Trustees chair) Alex Martins. We had just moved in so there was stuff all over the place and painting going on, but we didn't have much choice because we couldn't really go out in the community for lunch. I had family in town because of the Coke Zero Sugar 400 in Daytona. Both my brothers were here as well as maybe five of my nephews, who were current students at Big 12 institutions. I knew Bob was coming so I just told my wife, Julie, "You've got to find a way to shoo everybody out of the house on Sunday." So no one knew they came.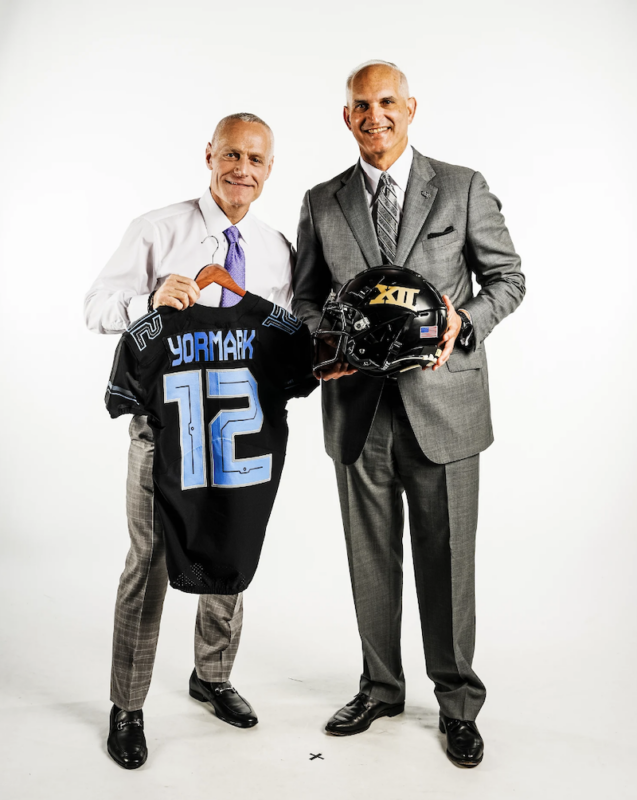 That Sunday (Aug. 29) we spent two or three hours with Bob. We knew Bob wanted to meet, but we were not sure exactly what was going to happen. Was it fact-finding and he had questions for us to learn more about us? Were there some initiatives we needed to handle? We were invited to apply for membership that day — and we were very excited.
That was when we had a discussion about some of the logistics of the move. We talked about other schools coming in. We weren't just a shoo-in — we had to make a valid pitch and obviously we did. They were looking at other schools and they had some priorities. You had travel partners some of the schools were concerned about, but it played very well.
What was the buy-in going to be (to join the Big 12)? Coming off COVID-19, we were just trying to pay our bills. But we had some buy-out money from our previous coach and athletic director. We had both buy-in and buy-out expenses. We had to look at The American by-laws to make sure we knew when payments were due. There were a lot of logistical things to work through. You're doing it by yourself to start because you can't really talk about this all over the office. For four or five days I knew this was going to happen, but I didn't bring anybody in. We had another conversation with Bob Bowlsby about some contractual issues and worked those out. Then one by one we started bringing our own staff members in to let them know.
By the time we played Boise State (Sept. 2) I knew we were going to be in. By then there were a lot of rumors in the media. That may be why I was so emotional at that game considering we got down 21-0. When we got the late interception, I was just happy because I knew we were going to win and I knew we were going to announce it the next week before we played Bethune-Cookman (Sept. 11).
The day it all happened (Sept. 10) there were several governance steps you go through. Our board approving, their board approving, the letter you send to The American. I was more worried about logistics than being caught up in the moment. But once our board approved it, I was pumped up.
I was in the league when we went from the Big Eight to the Big 12 (announced February 1994). I was in the league when Texas A&M, Colorado, Nebraska and Missouri all left (2011 and 2012) and TCU and West Virginia (2012 and 2013) came in. So I remember some of the conversations involved with all that.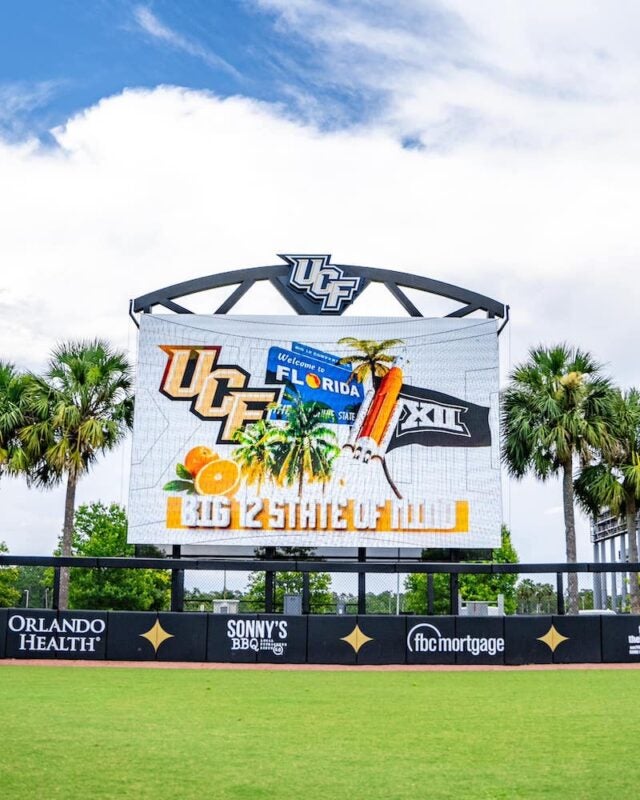 The Big 12 couldn't have taken us in 2022 because it was too early. So we were shooting for July 1, 2023, all along — and we had to work out financials with The American. Creating relationships in a new league is huge — and so I can't thank Bob Bowlsby and Brett Yormark enough for including us in the Big 12 meetings all along. We couldn't vote (in the Big 12), but we had a voice and we had input. We could learn the room — that's been the best part of the transition for me. Now we are back to being part of the governance and that's important because this is such a volatile time in college athletics.
I think the current (Big 12) ADs believe we can compete at a high level coming in. I've had a lot of those conversations. They don't have to say that, but I believe they're sincere. I think they believe that this is a lot more than just keeping the league together—they're excited about what all the new schools can bring.
It's been a lot of work – but rewarding, challenging work. I don't think people realize how complicated the transition is because of where the Big 12 is competitively.
The four parallel tracks I've talked about are real things. We are trying to increase our operating capital and keep our best personnel. Then there are facility and maintenance costs that are going up – and then the fourth thing is recruiting, which is NIL. We're not just competing with the Big 12, we're competing with Florida, Florida State and Miami as well.
As we transition into the league it's going to be fun. You're going to see why those other schools have been successful — because they've been competing for 100 years. We're going to play a school in men's basketball (Kansas) that, in essence, invented basketball. We're playing against schools that have had multiple Heisman Trophy winners and national coaches of the years — and they have unbelievable resources.
Some of the places we will go are great college towns with great fans. A lot of those schools' facilities are second to none and we've got to catch up to that. Our four parallel tracks are connected with an 'and.' Not an 'or' — and we've got to jump from one track to the next because they all are equally important.
No matter how much money you have, talent acquisition is key and then you have to develop that talent. That's how you win. That's the message to our coaches — you have to be really diligent in evaluation and recruitment and development. If you do those things very well you can beat anybody.
We need to pay homage to all the people who got us to this place. There was a foundation already being built before we got here.
We have all kinds of really cool opportunities to be the first to do things in the Big 12. What can we do that hasn't been done before?
We're starting from scratch a little bit. It's a new beginning.
This is the start of the rest of our athletics lives.