As UCF approaches its inaugural season as the youngest member of a Power 5 conference, the athletics department is taking a look back to commemorate this special moment in history. The following feature is a part of UCF's 12 for XII series — 12 stories that define UCF and the meteoric rise of the Knights in their journey to the Big 12 Conference.
---
In the spring of 1980, Linda Gooch '85 became a member of the UCF cheer team. In August 1984 she was officially hired as the program's head coach (the 2023 football season marks her 40th with the Knights) and a decade later the squad began competing for national titles. Since then they've been routine high finishers in national competitions, claiming Universal Cheerleaders Association national titles in 2003, 2007 and 2020 and a UCA game day national title in 2019. In addition, Gooch — now the longest-tenured employee in UCF Athletics — has been a key figure in the creation of mascot Knightro and the KnightMoves dance team. Her husband Alan Gooch '84 '89MA played football at UCF and then coached football with the Knights for 22 years. Both are members of the UCF Athletics Hall of Fame.
This is Gooch's story on how the cheer program over the decades helped UCF's rise to national notoriety.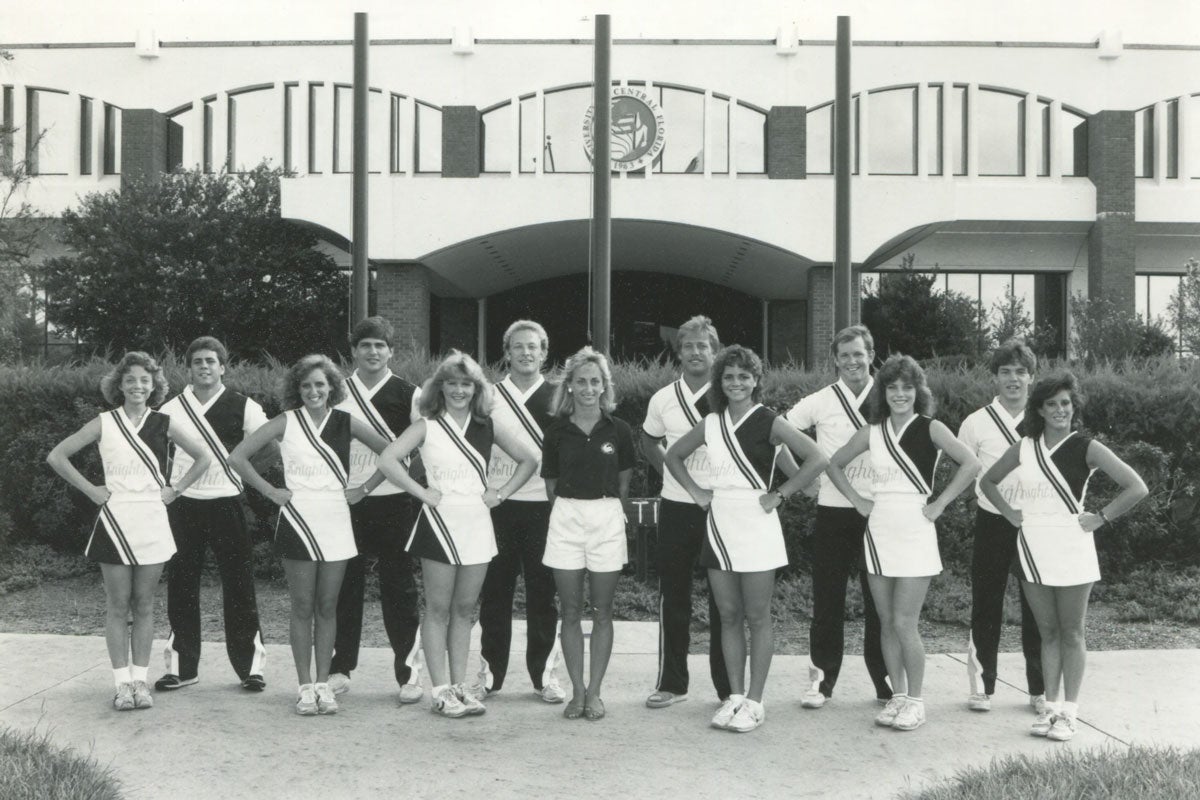 I started coaching UCF cheer in 1984 — at the same time I was teaching eighth-grade history. I would teach school during the day and drive straight to campus and coach the team in the evening. Back then, to qualify for the national championship schools would send in videotapes of their teams performing stunts and pyramids. From those entry tapes, the top 10 teams in each division were invited to compete for the title. This is the 1980s and with no internet or social media. We were pretty isolated. We had no real idea what skills other teams were including in their videos. All we knew was what we saw see at summer cheerleading camp. This was a time of incredible growth for cheerleading. This was on the heels of Olympic gymnasts Olga Korbut and Nadia Comaneci — and you had all these little girls who had watched them.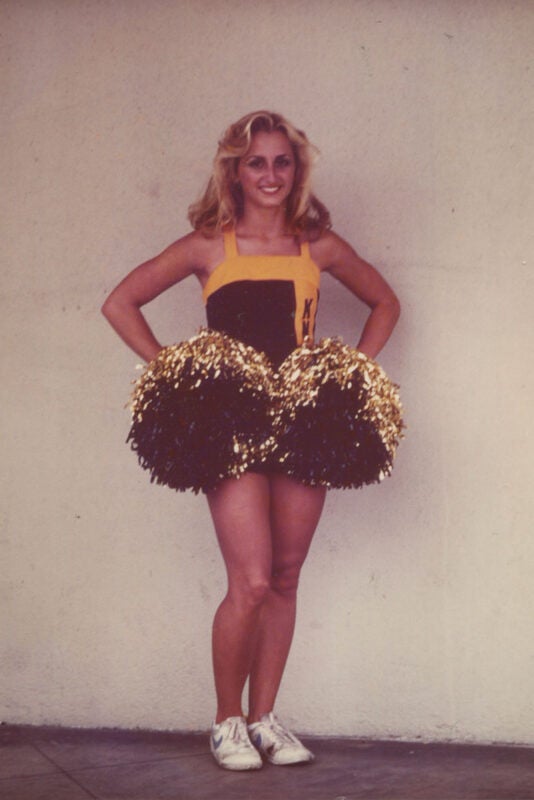 The popularity of gymnastics exploded in the US during the '70s, but there just weren't enough qualified coaches. As high school programs, like mine, closed down many girls — took their acrobatic skills to cheerleading. What had begun as a sideline activity developed into a kind of alternative gymnastics. I was on the cusp of all of that.
During my first 10 years of coaching from 1984 to 1994 we submitted video entry tapes every year but kept receiving rejection letters. If you were close to being selected, you received not just a letter but a plaque. When you walk into my office today, on a shelf I have four of the rejection plaques. I keep those up there to remind me that nothing happens overnight, and you just have to stay at it. All those sayings about perseverance are really true. You just keep working and you'll break through at some point.
In 1994 there was no rejection letter. I finally got a congratulations phone call. We had qualified for nationals. I was so pumped. I immediately called our Athletic Director Steve Sloan. I said, "I've got good news and bad news. The good news is that after 10 years of trying we have finally qualified to compete for the Division I-AA national championship." He went on and on congratulating us. I said, "The bad news is the competition is in San Diego, California, and I need $10,000 to get our team out there." There was a long pause. Back in 1994 $10,000 might as well have been $100,000. He said, "Well, we're going to have to find a way to get you out there." Student Government came up with $3,000, our cheerleaders fundraised and came up with $3,000, the alumni association gave us $3,000 and UCF Athletics made up the difference.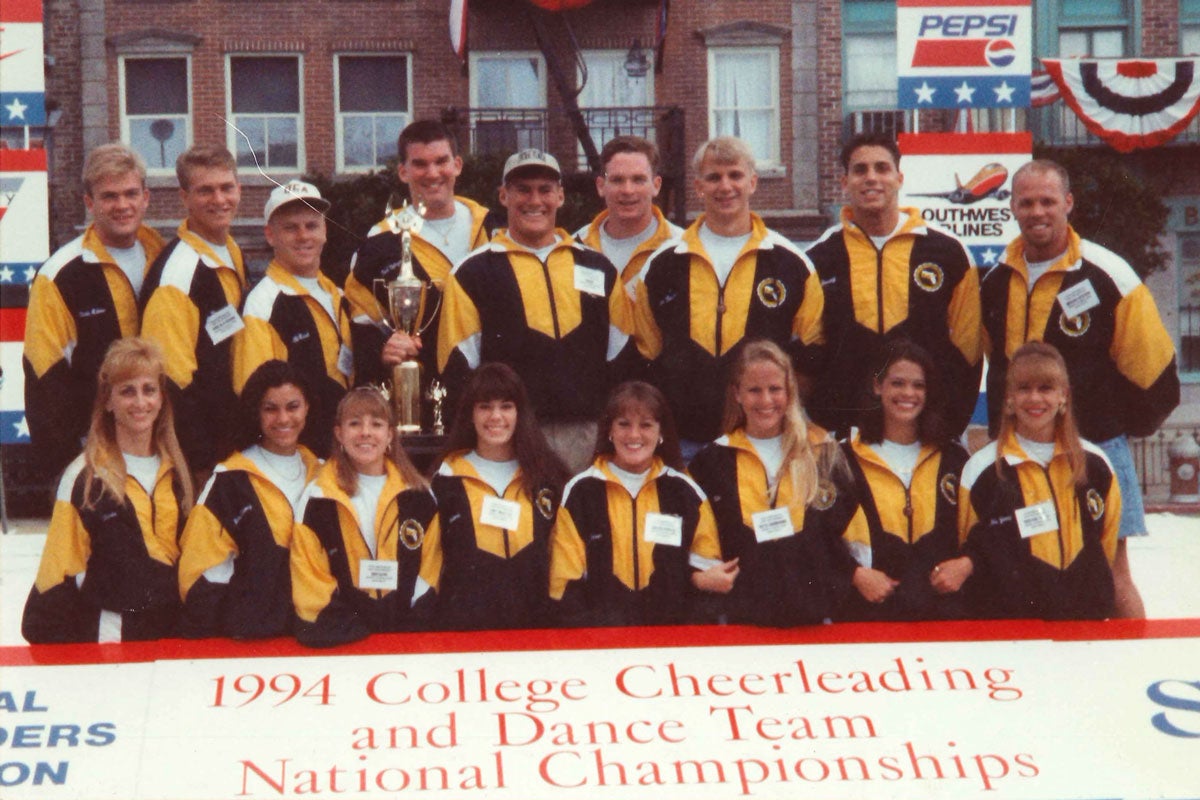 That first year we learned a great lesson about how video works. In the '90s the college cheerleading national championship was aired (taped delay) on ESPN. We would record the show and watch it repeatedly during all those years when we were getting the rejection letters. The teams just seemed so incredible. So flawless in their performances. What we did not know was that back then the TV show edited out all the falls. I thought everybody hit their routines perfectly.
My thought heading out to San Diego was, "We just don't want to embarrass ourselves." I figured, it's our first year competing, let's just keep everything in the air, so I gave our team a routine that I knew we could hit. Well we nailed it and came in a very close second to Morehead State University (in 1994). We came back to the Orlando airport and the (UCF marching) band met us at the gate. They were playing the fight song as we came off the plane and it was awesome.
We never looked back. In 1996 we moved into Division I-A along with our football team; in 1999 we finished in the top three; in 2002 we were runner up; and in 2003 we won the title. That 2003 championship truly was a David and Goliath situation because the University of Kentucky had won eight consecutive national championships. There were two generations of college cheerleaders who had never known another champion. For UCF to come in and do that was absolutely magical. Showing it wasn't a fluke, we came back and won it again in 2007 and at that point UCF Athletics was really taking off. We had opened our on-campus football stadium that year with the Texas game.
There have been some incredible moments that mark milestones for the program. In the Troy State playoff game (1987) as a coach it was incredibly gratifying to get the noise penalty. After all that's what every cheerleading coach should aspire to — having it that loud. I remember the officials walking over to (then head coach) Gene McDowell and saying, "Coach, you're going to need to get on the PA and tell the fans to quiet down so we can get the ball snapped." And he replied, "We'll take the penalty." It was great. I have one of those penalty flags framed in my office — as a badge of honor. Winning the first cheer championship (2003) and having our own documentary on WE TV after we won our second title in 2007 certainly elevated our national profile and traveling to Paris in 2013 to represent the USA in the European Open Championship put us on a world stage.
In the world of cheerleading people had stopped asking "Where is UCF anyways?" They knew who we were.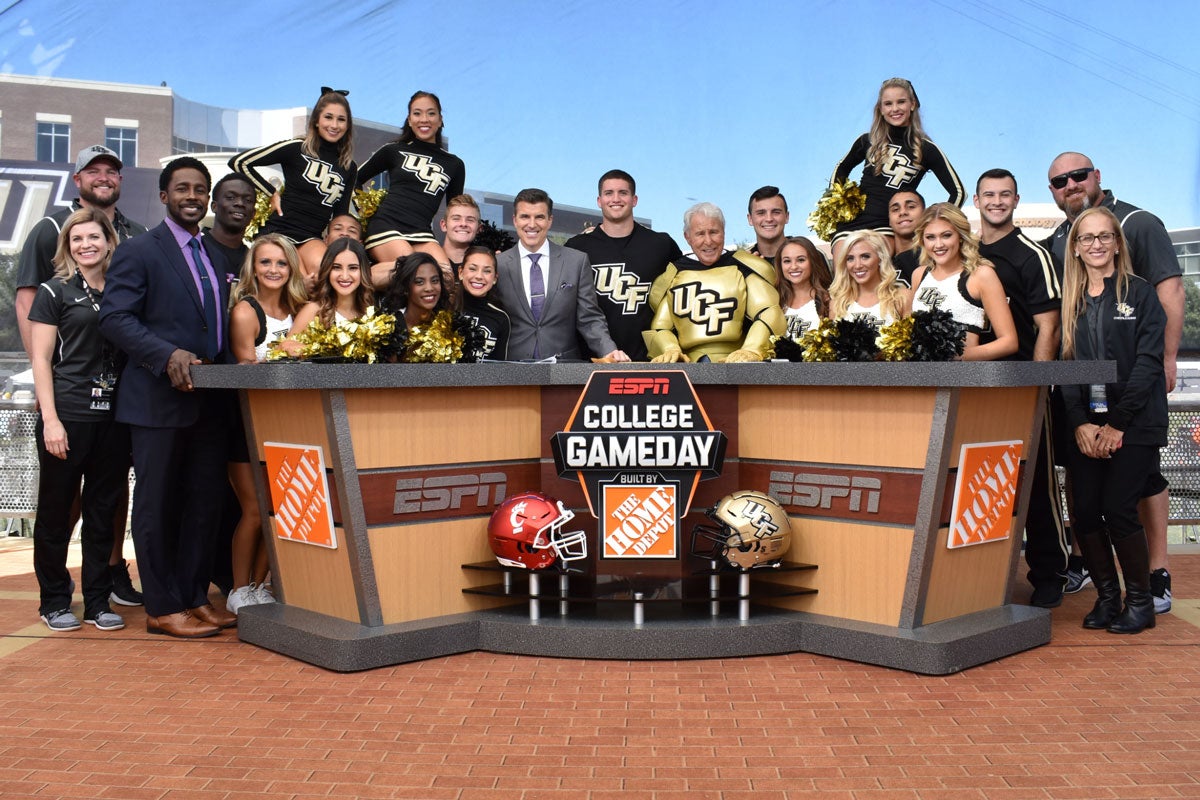 One of the most gratifying moments for me was ESPN's College GameDay coming to campus in 2018. Lee Corso has a tradition of putting on the mascot head for whatever team he is going to pick to win. Coach Corso called me (earlier in the week) and said "Linda, this is going to be epic. I'm going to put the whole knight costume on." We knew that this could possibly be one of the most iconic video shots in all of College GameDay; something that would be played and replayed on the show for years to come. We had 90 seconds during the commercial to get Lee Corso into our Knightro costume. We pulled it off and Coach was right — it was epic.
The GameDay experience was a chance to raise the curtain. They give you five days' notice if you are selected to host the show. If your spirit program isn't doing a great job at your games and you haven't created great traditions and a great game day experience for your fans, the no amount of magic is going to happen in those five days to get you ready. Fortunately, at UCF we had been preparing for this moment for most of my adult life. Now it was just a matter of raising the curtain and showing the world what we have going on at UCF.
We always said it does not matter what you're doing at UCF; just try to be the best at what you do. We are an aircraft carrier of a university. Positioned in Orlando, Florida, right in the middle of the state, it was our geographic birthright to be competitive at whatever we applied ourselves to. Athletics is just one of those areas where we are going to excel. We knew it was just a matter of time when all of our sports would eventually be competing on a national stage. Our goal was to make sure our spirit program was ready when that happened.
When people ask about the organization of the spirit program, I tell them it's like a football team. You have the offense and the defense and the special teams. Cheerleading is the offense; the dance team is the defense, and the mascot program is the special teams. We're all part of one big team totaling 70-80 people and we work very hard to be unified.
In terms of mascots, in about 1986 or 1987 a yellow dragon first appeared on our sideline and that was Puff. Puff looked a little like a bumblebee, and it had black dragon chest stripes. Then came Mack the Knight, who was sort of a cross between an astronaut and a knight. He had googly eyes and a football body.
In 1994 the athletic department decided that we needed to create a real animated mascot and asked if I would manage that aspect of the program. Trey Gordon had been a cheerleader and went on to work in student government. Trey took an interest in this project and I suggested he get some drawings done. He went to Metropolis Graphics in Winter Park and the committee loved the initial drawings. We had the costume made and Knightro I was born. Knightro II was similar but had a plastic face kind of like a doll. When it needed to be remade again, someone suggested the costume needed more sparkle so we had a vendor out at Disney create Knightro III (aka Glitter Knightro). All that glitter was heavy and "Glitter Knightro" weighed 50 pounds, making game days in Florida particularly rough. In 2007 we redesigned the costume again and that brought us our beloved Knightro IV costume that we have today.
The KnightMoves dance team kind of grew organically. We already had Starlet Knights, which were the auxiliaries of the marching band — flag-bearers, baton twirlers and a dance team. The dance team wanted to participate at basketball games and we tried that. It made sense for athletics to govern that group, and so they asked me to take on that assignment, too. Our dance team began just with basketball and but as we moved to the on-campus stadium we decided to bring the dance team down on the football sideline as well. They have been a wonderful addition.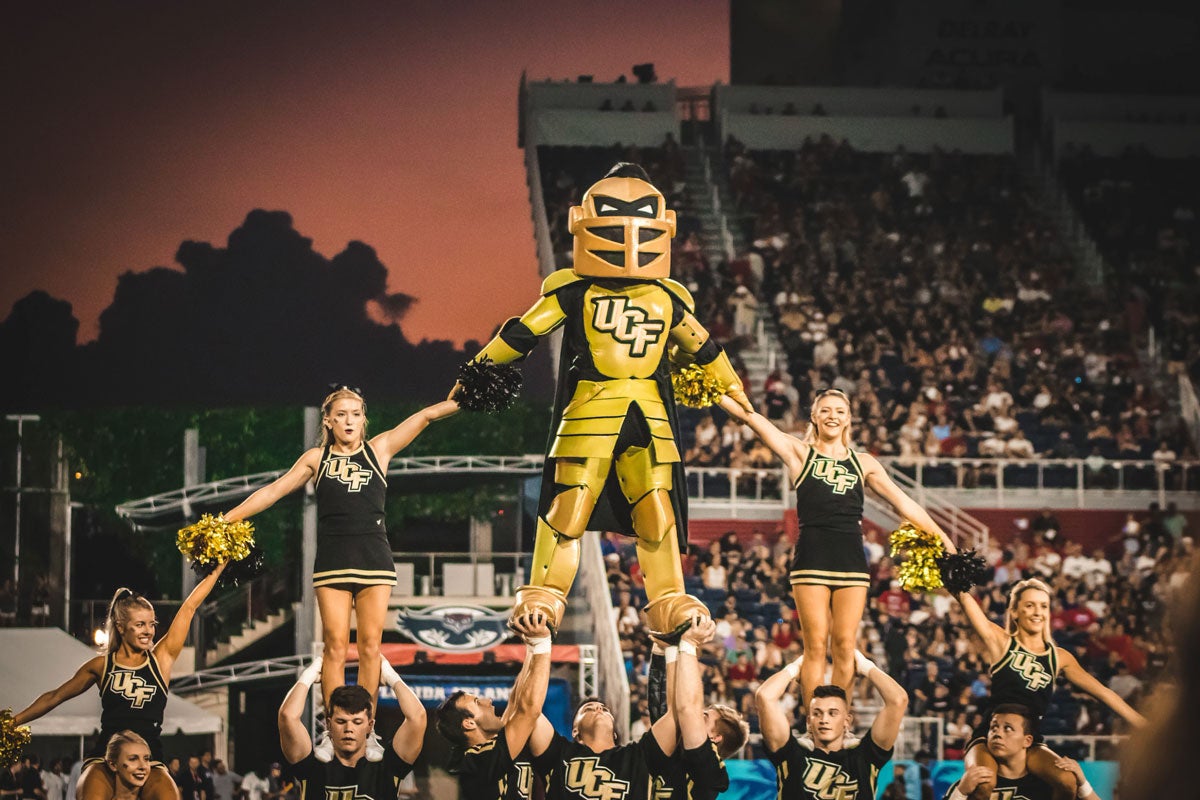 I get asked a lot, "What does it take to win at the highest level?" To win the championship you've got to keep everything in the air and hit your routine. It's two minutes and 30 seconds, and you have to be perfect. There is no do-over. It's rarely about the most talented team. It's really about who can hit their routine in that moment on that night under those lights and with all of that pressure. It's not just preparing them physically, it's preparing them mentally; coaching them to be at their best when their best is needed.
It's so important to be open to change. Nothing stays the same — strategies are always evolving. It's the same for us. You can't be stuck on how you've always done things. This is something that I have always loved about our university.
Our UCF culture embraces being the disruptors. Change is our middle name. As a young university we've had to be open to trying new things.
More than the championships and success, it's my goal that members of our team leave with life skills. After college the ability to go out in the world and apply the discipline, structure and teamwork that they have learned from being a part of our team toward success in life. That is what our program is about. Learning to work together with people from different parts of the country and different backgrounds provides such an opportunity for growth. If you come in to UCF as a freshman and you've lived in the same town all your life and you've gone to the same schools, same church and been around the same friends growing up, then use college to spend time with someone different than you.
I've had members of our team tell me, "This program has changed my life. If you can make it four years here in this program, you can do anything." I believe it is the camaraderie of a team environment and our emphasis on life skills that sets them up for success in life after college – it is a launching pad to bigger and better things ahead. We have hit so many milestones and reached so many goals already and we are just getting started.
Big 12, here we come. Let's Go Knights, Charge On.