As the top school in Florida for LGBTQ+ students, UCF is committed to supporting Knights of all sexes, gender identities or expressions, and sexual orientations. To celebrate Orlando Pride Week, we asked six Knights to share their experiences and advice on everything from coming out to how to be a better ally.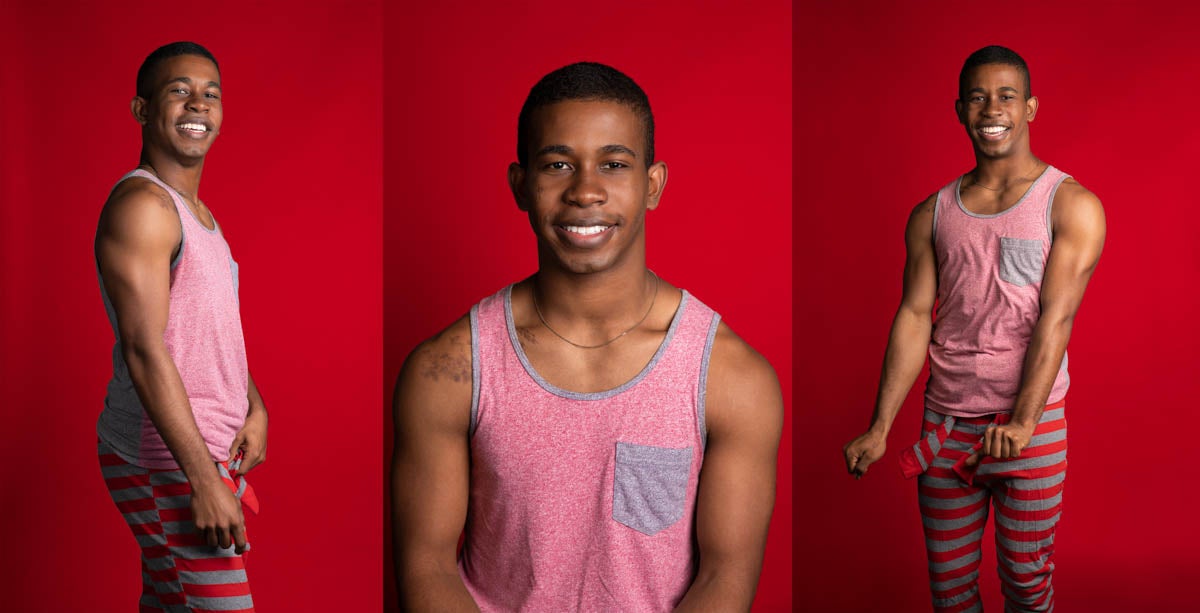 LeVar Ridgard
Preferred pronouns: He/him/his
Major: Health sciences
Expected grad year: 2022
How do you identify?
I'm gay.
When did you realize you were gay?
Since I was small, but around fifth grade I put a name to it. I denied it for a while. I didn't really meet other gay kids until middle school or high school. At that time, I started watching YouTube videos to get the perspectives of other gay people. When I was a sophomore in high school, I came out to my mom and sister over text during Pride Month.
What are some of your hobbies or talents?
I play the violin. I've done cheerleading, track and cross country. I'm trying to start a YouTube channel. I'm also in the group Fresh Off the Beat. It's a part of UCF's Filipino Student Association, which my boyfriend is a part of. They've been awesome, and we recently won first place at a competition.
What's it like being a gay student at UCF?
The first couple weeks I was just trying to get a feel for the area, but after a while, especially getting to work as a student assistant with Social Justice and Advocacy, it honestly feels like a family. UCF's campus is really open, so I feel welcomed and like I can be myself. Orlando is one of the best places to learn about LGBTQ culture.
How can someone be a better ally?
As a gay person, I almost feel like you're treated like a test subject at times. People want to ask a lot of questions, which I get because they just want to understand, but sometimes I lose a sense of myself as a person.
Some friends will describe me as "The gay friend," and it's like why does that have to be the first thing that you see? So just think before you speak. Put yourself in another person's perspective. If you have questions, there's Google — you can find lot of articles. Educate yourself first. Ask people if they are comfortable talking about things; don't just assume. Think about how you would want to be treated.
Chase Mason
Preferred pronouns: He/him/his
Position at UCF: Assistant professor of biology and the faculty advisor for the Pride Student Association
How long have you been at UCF: Since January 2017
How do you identify?
I'm gay.
When did you realize you were gay?
In early high school. I came out to my peers around 15 and family around 18.
How do you help LGBTQ+ students at UCF?
As the Pride Student Association's faculty advisor, I want to support these students as much as possible in their endeavors. It is a student-led organization, so it's really important that we give them the space to be empowered to run it how they want. I really look forward to helping them get what they want out of the club. I know the group wants to bring more LGBTQ+ speakers to UCF and interact with the Orlando community more.
What advice would you give to someone thinking about coming out?
Come out at your own pace. Don't feel pressured to do it because you think you should. Safety was a big concern 10 to 15 years ago, and it still is today, but people are more accepting now. So as we see more people out now, I feel like there's more LGBTQ+ people to look up to. There is a societal expectation to be more accepting of others, so acceptance and support is growing.
What do you hope the world looks like 10 years from now?
I hope the world is more thoughtful, careful and deliberate. We're so much more connected than we were 10 years ago, but I think we could be more empathetic when it comes to thinking about others.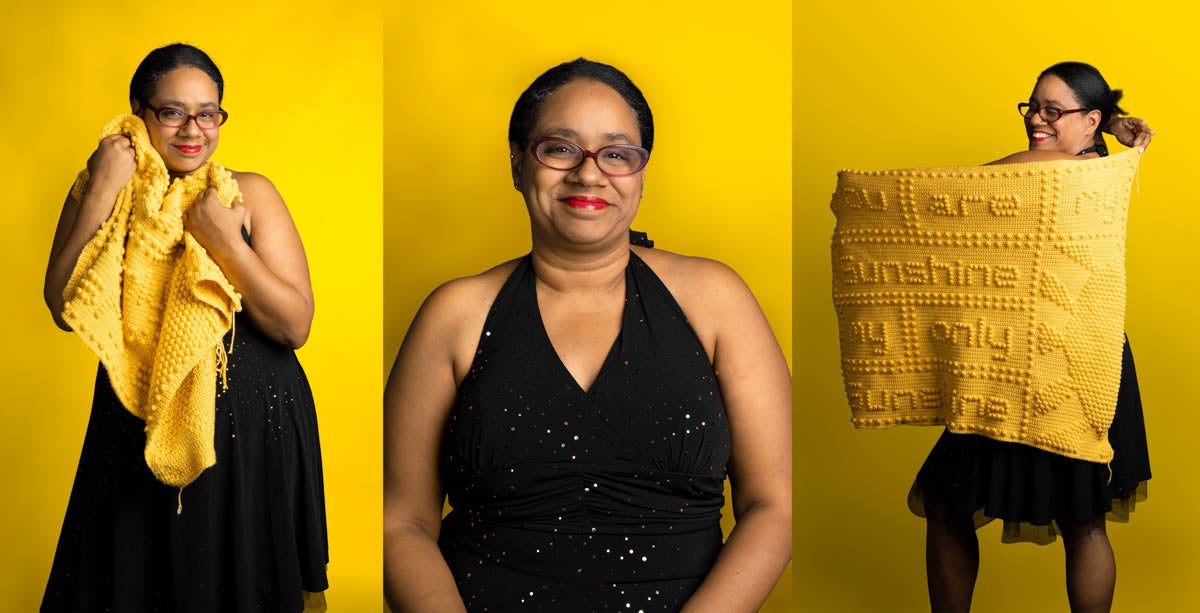 Anjella Warnshuis
Preferred pronouns: She/her/hers
Position at UCF: Administrative coordinator for the School of Politics, Security and International Affairs
How long have you been at UCF: 13 years
How do you identify?
I'm pansexual.
When did you realize you were pansexual?
Three years ago, I started dating someone who at the time was a woman, but shortly after announced they were going to transition into a male. Prior to that I had always dated men. So I was a bit confused and did some research. I realized for me it doesn't really matter what you are. What matters is you're a good person. My love is not based on gender.
What are some misconceptions about being pansexual?
That I'm confused or greedy. No, I'm not. People are individuals. If I exclude somebody because they do or don't have a particular appendage, then I could be missing out on someone.
What's something you're talented at?I
like to knit and crochet. The blanket I was holding up [in the photo] I actually crocheted recently. My grandmother crocheted for as long as I can remember and my aunt crocheted and knitted. Eventually it rubbed off on me, but the first time my grandmother tried to teach me, it was a disaster. My first piece was concave and looked like it could be a Barbie dress. She was laughing so hard, it was actually the last time I got to spend time with her before she went blind. I still have that piece. So I started crocheting and later one of my coworkers taught me to knit. Now I do both. I'm bi-stitchual.
What's something that makes you proud of yourself?
I love giving back to a lot of different communities. Currently I'm on the board for UCF's Pride Faculty Association. Previously, I served on the board for the Black Faculty and Staff Association. I volunteer a lot with Equality Florida, League of Women Voters and UCP of Central Florida. I like getting out, and I think it's a good thing that more people need to do. Take some time and give back to the various communities you belong to.
Part of the reason why I joined UCF's Pride Faculty Association is to strengthen diverse representation within the group. I think sometimes we forget you can be black and queer, you can be Latinx and queer, you can be Asian and queer. So this year, the president and I are really are trying to organize events where everyone is welcomed and encouraged to attend, and where they feel they're represented within the group.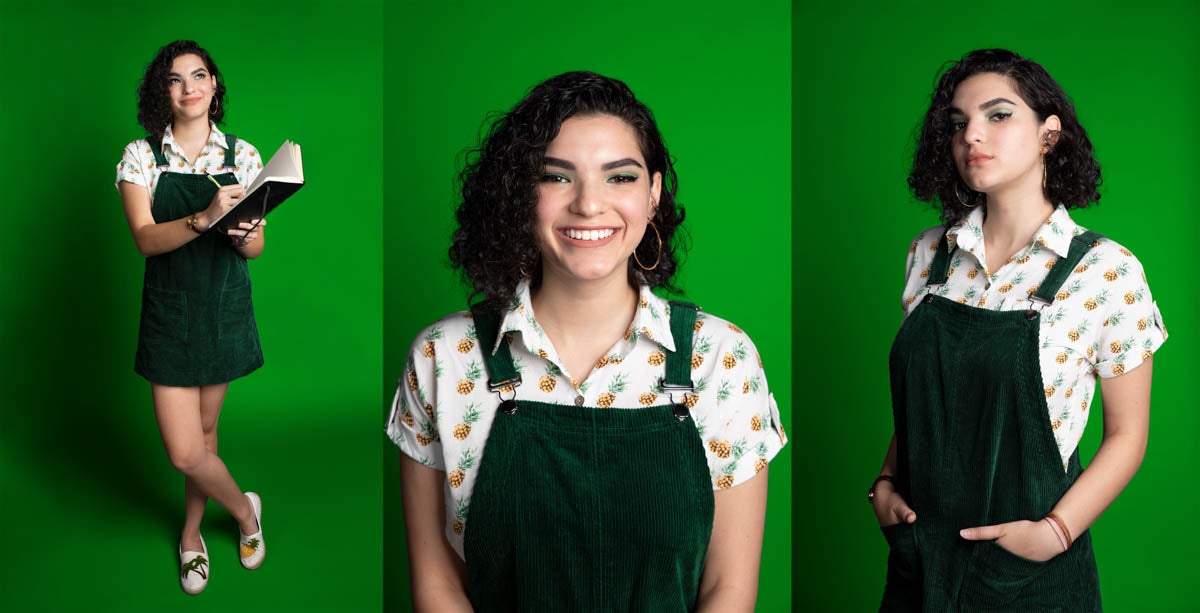 Vilma Portocarrero
Preferred pronouns: She/her/hers
Major: Creative writing, with a minor in writing and rhetoric and certificate in gender studies.
Expected grad year: 2021
How do you identify?
I'm bisexual.
When did you realize you were bisexual?
Probably junior year of high school. I had a crush on a girl and was like, "I thought I was an ally. … Wait no, I'm a part of this community." We went on a date and things ended up not working out, but realized we were both bisexual and became really good friends.
How have your parents responded to you coming out?
I wouldn't say that my parents aren't accepting of it, but they grew up in Nicaragua and are very conservative. The fear my mom has expressed to me is that my life will be hard [because I'm bisexual]. I think life will be hard no matter where you stand. As a woman my life will be hard. As a Latina my life will be hard. But I also have privileges. I'm light-skinned, I'm bilingual and I have a college education. So, me identifying who I authentically am shouldn't keep me away from anything I want to pursue.
How are you an ally to the LGBTQ+ community?
I'm the student director for the Multicultural Student Center. A personal goal of mine within the role is to work with other departments at UCF to make the university more inclusive and accessible. Really, it's the responsibility of the whole campus to create a culture of inclusivity. Overall, UCF is a very inclusive campus. I'm very grateful for the resources we have, but I think we can always improve.
How do you want to make an impact on the world?
I want to tell stories that haven't been told before. I don't want my work to be cookie cutter. I want to tell authentic stories. I don't ever want to have a token character or to play into stereotypes. I want to write more queer fiction because it's not seen as much and it's what interests me. It's not to say queer people can't relate to heteronormative ideals, but we see that so much more.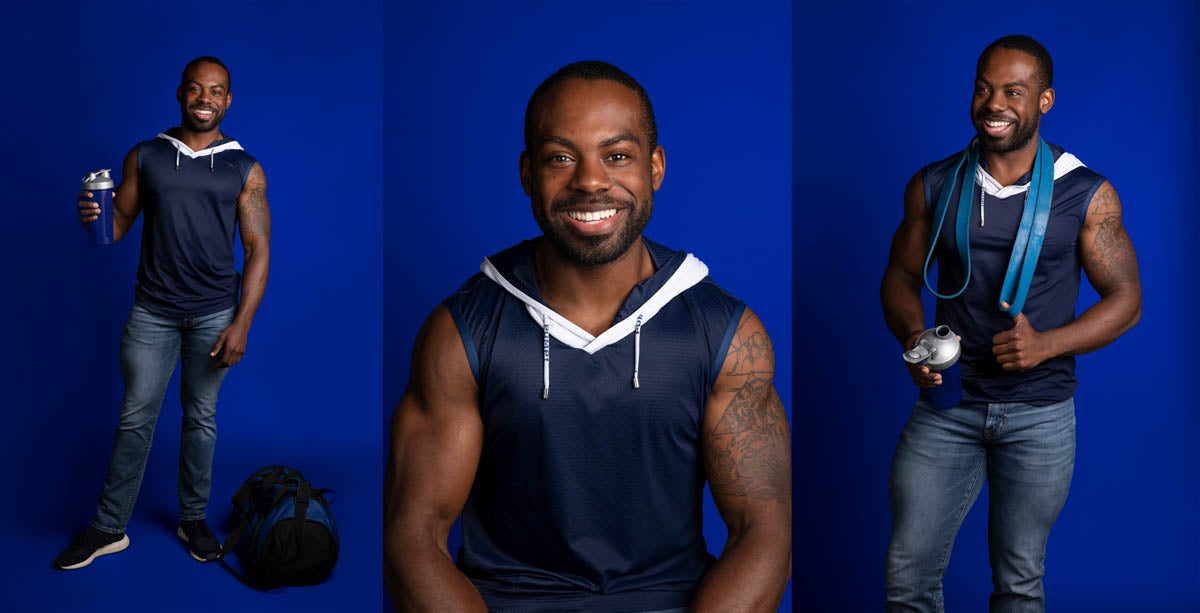 Brandon Brown '18
Preferred pronouns:
He/him/his
Position at UCF:
Social media content producer with UCF Marketing
How long have you been at UCF:
I came here in 2014 to study marketing and have been working at the university since I graduated.
How do you identify?
I'm gay.
When did you realize you were gay?
I questioned my sexuality while I was in middle school, so when I moved to Texas halfway through eighth grade, I felt like I could be myself with this fresh start. At that time, I knew some of my family members weren't accepting of it. It wasn't easy accepting myself. But my friends really helped me get through that.
How can someone be a better ally?
The best way to be a better ally is just letting someone be themselves without fear of judgement. Queer people just want to talk about whatever's on their minds, just like everyone else. I think people don't realize how much of a liberty it is to talk about someone you're interested in or a celebrity crush. Or openly showing you're in a relationship. These are normal things for everyone else, so they should be normal for gay people, too. It shouldn't be about the gender someone likes, or lack thereof.
How do you express yourself?
I started writing poetry when I was coming to terms with my sexuality because I needed somewhere to put my emotions without telling people. For some people, hearing that a guy is into poetry is surprising. I feel like as a gay man there's a stereotype that makes it "more acceptable" for me to like it. But you don't have to be gay to be in touch with your emotions. It's just being in touch with yourself and having emotional intelligence. Poetry to me was an outlet. When I came to UCF weightlifting became another outlet that also allowed me to connect with others and embrace new challenges, not just physically but mentally, as well.
As an employee how do you help UCF embrace the LGBTQ+ community?
I started working for UCF in the Student Union as a student marketing programming manager. A big priority of mine, which was also important to my supervisor, was inclusivity and making sure everyone's voices were heard. Now as a content producer for UCF's social media team, I continue to work with that same mindset and find ways to connect with students from all backgrounds and identities through our social channels.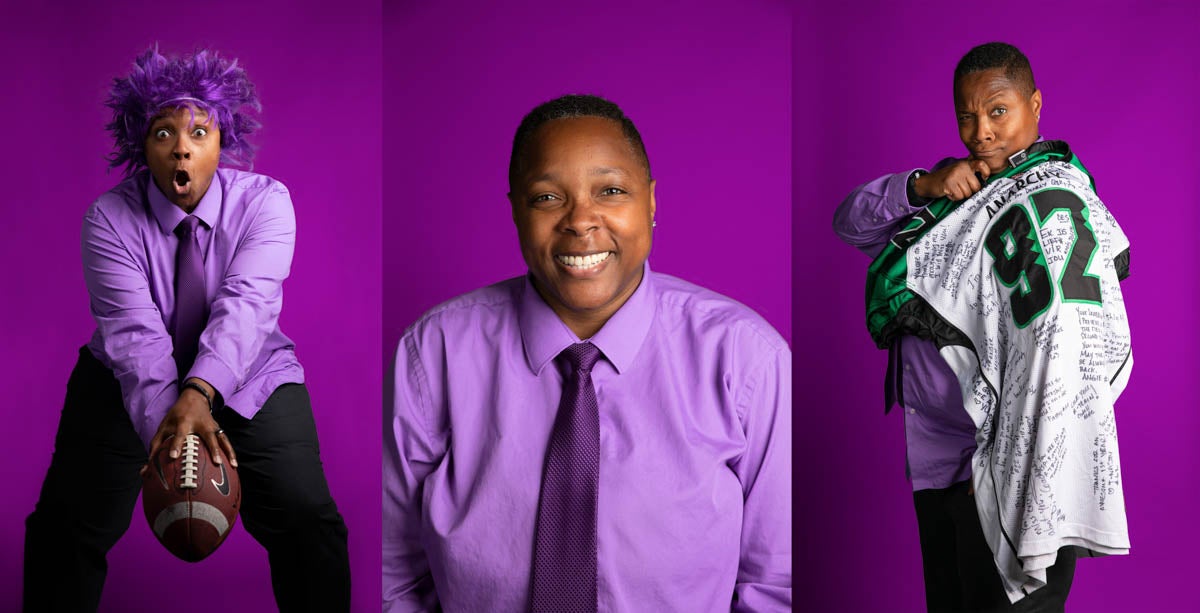 Andrea Snead '18MA
Preferred pronouns: She/her/hers
Position at UCF: Sport club and inclusive coordinator at the Recreation and Wellness Center
How long have you been at UCF: I first came to UCF in 2010 and I've been here on and off for the past nine years. In 2018 I earned a master's in interdisciplinary studies.
How do you identify?
The labels are always an interesting topic. Some people say lesbian, I tend to say gay. Some people say queer.
Have you always been into athletics?
I didn't really play sports for most of middle or high school. Then my junior year of high school I snuck onto the basketball team and that was my first love. Later I discovered football and was really good at it, so that just took over my life. It's honestly a good way to get aggression out. I primarily played offensive line as well as defensive end. It's all about women really trying to empower other women to play this sport, and it should be OK for us to do this, which is why I support soccer even though I've never played it.
When did you realize you were gay?
I actually didn't come out until I was 28 years old. I came out in the middle of playing football. I always knew something was different about me. When I was younger and attracted to a girl I would always say, "I want to be like her," but as I look back, I think, "No, I'm pretty sure I had a crush on that person." Subconsciously I didn't think I was gay and would get offended when people would say I was. I never thought about it until I was in my early 20s. Then it took a while for me to say it out loud to others.
What do you think your life would be like if you didn't come out?
I thought I was happy, but I was so unhappy [when I wasn't out]. I came out in stages. I was out at home and football, but I wasn't out at work before coming to UCF. My life has gotten happier since I've been here, as I've gotten older and as I've been out.
This is the first time I'm able to bring all of my identities to work. Usually when people see me, they first see that I am a black person, then they see I am a black female and then some people will see that I dress masculine and say, "She must be gay." So gay is really the last thing that people see when they see me. The fact that I bring all of those identities, I bring the best of myself [to work] and that's been the most liberating thing.
What do you hope people see when they look at you?
I'm very outspoken and outgoing. I love to laugh and have a really bright personality. I have this demeanor and people are always intimidated by me, but I'm actually a big softy. I love people. I genuinely want people to succeed, even if that means they're succeeding ahead of me. I just want to be there for people, give them a hand to hold or a hug. I hope people just get to know me and see my passion for people.
To learn more about UCF's LGBTQ+ services, visit sja.sdes.ucf.edu/lgbtq