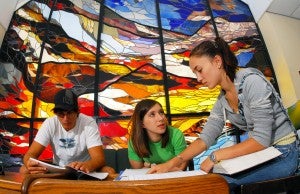 The University of Central Florida remained one of the nation's top 5 "up-and-comer" schools while advancing in the overall U.S. News & World Report best colleges rankings released today.
UCF tied with the University of Southern California for No. 5 on the "up-and-comers" list, which recognizes schools that recently made the most promising and innovative changes in the areas of academics, faculty, student life, campus or facilities. UCF is the only Florida school on the "up-and-comers" list.
Overall, UCF moved up three spots in the rankings to No. 174 and again ranked among the top 100 public schools in the country.
"UCF's continued advancement in the rankings during a period of severe state budget cuts is a testament to our hard-working staff and faculty members," said UCF spokesman Grant J. Heston. "Their dedication enables us to provide our students with a high-quality education and opportunities that prepare them for a lifetime of success."
The annual rankings reflect UCF's commitment to quality growth. The average SAT score for UCF's fall freshman class has increased 77 points during the past 10 years to 1244 this year.
With a university-record 241 National Merit Scholars enrolled this semester, UCF again will be among the top 50 universities nationwide for the total number of scholars enrolled.
This spring, U.S. News & World Report ranked several UCF graduate programs as among the best in the nation. The highest-ranking UCF programs included the College of Education's graduate counselor education program at No. 11 in the country, a College of Optics and Photonics program at No. 13 and the special education graduate program at No. 14.
In other recent rankings, Kiplinger and The Princeton Review have recognized a UCF education as one of the best values in the country.