Navigating what may be the "new normal" brought on by the coronavirus pandemic has left many people grappling with unknowns. From worrying about one's own health and safety as well as their family members' well-being, adapting to a remote-work situation or job loss, juggling new family schedules, experiencing isolation from friends and loved ones — all of these changes in lifestyle came so rapidly and without any warning that it's not surprising people are experiencing an increase in stress, depression and anxiety.
When news of COVID-19 started spreading more rapidly and locally earlier this year, Shainna Ali '10 '12MA '16PhD dealt with her own stressors before realizing that she probably wasn't alone in feeling uncertain about the virus. As a mental health professional, she wondered what other people would be experiencing.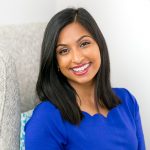 "Not everyone may end up being infected with COVID-19, but everyone will experience some level of a mental health effect from coronavirus," says Ali, a mental health counselor, educator and advocate, who has a master's degree in clinical mental health counseling and doctorate in education with a specialization in counselor education. "Our response to stress is quite normal, but how we choose to cope with stress, that's the key to mental health."
Culturally and societally, people don't often receive training in mental wellness, says Ali. Acknowledging symptoms and learning coping techniques aren't typically taught in school, nor are some parents comfortable with broaching this subject with their children.
"We all experience stress, and everybody has had an increase of stress at some level as a byproduct of the pandemic," Ali says. "As unpleasant as that may feel, as uncomfortable as it may be in the body, it may be a big adjustment, but if you step back and think about it, it makes a lot of sense. We're experiencing a global pandemic. When you think about the gravity of that, the stress makes sense. Your body is reacting appropriately."
When Ali realized the mental health consequences a global pandemic would have, she started thinking about countering the effects
"If the average person isn't in counseling or is unable to seek counseling, how are they going to know that it's absolutely normal to be experiencing stress from coronavirus?" asks Ali, who received UCF's 30 Under 30 award last year. She actively blogs for Psychology Today, and recent topics have centered around coronavirus, but she wanted to do something more.
She reached out to two fellow UCF alumni and mental health professionals in the Orlando area, and the group created a free webinar called "Coping with COVID-19 Stress." The lesson addresses the stress that this pandemic has likely created for individuals.
Candice Conroy '08BA '13MA explains that the goal of the webinar was to "normalize the emotional responses coming up as a result of the stress related to COVID-19." The video also provides a few coping techniques, such as a breathing exercise.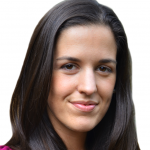 "Many people aren't taught how to label their emotions or techniques for how they can respond to these feelings when they come up. Many don't realize that emotions, such as uncertainty, are a normal emotional response in a situation that's full of unanswered questions," says Conroy, a licensed mental health counselor who practices in Baldwin Park.
Sanya Matani '10BA '13MA, the third alumni in the group of counselors, has been creating a weekly vlog since COVID-19 started to explore destigmatizing mental health conversations. She joined the group because she had been searching for a way to talk about the topics of collective grief and trauma as well as normalizing and validating emotions in a way that was safe and appropriate.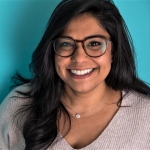 "As therapists, we're often expected to have the answers and create the environment for our clients' healing, and very early on, some of us understood that COVID-19 was going to be something that would have a very significant impact," says Matani, a licensed mental health counselor who has a private practice in Winter Park.
The group says it's important to remember that the mental health profession exists for a reason. For individuals who already had mental health problems and have experienced an exacerbation of those issues due to the pandemic, Ali encourages them to seek professional help.
"We created this lesson to try to give back to the community," Ali says. "It is a unique way that we were able to use our education, training and experience to help other people find their power."