The University of Central Florida and the U.S. Army's Development Command Soldier Center in Orlando signed a new five-year Cooperative Research and Development Agreement (CRADA).
The agreement between the Army and the university promotes research engagement in areas of mutual benefit. The CRADA will provide the Army with innovative science and technology solutions. The effort also provides students at UCF with the opportunity to intern with the Army where they can contribute to the development of science, engineering, mathematical and information technological solutions. The two organizations benefit mutually through the sharing of laboratory space, capabilities, and equipment among other assets.
Outreach and mentoring the next generation of scientists and engineers is a vital part of the mission of DEVCOM Soldier Center. Research agreements like this provide the Army with potential new talent helping to fuel innovative ideas that benefit the nation's warfighters and the nation, according to the Army.
The connection between UCF and the Army goes back to the 1990s through the university's Institute for Simulation and Training. The growing relationship led to the first CRADA between what was then the U.S. Army Research Development and Engineering Command and the Simulation and Training Technology Center at UCF. That agreement led to the expansion of collaborative science and technology work in the areas of medical modeling and simulation, super-computing, and cultural awareness training.
"As we enter into this new agreement, we not only strengthen our partnership, but we bolster our current and future workforce with the best scientists and engineers," says Craig L. Rettie, director of the Research and Technology Integration for U.S. Army DECVOM SC. "… It will provide a collaborative laboratory environment for engineers and scientists from the Soldier Center, UCF and other partnering organizations working on technology to enhance technical knowledge of the basic and applied research areas. Finally, this collective effort will help to identify emerging simulation technologies and applications that will efficiently and cost-effectively support the Army."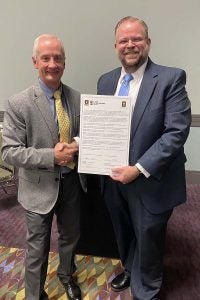 UCF serves as an academic anchor for Central Florida's $6 billion modeling and simulation industry. The university is also the No. 1 supplier of graduates to U.S. aerospace and defense industries and has strengths in lasers and optics, cyber security, sensor sand microelectronics, machine learning and AI, simulation, and training and hyper sonics.
"While the unrelenting pace of technological advancements makes this a challenging time, it also presents an amazing opportunity for those willing to work together to have a significant impact on society," says UCF President Alexander N. Cartwright. "This CRADA will help UCF faculty develop a better understanding of the modeling and simulation community. It will also provide greater opportunities for our students to learn of a multitude of possible career paths in this rapidly evolving research and development area and help them be well positioned to enter private industry or government."