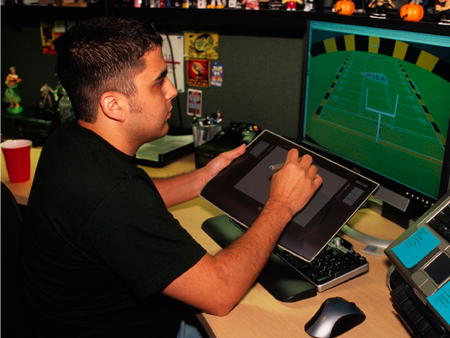 The University of Central Florida's video game graduate school ranks No. 2 in North America, according to The Princeton Review and GamePro Media.
This is the first time that The Princeton Review has ranked graduate-level video game development schools, placing UCF's Florida Interactive Entertainment Academy – or FIEA – behind only the University of Southern California.
"This ranking is another sign of the hard work done by our faculty and staff to prepare the next generation of game developers and interactive entrepreneurs," said Ben Noel, executive director of FIEA.
Since opening its doors in 2005, FIEA has graduated 191 alumni working at 83 companies around the world, including Google, Electronic Arts, Zynga, Ubisoft, Disney, Bioware and Orlando-based company n-Space.
The average starting salary for FIEA graduates is $50,852.
FIEA graduates are working on some of today's most popular games including Call of Duty World at War, Call of Duty Black Ops, Rock Band, Rock Band 2, James Bond: Quantum of Solace, Guitar Hero, Tiger Woods Golf, Madden NFL Football, NCAA Football, Hannah Montana, NBA Ballers and NHL.
The school is one of the foundations of downtown Orlando's Creative Village concept and is designed to graduate talented and well-qualified professionals to work in Central Florida's digital and simulation industries.
"We continue to work with the video game industry, local government and state leaders to ensure that UCF provides the best-educated workforce for this growing industry," Noel said.
The Princeton Review ranked schools based on a comprehensive survey it conducted in the 2010-2011 school year of administrators at 150 institutions offering video game design classes and/or degrees in the United States and Canada. Note that the FIEA tuition listed in the GamePro feature is for the total cost of the 16-month program and not annual tuition.
In addition to being published today on The Princeton Review and GamePro Media's websites, the listing also will be featured in the April issue of GamePro magazine, on newsstands March 8.