Local high school student Stephanie Brown had the kind of reaction UCF's Department of Legal Studies hopes to foster through its immersive learning experience of Camp Law and Order.
Entering her junior year at Evans High School, Brown says she was interested in law before attending the camp, "because I like to argue. I like my opinion to be felt by others." And after presenting her team's opening statement in front of a real judge on the camp's last day during a mock trial, she says her interest grew along with her confidence.
"When I was up there and people were nodding yes, I had that feeling, like — I got this," she says.
A group of students from Jones, Evans and Boone high schools spent last week learning from several members of the legal community in downtown Orlando. Taking advantage of the vast resources in the area, UCF Legal Studies — one of the departments heading to UCF Downtown this month — developed a weeklong camp to introduce local youth to careers in law.
"When I was up there and people were nodding yes, I had that feeling, like — I got this." — Stephanie Brown, Evans High School student on her experience in a mock trial
The camp began with a backstage tour at the Orange County Courthouse that demonstrated the clerk's role in the judicial system. Students also spoke with private and public attorneys, paralegals, investigators, mediators and Judge Gisella Laurent, an Evans High School alum herself.
Students also met with Natasha Williams, chief assistant city attorney at Orlando City Hall, who shared some of the hurdles faced by minorities looking to become lawyers. Minority representation is significantly lower for attorneys than most other management and professional jobs. According to a study by the U.S. Bureau of Labor Statistics, 11.3 percent of lawyers are Black, Asian, Hispanic or Latino and women make up 34.4 percent of the field.
One of the camp's goals is to address the disparity by introducing students to the field with an immersive setting and engaging program.
"Camp Law and Order hopes to give students a positive perspective on a viable career path and expand their options so they see the sky's the limit," says Marc Consalo, lecturer of legal studies and director of the Center for Law and Policy.
Not only did the camp inspire more diverse representation in the legal profession, students were also introduced to ways they might contribute to communities through the field.
Alisa Smith, associate professor and chair of legal studies, says students met with many legal professionals who shared stories about their own journeys and the role of law as a helping profession.
Students met with public defenders and learned about work as an advocate for indigent clients. At Legal Aid, students heard about positive ways legal professionals impact communities as volunteers. UCF Legal Studies, Valencia College Paralegal Program and FAMU College of Law shared various resources available to students on a career path to law.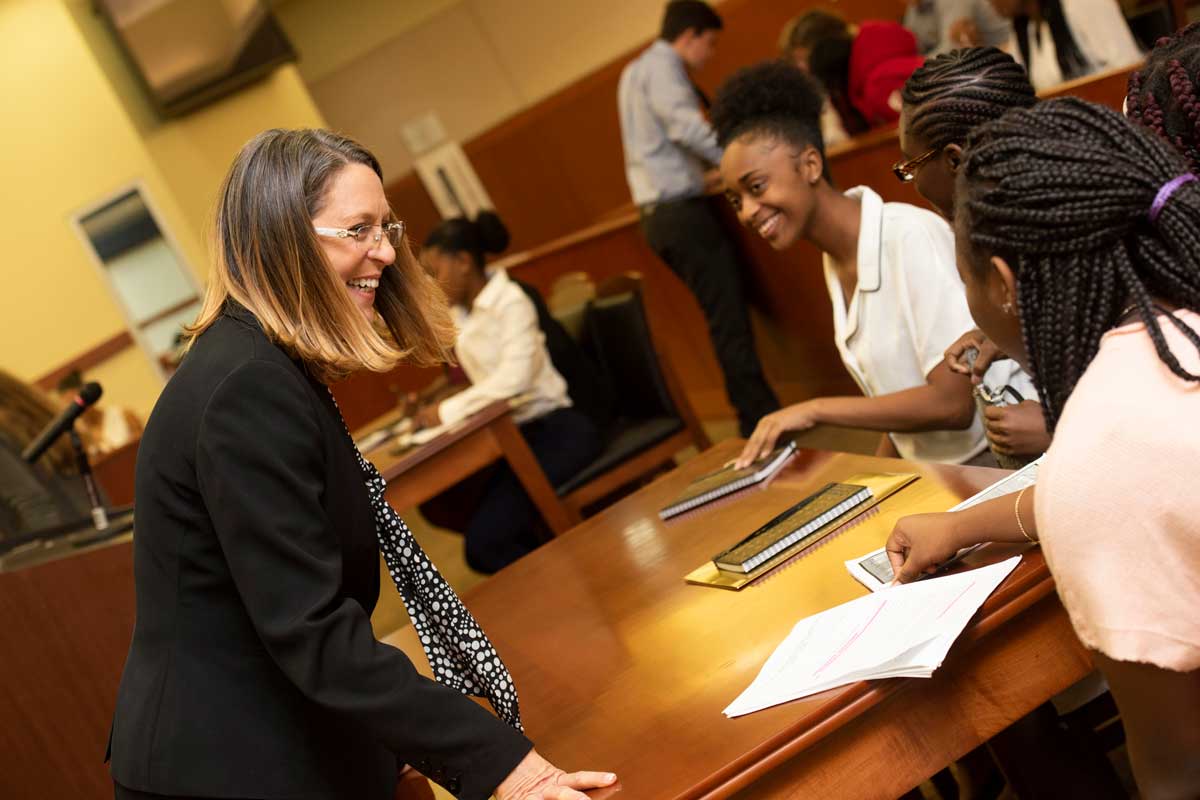 After students observed firsthand the real-life experiences of law professionals, they were given a mock trial problem to argue. Within 48 hours in the FAMU courtroom, students argued their case in front of Ninth Circuit Judge Tanya Wilson, who volunteered her time for the camp's mock trial.
To prepare, UCF Legal Studies faculty members and students mentored the high school students on the different parts of a trial, how to develop an argument and ways to display confidence in the courtroom.
Caroline King, who is pursuing her bachelor's degree in legal studies and is a member of the UCF Mock Trial Team, worked with the team from Jones High School. King says not only were students eager to learn and apply these lessons, but they embraced the challenge when presented new and unexpected obstacles in the defense's cross-examination.
"Only minutes before trial, we mentioned in passing that if something bad came out during cross-examination, they could clean it up on a redirect. (A redirect involves further examination by the counsel who originally called the witness, only after the opposing counsel's cross-examination.) So, it was super cool to see all three attorneys on our Jones High School team rise to the challenge and use a redirect."
UCF Camp Law and Order was sponsored by the Orange County Bar Association Foundation and hosted by FAMU College of Law.