For two decades, Kellie Chapman made a difference as a nurse at the bedside of her patients. About four years ago, the UCF Online doctoral student realized how she could extend that impact even further – by teaching the nurses around her.
"As a nurse, you may touch several patients a day," she says. "But as an educator you're providing good knowledge to impact many patients for many years to come."
Chapman serves four hospitals in Brevard County as an ER educator. Under normal circumstances, the training she provides to nurses is key in the high stakes world of emergency and trauma medicine. During the COVID-19 pandemic, it is even more crucial.
She spends long days educating nurses about different kinds of personal protective equipment, ventilator protocols and best practices in safety policies and procedures. Chapman credits an incredible team of educators at her side to support education across all specialties.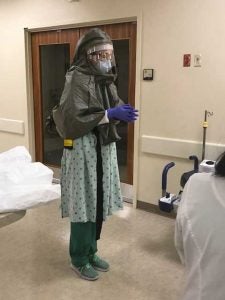 "The biggest thing for the staff is providing them with someone to go to and feel that they are supported," she says. "Early on, we had gone up to a unit and did some education regarding PPE. One of the nurses came over to me — you could see her eyes well up — and said, 'Thank you. We feel ready to do this.' That gave me a sense of peace. I'm doing all I can to prepare them to take care of our most vulnerable."
A Call to Serve Others
Raised in a small town nestled in the mountains of West Virginia, Chapman says her hero was her mother, who today at 67 is still working as a nurse.
"She is an incredible force of light," Chapman says. "As a child, we'd go to the grocery store and people would stop to tell her, 'You were my nurse and gave me incredible care.' That really made an impression on me."
When Chapman's father was diagnosed with a critical illness during her late teens, it prompted her to pursue a career in nursing.
She says she always had desire to earn an advanced degree in the field. A colleague who was enrolled in a doctoral program at UCF urged her to act on her dream. After a phone call with Diane Andrews '06PhD, director of UCF College of Nursing's online doctor of nursing practice (DNP) executive track program, Chapman knew it was the right fit.
"I fell in love immediately with UCF and their mission and values," says Chapman, who is on track to graduate in Spring 2021. "I've had such a great experience. I always have really quick and valuable feedback from my professors. They're so giving of their knowledge."
The focus of Chapman's doctoral scholarly project is on screening for adult human trafficking in the emergency room. She has been focused on the topic ever since reading an article about a survivor who was treated in an ER but couldn't tip off hospital staff to her perilous situation because her trafficker was beside her.
"It was like an aha! moment. I would hate to think in my career I missed someone who needed the upmost of help," she says. "I had to do something."
Chapman hopes to create an education program and screening process to help ER doctors and nurses evaluate for potential victims.
"If I can implement a program and help these individuals get resources," Chapman says, "that will be the icing on my career."