The world knew Professor Emeritus Llewellyn Ehrhart as a groundbreaking conservation biologist, but his legacy in the UCF community was more personal.
Ehrhart, familiarly known as "Doc" or "Llew," had campus ties dating back to the early days of Florida Technological University. The founder of the Marine Turtle Research Group (MTRG) died at home in Oviedo, Florida on March 3, 2022. He was 79.
Ehrhart was a pioneer in the world of conservation biology and one of the first advocates for historical, long-term research into marine turtles. His work found that female turtles return to the same nesting grounds and was instrumental in protecting those shorelines by establishing areas like the Archie Carr National Wildlife Refuge. Born on Earth Day, April 22, the conservationist was also honored as UCF Arboretum's inaugural Earth Day Conservation Hero last year.
His secret ingredient was the "gift of gab," a seemingly endless source of stories buoyed by unbridled enthusiasm for biology.
"Conservation requires stories. Stories engage people and help them relate to things a little better," says Associate Professor Kate Mansfield current MTRG director. "And there was no better storyteller than Llew."
Among those who knew him the longest was Biology Professor Emeritus Jack Stout, who first met Ehrhart when he served on Stout's hiring committee at UCF. Ar that point, Ehrhart and Stout were both still studying the ecology of small mammals. While the pair were still figuring out how to divide their research, Ehrhart was introduced to sea turtles by the refuge manager for the Merritt Island National Wildlife Refuge.
Ehrhart's early exploration into a largely untapped area of research received a boost from the late University of Florida Professor and renowned herpetologist Archie Carr, a longtime friend and mentor. Carr showed him the fundamentals like how to tag turtles and offered encouragement, but otherwise it was Ehrhart on his own figuring out how to do the research.
Small federal and county grants kept the project afloat (barely), along with graduate students willing to put in the sweat equity to make the research possible. Ehrhart's passion and conviction provided the rest.
"He was very gifted in showing his enthusiasm and showing real data," Stout says. "He could make it into talking points that were compelling to everyone — from teenagers to seasoned politicians."
Associate Research Scientist Erin Seney was among those who met him for the first time after his retirement in 2004. What stands out in her mind about Ehrhart was his recruitment ability.
"(Field work) is challenging beyond belief," Seney says. "It's not for everyone. But he found a way to get people excited. He came to it with the mind that anyone out there can do it."
Pictures fail to completely capture the size of sea turtles and the corresponding strain working with them puts on your back. Field work also brings long hot days on the water, slapping bugs and frustrating setbacks. That can make it hard to find volunteers and, more importantly, volunteers willing to return.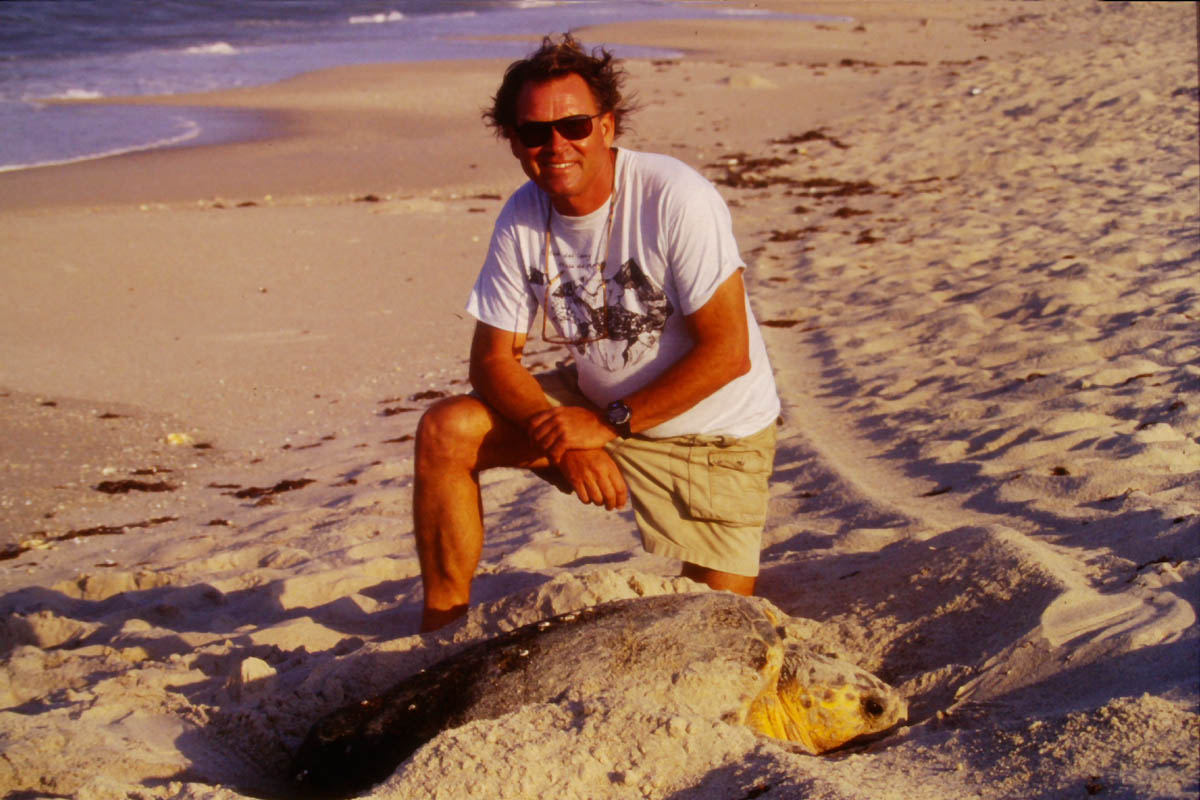 Ehrhart kept them encouraged in the field with his relentless optimism. Even on days when the team only managed to study one turtle, he would quip, "Well, it's better than zero."
What Mansfield says she will miss the most is the infectious enthusiasm Ehrhart brought to field research. A member of the last generation of true naturalists, Ehrhart could easily point out different species from a boat and name all types of facts about them.
"He made it really fun," Mansfield says. "He clearly enjoyed doing everything out there (in the field). I'm going to really miss introducing him to the lab and the interns. That is what hit me the hardest."
Ehrhart's global reputation grew as he uncovered just how dire the situation was for green turtles. Small changes made a big difference, like his education efforts that led Brevard County officials to establish Florida's first county ordinances to limit beach lighting during nesting season. He spoke to anyone who would listen, including Lavar Burton on Reading Rainbow.
Ever humble, though, Ehrhart was an "approachable and curious person," who always took the time to listen and learn from everyone, Seney says.
The only time he was not approachable was when he was chowing down on "weird snacks, like Vienna sausages," Seney says with a laugh.
Even after Ehrhart left the classroom he remained an active figure in the MTRG for many more years. He remained in close contact with his former students and loved to track their successes.
"He would get this twinkle in his eye any time students came up," says Pegasus Professor Linda Walters. "They were a very big part of what he considered his success story."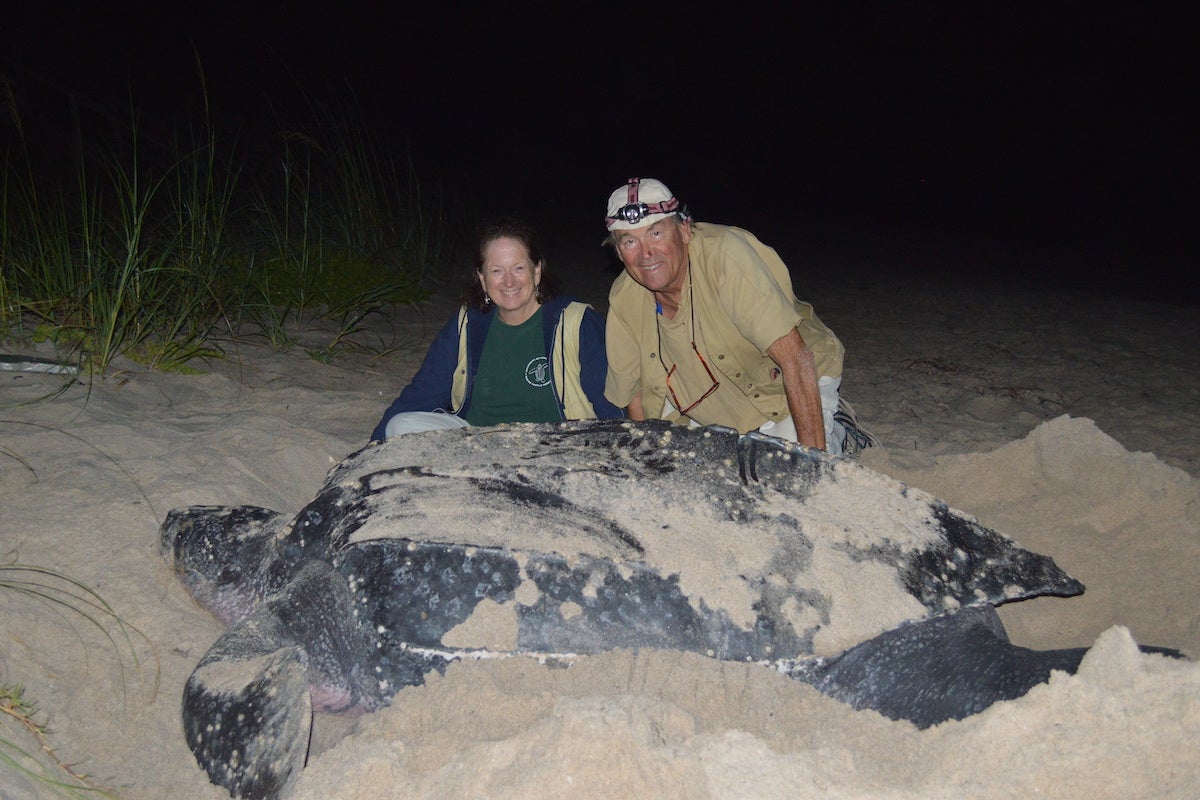 Walters was not only a fellow biologist, but a close neighbor in Oviedo, Florida, who kept Ehrhart company when the pandemic forced everyone into social distancing. Walters notes that being a biologist was not just Ehrhart's credentials, but part of his character. Years after he hung up his lab coat Ehrhart would cycle around his neighborhood for hours and study the wildlife. That night around the backyard fire ring he would report back on the otter and shore bird activity for the day, Walters recalls.
At the same time, Ehrhart was one of the few people, Walters says, who would be genuinely interested in hearing her stories about bobcats, turkeys and all sorts of other animals visiting restored oyster reefs.
"People uniformly loved Llew," Walters says. "He was a gentleman and a scholar."
Pegasus Professor Graham Worthy shares a marine biology background with Ehrhart, but he didn't have much one-on-one time with him. What he does know without a doubt is that Ehrhart "set the foundation for sea turtle research on a global scale."
Most faculty with full-time labs establish a lineage of successful students; cocktail discussions at conferences revolve around who studied under whom. From that perspective, Ehrhart is an academic grandfather several times over for an impressive list of graduates who hold high-ranking positions on the national and state level. Perhaps more importantly, many of those graduates have developed their own sea turtle conservation initiatives.
"We talk about family trees in science, and in that context Llew was the seedling that started this whole thing," Worthy says. "It's grown into a very large and encompassing tree, and all these students that came through in the early years can trace their roots back to Llew."