For many people suffering from depression, chronic pain and addiction, common treatment options such as psychotherapy and medication don't work, according to scientific and public health reports.
That's why researchers are exploring alternative methods, such as neural stimulation, in which tiny electrical pulses are sent to a specific brain region to alleviate symptoms of neurological and neuropsychiatric disorders.
In a new study appearing in Nature Biomedical Engineering, researchers showed they can predict the effect of these stimulations across multiple brain regions, thus paving the way for personalized treatments.
Electrical neural stimulation, also known as deep brain stimulation, is an established treatment method that uses electrodes implanted in the brain to send therapeutic, electrical impulses that affect brain activity. It is a commonly performed surgical treatment for Parkinson's disease and has been researched as a treatment for depression, chronic pain and addiction.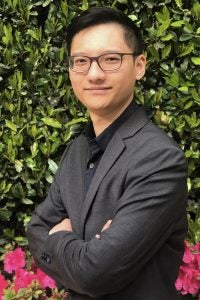 However, the understanding of how multi-regional brain activity responds to electrical stimulation has been limited, says the study's lead author, Yuxiao Yang, an assistant professor in UCF's Department of Electrical and Computer Engineering and a member of UCF's Disability, Aging and Technology faculty research cluster.
The researchers worked to overcome this limitation by designing a new electrical stimulation wave that maps brain activity. They also created machine-learning techniques that can track the effects of the stimulations on the pattern of brain activity.
The study is the first to predict multi-regional brain response to ongoing electrical stimulation and will help illuminate ways to improve and understand the effects of neural-stimulation treatments, Yang says.
"Our data-driven approach was able to resolve two standing challenges: first, predicting brain response to ongoing electrical stimulation, and second, doing so for brain activity collected from multiple brain regions," the researcher says.
"Bringing the two features together has implication of developing personalized treatments that automatically adjust the electrical stimulation by the right amount through monitoring the real-time multi-regional brain response," he says.
The next steps for the researchers will be to further validate their findings.
Study co-authors were Maryam M. Shanechi and Omid G. Sani with the University of Southern California, and Bijan Pesaran, Shaoyu Qiao, J. Isaac Sedillo and Breonna Ferrentino with New York University.
Yang received his doctorate in electrical engineering from the University of Southern California and joined UCF's Department of Electrical and Computer Engineering, part of UCF's College of Engineering and Computer Science, in 2020. He also directs the NeuroControl Lab at UCF.