During the Plains Wars of the mid-1800s, thousands of indigenous peoples were forced from their homelands. Dozens of their leaders and warriors were imprisoned over a thousand miles away from home in Fort Marion (now known as the Castillo de San Marcos) in St. Augustine, Florida. Today, UCF researchers are collaborating with the Cheyenne and Arapaho tribes of Oklahoma, the National Park Service, the Florida National Guard and Flagler College to help restore the lost prisoners' experiences for their descendants and the public.
Amy Larner Giroux, associate director of the Center for Humanities and Digital Research (CHDR) in the College of Arts and Humanities, has been researching burial sites in St. Augustine National Cemetery through her work with the National Cemetery Administration. She came across two separate graves, each containing a group burial of six warriors marked with a headstone inscribed "Six Unknown Indians."
"As a historian who works in cemeteries, it bothers me when a headstone has incomplete or unknown information about the person buried there. They deserve to have their names restored," Giroux says. "They deserve to be recognized for who they were. And you can't get that from a headstone that says 'Six Unknown Indians'."
After five years of digging through U.S. Army records and correspondence dating back more than a century, Giroux discovered the names of 10 chiefs and warriors from the Cheyenne, Kiowa and Comanche tribes who were imprisoned and died in Fort Marion between 1875 and 1878.
The names of the recovered individuals are:
Chief Grey Beard (Cheyenne), who is buried in Piney Grove Cemetery in Baldwin, Florida
Chief Co-a-bo-te-ta, or Sun (Kiowa)
Chief Lean Bear (Cheyenne)
Chief Mah-mante (Kiowa)
Ih-pa-yah (Kiowa Warrior)
Big Moccasin (Cheyenne Warrior)
Starving Wolf (Cheyenne Warrior)
Spotted Elk (Cheyenne Warrior)
Nad-a-with-t (Comanche Warrior)
Chief Mo-e-yau-hay-ist, or Heap of Birds/Magpie Feathers (Cheyenne)
Based on Giroux's research, the National Cemetery Administration plans to replace the "Six Unknown Indians" grave markers with headstones that list the names of the fallen warriors, their death dates and their tribal affiliations.
During the Plains Wars, Fort Marion was used as a prison for prominent warriors and chiefs in hopes of demoralizing their tribes into surrendering to the U.S. Army. Prisoners were forced to suppress their native culture and become a military company in order to assimilate into white culture — drilling and performing guard duty for themselves. Capt. Richard Henry Pratt instituted and enforced the policies of forced assimilation that started in St. Augustine, and continued through boarding schools like the Carlisle Indian Industrial School, which Pratt founded in 1879.
"It's important to me to make people understand that all these prisoners had families, it wasn't just that they died here — their families lost them here," says Giroux. "I'm hoping that the information I've found can help give the descendants of the prisoners some understanding and closure about what happened to their kin when they were here in Florida."
"Watching Norene interact with her ancestor's face on a touch screen and study the family resemblance was powerful. That was one of the defining moments of all the work I have done." — Amy Larner Giroux, UCF faculty
The National Park Service put Giroux into contact with Norene Starr, outreach coordinator for the Cheyenne and Arapaho tribes' executive branch and a direct descendant of Chief Heap of Birds and Big Moccasin.
Part of Giroux's research resulted in a 3D digital model of the 1877 bust created from Cheyenne Chief Heap of Birds, the great-great-great grandfather of Starr. The bust was created from a life mask of Heap of Birds' face created only three months before his death.
As Giroux connected with the National Park Service and the Cheyenne and Arapaho tribes, several events were conducted in November (which is Native American Heritage Month and National Veterans and Military Families Month) to memorialize the fallen warriors and educate the public. Alison Simpson, command historian of the Florida National Guard, Denny Medicine Bird, Veterans Affairs coordinator and Giroux acted as liaisons to the National Cemetery Administration on events in the cemetery to honor the prisoners' military service. Through these events, Giroux met more descendants of the prisoners she researched from the Cheyenne and Arapaho tribes.
"I've been working in cemeteries for most of my career," Giroux says. "But this is the first time, other than my own family work, that I've impacted living people. And that emotional impact has been extremely rewarding."
The first of the memorial events was held on the evening of Nov. 15, 2022 in Piney Grove Cemetery in Baldwin, Florida, to honor Cheyenne Chief Grey Beard. In 1877, Chief Grey Beard jumped out of the window of the train bringing prisoners to St. Augustine. "Freedom was more important than living," Giroux says. The guards were told to recapture him, but he was shot instead.
For Chief Grey Beard's memorial ceremony, Giroux met with Marcy Galbreath, retired associate lecturer in the Department of Writing and Rhetoric (DWR), and Cheyenne and Arapaho tribal members at the cemetery. The tribal members sang for Chief Grey Beard to assist him on his journey to the next life. Giroux and Galbreath were honored to be included in the ceremony.
The next morning, Gordon Yellowman, Peace Chief of the Cheyenne and Arapaho tribes, spoke with National Park Service rangers about how they could better educate the public about the experiences of the prisoners at Fort Marion. The exhibit on the imprisonments of 1875 through 1878 is changing based on tribal input to include stories told from a native perspective.Previously, exhibits were mainly told from the perspective of the U.S. Army.
"Future visitors to the fort will be able to see both sides of the story," Giroux says.
Throughout Nov. 16-17, 2022 Flagler College presented a series of events entitled, "Hi Vi Mitz Mak a be o ta, Honoring the Historic Footprint of the Cheyenne and Arapaho Warriors at Fort Marion, 1875–1878." During the events, Giroux gave a presentation, "So Many Miles Towards the Rising Sun: Cheyenne, Kiowa and Comanche Burials in Florida 1875–1877," in which she spoke of the 10 men who died in Florida.
Throughout early November 2022, flags flew over the Castillo de San Marcos to represent each of the families of tribal members who died there. On the afternoon of Nov. 17, 2022 a final ceremony was held in the courtyard of the fort to honor them. A riderless horse was brought in wearing the moccasins of Helen Heap of Birds, granddaughter of Chief Heap of Birds. Then, a National Park Service ranger performed a roll call, naming each of the Cheyenne who died during their imprisonment and whose names were discovered. The ceremony concluded with a three-cannon salute.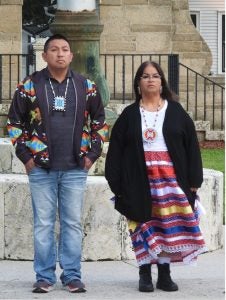 "He called the name of Chief Grey Beard — silence. And then he went through each of the names of the dead to the end of the roll call. It was very emotional," Giroux says. "People need to know what happened at Fort Marion and understand why it happened. I hope sharing these stories make people less likely to forget what happened there."
The events ended with a keynote presentation given by Dorothy Firecloud, the National Park Service Native American Affairs liaison. At the end of the reception, Giroux and others were honored by being wrapped in a Cheyenne blanket.
The findings of the UCF and Flagler College research teams have left a lasting impact on families and future visitors to the fort, but their work is far from over. Giroux, Galbreath and UCF collaborators Mike Shier, research specialist in CHDR, and Jeremy Carnes, postdoctoral scholar in DWR, are continuing their work with Starr and Yellowman. They continue to search for the names behind the unmarked headstones in St. Augustine National Cemetery, hopefully bringing more indigenous stories to light. Max Bear, director of the Historic Preservation Office of the Cheyenne and Arapaho tribes, has invited Giroux to Oklahoma to speak with the tribe about her research and the experiences of their ancestors.
History is never static or set in stone. The story of America's past is continuously unfolding; it carries a heavy impact on contemporary life. New research allows us to challenge the ways we have come to understand the world around us. As once-buried stories are unearthed, the dissemination of new perspectives brings the public closer to the truth, and families closer to peace.