Associate Professor Alla Kourova was a fifth grader in Moscow when she heard a song that sparked her love for languages ­– Yesterday by the Beatles.
"From then I wanted to learn English so I could learn to sing it and play on the piano," says Kourova, who grew up in Russia, Bulgaria, Czechoslovakia, Germany and Hungary.
Now a speaker of five languages — English, French, German, Russian and Ukrainian — Kourova has been an associate professor of Teaching English Speakers of Other Languages (TESOL) at UCF for 13 years. She also has been teaching Russian for the past decade.
"I really love teaching and my students. Teaching is in my blood since my mom was a home economics teacher," says Kourova, who received an Excellence in Teaching Award from the Central Association of Russian Teachers of America.
As International Education Week takes place Nov. 16 to 20, she reflects on her passion and profession for the past 30 years. While the general focus of Kourova's courses is language, she incorporates culture into her lesson plans because she knows it is essential for retention of the language.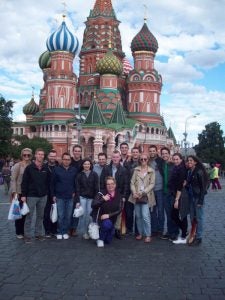 Like many other teachers this year, she has had to adapt her instruction plan due to the pandemic. While she wasn't able to host her typical summer trip with UCF Abroad students to Moscow and St. Petersburg, Russia, she has been working to develop a virtual version of the experience, during which students usually spend mornings learning Russian and afternoons visiting local sites such as Red Square and the emperors' Winter Palace in St. Petersburg.
But for the past ten years, Kourova has included digital component in her intermediate courses — long before Zoom became a norm for teaching. Through a connecting classrooms project, these students email and video chat once a month with students in Russia while discussing a given topic, such as their backgrounds or schools. Kourova says interacting with their peers allows her students to learn Russian language and culture better and develop friendships that last long after they've earned their degrees. And since the pandemic she has been working with UCF's Center for Distributed Learning to redesign and expand the project to include cultural games, interviews and more engaging practices through Zoom.
"[My American students] can see that Russian students are the same. They have the same ambitions in life and interests. People are people everywhere," Kourova says.
At 10 a.m. on Nov. 20, Kourova open up a connecting classrooms video chatting session about the differences between American and Russian education systems to the public via Zoom. The event is part of UCF's Global week-long programming, which will also include a virtual discussion on Nov. 18 with Don Gentile, Workforce Shaping Group chief, on the importance of Russian and four other critical languages in the U.S. intelligence workforce.
Kourova will be demonstrating how to make a Russian dish and dessert during a Zoom cooking show, which she has begun hosting this year for the Russian American Student Association, on Nov. 20 at 3:30 p.m. The student organization is mainly made up of American students who want to learn more about Russia, but also includes international students native to the county. As faculty advisor Kourova, helps members with language-based questions, applying for scholarship and fellowship opportunities, and consults on engagement opportunities.
"Dr. K is nice, kind and understanding," says Alesia Lokshina, the former RASA president and Russia native and biomedical sciences major. "She cares about all her students and members in the organization. She is strict, but it's because she really cares. She tries to make people do better, so she asks a lot of them."
On Monday, Nov.6, Kouvora and RASA will also host a presentation on Russian culture and history through a virtual tour of the country's embassy. The Zoom event takes place at 5 p.m. and will include guest speaker Natalia Rydvanov from the Cultural Office of the Embassy of the Russian Federation in Washington D.C.
Kourova, who studied at Moscow State University and was a Fulbright Scholar at the University of Montana, understands first-hand the high demands and struggles students may face with studying languages and cultures. While at UM, she learned new research methods that used computer data and published a book on the difference between Russian and American education systems. She also visited UCF for a language conference.
"Since that time it was my dream to live in Florida and teach at UCF because I was impressed by the university, the students and professors I met," Kourova says. "I think I'm really blessed to have a really great group of people working with me."
Learn more about how UCF Global is celebrating International Education Week.