The Celeste Hotel, a new 179-room inn and conference center, is taking shape on UCF property near the campus' main entrance, gearing for an early 2020 opening.
The five-story boutique hotel will cater to an upscale clientele as part of the Marriott brand at the northeast corner of University Boulevard and Alafaya Trail.
Featuring more than 10,000 square feet of conference and event space with a private dining room, the full-service hotel also will have a lobby bar, restaurant, take-away pantry and room service. There will be more than 6,000 square feet of lawn for events adjacent to the restaurant and outdoor pool.
The project is a joint venture between DEVEN Group, Demetree Global and Pinnacle Hotel Management. The developer is paying all of the costs associated with building and operating the hotel, and UCF will receive a guaranteed base rent, plus a portion of room revenues.
"We look forward to the opportunity to open a truly first-class hotel and convention center in the market." – Ron Franklin, president of Pinnacle
"We have enjoyed over 20 years in the UCF market since opening our first hotel, the Courtyard by Marriott in Collegiate Village," says Ron Franklin, president of Pinnacle. The Courtyard is on Collegiate Way, about a half mile west of the university's main entrance. "We look forward to the opportunity to open a truly first-class hotel and convention center in the market."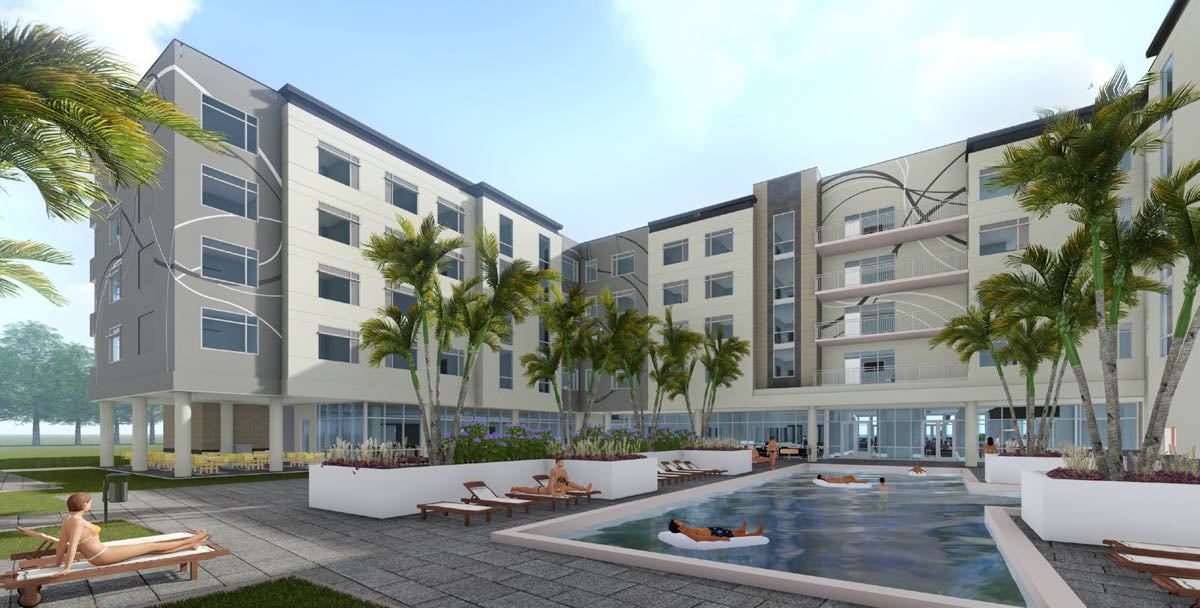 Pinnacle has developed or purchased more than 40 hotels and currently has a portfolio of 30 hotels, including eight in Central Florida. Others near UCF are a Residence Inn on University Boulevard and a TownePlace Suites in the Quadrangle office park.
DEVEN has worked on previous projects on the UCF campus. The company was the developer of Knights Plaza, the CFE Arena and the Towers at Knights Plaza between 2004 and 2008. Some of DEVEN's other Central Florida projects include serving as the development manager of the Waldorf-Astoria and Hilton Hotels at the Bonnet Creek Resort in Lake Buena Vista.
Demetree, which has been in the development industry for 65 years, has invested in land, retail, restaurants, hotels and student housing ventures in the UCF area.
The partners say the UCF campus is ripe for a hotel now.
"UCF has been on our radar," says Al Baerenklau of Pinnacle. "We had the vision of the growth that was going to take place. What's missing in the market is the hotel that caters to the higher tier than the other hotels out there right now."
Baerenklau said the Celeste Hotel likely will start booking reservations at the end of the third quarter of 2019 for the first quarter of 2020.
The pricing structure and any possible discounts haven't been determined yet for the hotel, but a Pinnacle spokeswoman says UCF discounts have long been offered for the company's other hotels in the area.