Ten of UCF's Burnett Honors College students got the experience of a lifetime this summer when they traveled to South Africa on a three-week service-learning project that tested their ingenuity and problem-solving skills.
The honors college started the South Africa initiative in 2013, and each year since, faculty and students have returned to the area to volunteer their time and talent to work on sustainable solutions, such as installing a wind turbine. Students learn how to effectively work in small teams and adapt to the needs of a community markedly different from ones they may be familiar with — skills that will serve them well after graduation.
"Our goal is for them to grow as individuals and get a different outlook on life," says Michael Callahan '05 '09MBA '17EdD, trip coordinator and director of information services at the college. "Some of the things we stress and worry about here are because we live in this society and we have certain expectations. You go over there and see what true poverty is, and that they have a very different set of concerns."
The experience started off in the Pomolong/Intabazwe township in Harrismith, surrounded by flat-topped hills and grassy plains. There, the Rev. Ephraim Mbhele and his wife and staff run the Nkosinathi Community Center, which provides care, housing and education for orphaned children. UCF students took on a variety of tasks such as repairing a broken solar panel, running a clothing drive and building a swing set and fence for a new school.
Marissa McNeil, a rising sophomore and forensic science major, led the team that built a shower for the children. Originally, they had wanted to tap into water from the local government but learned that access to that supply was often unreliable, so they improvised. Using a five-gallon bag, screws, rubber hoses and a tent, they constructed a modified camping shower that used sunlight to keep the water warm.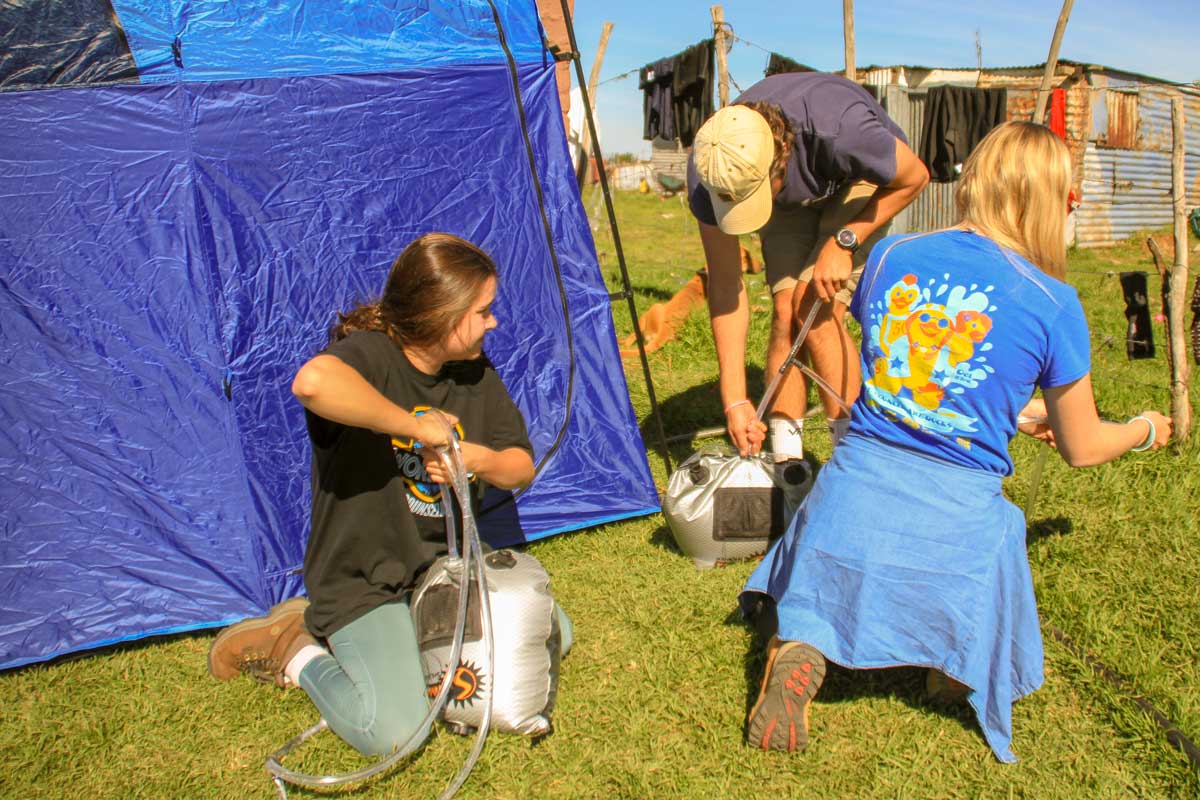 "The obstacles that we encountered putting the shower together are going to be really good for me in terms of knowing how to adapt projects to circumstances and knowing that things might not always turn out the way you imagine," McNeil says.
Students also went to the Nambiti Big 5 Private Game Reserve in KwaZulu-Natal near the town of Ladysmith, where they set up tracking mechanisms to monitor the migration patterns of leopards, cheetahs and elephants; helped a veterinarian dehorn a rhino to protect it from poachers; and learned about local Zulu customs.
"I started writing things down throughout the day," says Abby Reynolds, a rising sophomore and political science major. "I learned so much, both about animals and about the culture."
The experience of doing service work in a foreign country was "soul-enriching," McNeil says. "For a lot of us on the trip, it was our first time out of the country, and so it was a really big culture shock. But I think it's really important for people to be able to experience those things so that they can go back [home] and improve how they see the world."
Students returned home at the end of May, and some have already been talking about returning to South Africa after they graduate to continue their cultural education.
"Getting to know people, building bonds and friendships with the people in the community and seeing what they need and what their everyday life is like — just understanding people that live completely different lives than us was really beneficial," Reynolds says.
Abbie Warzeka, a rising senior and biomedical sciences major, says her eyes were opened by the trip as well. Her team oversaw the donation of medical supplies to a teaching hospital, assisted nurses in providing care and helped to lead seminars on women's hygiene and safe sexual practices. She plans to apply for medical school after graduation and said participating in this experience has reinvigorated her interest in participating with Doctors Without Borders, educating people in different countries about their health.
"It was the best experience of my life," says Warzeka. "It changed my perspective on everything."