Eight UCF business and computer science undergraduate students put their heads together to take first place at the second annual Hispanic Serving Institution (HSI) Battle of the Brains Competition, beating out 10 other universities and earning a $25,000 prize this past weekend in Austin, Texas.
The HSI Battle of the Brains, sponsored by KPMG, is a week-long event that focuses on networking and matching students at HSIs to opportunities in the industry. The event features a 24-hour hackathon/business plan competition with finalists presenting their solution to a panel of industry leaders like KPMG, Amazon, Home Depot, Dell and more.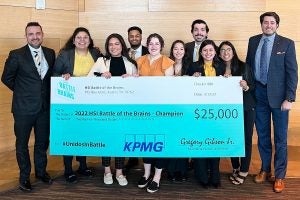 Students also participated in a HBCU (Historically Black Colleges and Universities) & HSI College Fair that was hosted for the local community. The competitors' involvement provided an opportunity for them to share insight with prospective students and promote a culture of unity across Minority Serving Institutions.
"Experiences like this exemplify what it truly means to be a Hispanic Serving Institution," says Cyndia Morales Muñiz '13EdD, director of HSI Culture and Partnerships at UCF. "We are proud we were able to provide our students with this opportunity to grow and shine."
Student teams from 11 colleges and universities competed for cash prizes and scholarships in a variety of cross-discipline categories. In 2020, UCF students won the Best Business Solution and a $5,000 scholarship from Dell in the inaugural competition, which was held virtually.
This year, UCF's team was coached by Carlos Valdez, a lecturer in the Department of Integrated Business, and Johnathan Mell, an assistant professor in the Department of Computer Science. Representing the Knights were College of Business students Kenneth Colón, Sheila Corro, Daniela Del Carpio and Julio Lazala, and College of Engineering and Computer Science students Natalia Colmenares, Hannah Moss, Jazmine Manriquez, and Julia Silva. "The link between technology and business is well-represented at UCF," Mell says. "I am happy that our students have been able to interact across disciplines."
The UCF team had 24 hours to respond to the question: What can KPMG and its employees/partners do to reduce their carbon footprint when engaging in in-city and metropolitan business travel?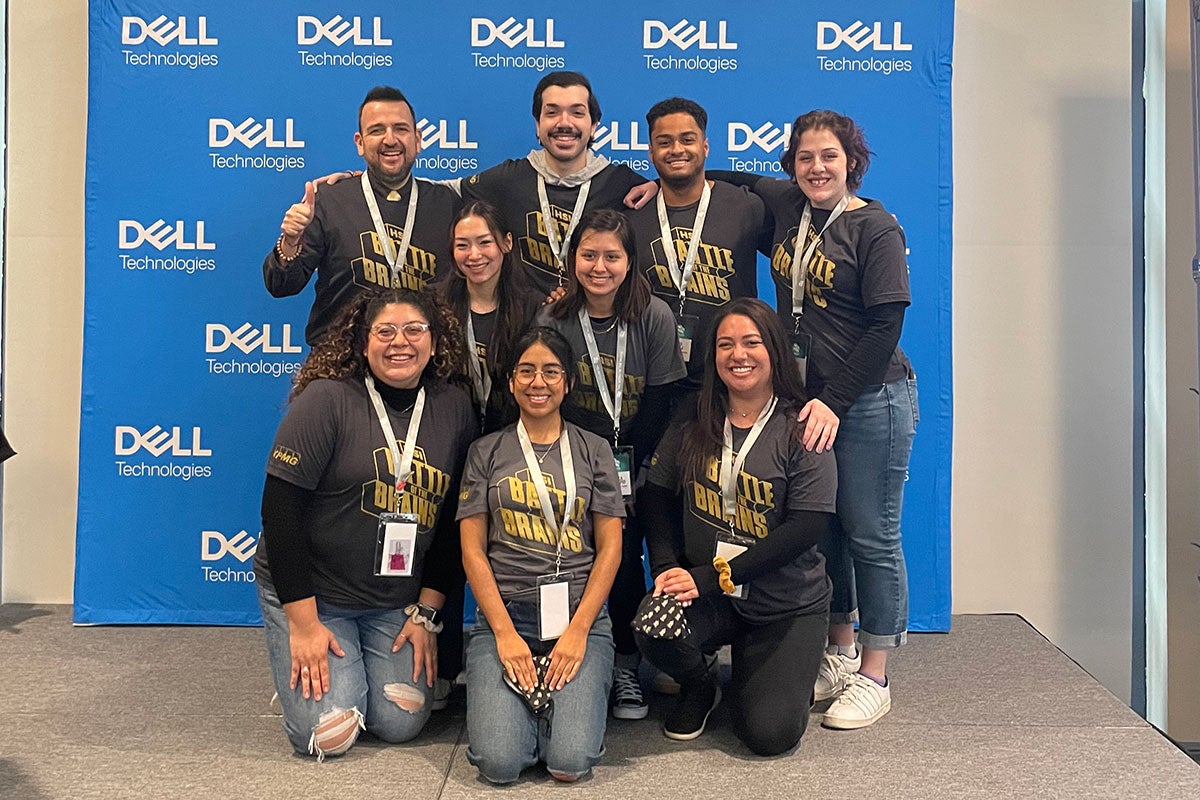 They came up with the idea to create an app called Mariposa — "butterfly" in Spanish — that would allow autonomous shuttles to transport KPMG employees from their work locations to meet with clients. The shuttles would feature soundproof booths and Wi-Fi so employees could work while enroute to their meetings, thus reducing the need for employees to drive their own vehicles and reducing carbon emissions.
"The creation of Mariposa would allow KPMG employees to book shuttles according to their Outlook calendar meeting times," says Daniela del Carpio, a senior studying integrated business. "As an incentive, they would have a carbon allowance to use and redeem rewards for taking the shuttle instead of their personal cars. These rewards could include gift cards, promotional items from sponsors, etc."
UCF's involvement with the competition — and win — signify the university's commitment to engaging Hispanic/Latino/a/x students in activities that provide a platform for their success while celebrating their identities. The Knights say they appreciated the opportunity to compete and represent UCF while meeting other Hispanic/Latino/a/x students.
"HSI Battle of the Brains provided me with several opportunities to meet professionals in the industry and participants from competing schools," says Natalia Colmenares, a computer science major who also won a Dell Success Scholarship at the competition. "Being able to connect with many Hispanics like myself was truly an amazing experience. Ultimately, the events and the people attending made me feel special and celebrated in the tech industry."
The U.S. Department of Education designated UCF as a Hispanic-Serving Institution in January 2019, putting it in the company of 568 other U.S. institutions with more than 25% Hispanic students enrolled as undergraduate full-time students. In Fall 2021, more than 17,600 Hispanic undergraduate students were enrolled at UCF, accounting for over 29% of the undergraduate student body.
Last year, UCF was one of 10 institutions awarded the Seal of Excelencia by Excelencia in Education, the nation's premier authority on efforts accelerating Latino student success in higher education. UCF was also recently tapped to participate in a national training program that strengthens the capacity for data-based research among HBCUs and HSIs. In 2021, Hispanic Outlook magazine ranked UCF among the top schools for awarding bachelor's and master's degrees to Hispanic students, as well as across several disciplines and for overall enrollment.