One Saturday morning at UCF, a shy, young girl began to learn the basics of judo practice — the proper stance, movements, how to hold opponents and how to safely fall to the mat.
Autism spectrum disorder affects about one in 36 children nationally, according to the Centers for Disease Control and Prevention
She was starting the 15-week UCF Judo Program, run by Associate Professor Jeanette Garcia of the College of Health Professions and Sciences. The program isn't an ordinary judo lesson; it is specifically for children and adolescents with autism spectrum disorder (ASD) and their families. Garcia and her team of 20 undergraduate health sciences students research how movement interventions like judo can help improve physical activity, sleep quality, social skills, self-confidence and academic performance in kids with ASD, which affects about one in 36 children nationally, according to a new report released from the Centers for Disease Control and Prevention (CDC) just ahead of Autism Awareness Month, which occurs in April.
According to the CDC, autism is a developmental disorder that can result in a variety of symptoms, such as challenges with social communication and interaction skills, leading to impaired speech and language development. Some with ASD also may have sensory issues. For this young girl, judo brought her out of her shell.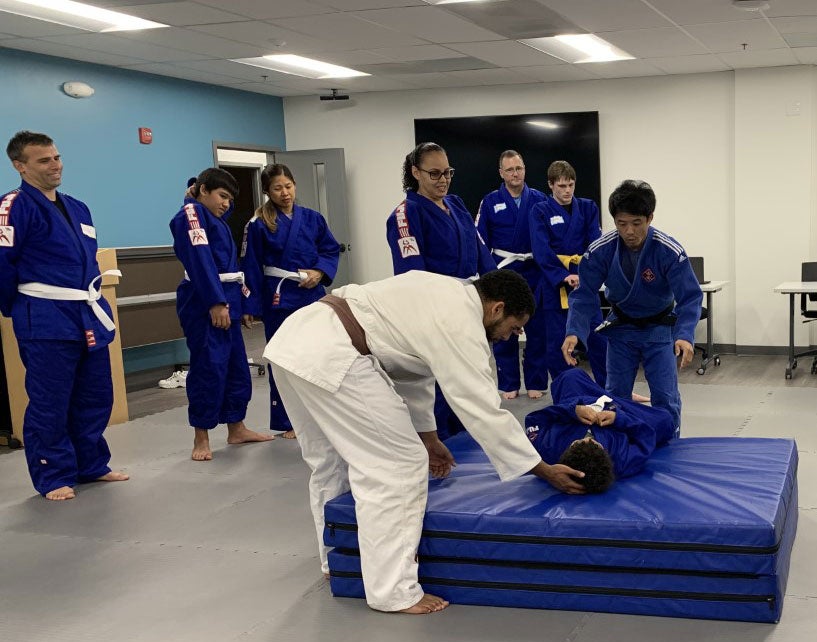 "Even after the program, she continued to take lessons and earned a yellow belt. She ended up coming back to present with me at a conference about the benefits of judo," Garcia says. "She had no issues demonstrating judo at the conference, and even went on to take the lead in her school play."
Garcia's research is showing that kids with ASD enjoy structured formats, like judo and martial arts. Structure can help ease social anxiety, which often affects this population.
"Prior research [on interventions for kids with ASD] didn't examine whether kids enjoyed the program," Garcia says. "That's important to me because if they like it, it'll be sustainable."
The research is looking at benefits to parents of children with ASD, too, including changes in their sleep quality and stress levels, says Garcia. Family members often participate with their kids in the judo lessons.
The UCF Judo Program is in its fourth semester thanks to grant funding and continuous interest from the community. It is just one of many ways the university supports the ASD community through resources and research.
Thanks to state legislative funding, individuals with ASD, their families and educators in the seven Central Florida counties surrounding UCF have access to a vast array of resources. Beginning in 1999, the UCF Center for Autism and Related Disabilities (CARD), located in Central Florida Research Park, hosts family education seminars, assists parents in the educational planning of their child, offers communication-development programs for toddlers and preschoolers, trains teachers in best practices to educate ASD students and much more.
"We serve the entire lifespan from the time a person is diagnosed with ASD," says Teresa Daly, director of CARD.
More than 20,200 families are registered with CARD, which brings its services to the community in schools, scout troop meetings, daycares, community agencies and others.
More than 20,200 families are registered with CARD, which brings its services to the community in schools, scout troop meetings, daycares, community agencies and others.
"CARD is not a place where you bring people for services," Daly says. "We go out into the community to provide our services in the natural environment each case calls for."
Routinely, CARD develops new programs to serve the ASD community in all stages of life. Programs help young children with reading, math, behavior and social skills; teens with learning how to drive; and adults with living independently, attending college, and even in meeting others in the local ASD community with game nights and dinner outings.
Daly says CARD is expanding its capabilities to serve the growing Hispanic population in Central Florida, with four bilingual clinicians already on staff.
An additional perk families receive from CARD is they are first in line to participate in numerous research programs at the university that call for participation from those with ASD. Daly stays in close contact with UCF researchers from the College of Health Professions and Sciences, the College of Community Innovation and Education, and the College of Medicine to help them recruit participants for their studies. Garcia's judo program is one of them.
Another study is Camp iREAD, a summer program for kids with ASD who have a reading skill level from pre-kindergarten to third grade. Led by Carrie Loughran '99 '08MA, an instructor in and graduate from the communication sciences and disorders program, and Nancy McIntyre, assistant professor of communication sciences and disorders, Camp iREAD examines how hands-on, interactive activities while reading improves comprehension.
"We're hoping our program shows that when you make content from a book real and something you can physically engage with, it becomes meaningful and you can better comprehend the concepts you're reading," Loughran says.
In just its second iteration, Camp iREAD will take place this summer along with an additional pilot program that can bring Camp iREAD to the next level. Using the College of Health Professions and Science's new Blended Learning Interactive Simulation Suite (BLISS), a mixed reality space with 270-degree, floor-to-ceiling touchscreen walls, children will be immersed in virtual books, allowing them to interact with the words, characters and pictures, and giving them new means to engage with and comprehend what they are reading.
Loughran and McIntyre will study how immersive technology, such as what's at BLISS, improves reading comprehension in children with ASD, and graduate students' readiness to educate this population of students.
Similarly, McIntyre is analyzing data to understand how a bout of physical activity may enhance reading comprehension in children with ASD. Thanks to an internal grant, Garcia and McIntyre observed that 45 minutes of judo prior to reading may improve focus and attention during the reading lesson. They are in early stages of analyzing their results, and if found to be successful, they intend to seek a larger grant to continue studying the connection between physical activity and reading in ASD children, says Garcia.
Physical activity and learning are strongly linked in the ASD community, researchers are finding, and the Early Communication and Play (ECAP) Lab and UCF Go Baby Go! are expanding that understanding, too.
Popular toys and even books for children often are designed for neurotypical, able-bodied kids, leaving out those with different abilities. Thanks to the ECAP Lab and Go Baby Go! kids of all abilities have a chance to play and, as a result, learn.
Go Baby Go! for instance modifies ride-on toy cars for toddlers, giving those with limited mobility new means to play and interact with their environment, which often results in more communication and expression. This and other adaptive toys offered through these research programs help kids, including those with autism, learn through play and engage with their communities.
Participating families say opportunities like this are difficult to come by.
"It can be particularly challenging for our families because their children not only have autism, but oftentimes other complex medical conditions," says Clinical Associate Professor of Physical Therapy Jennifer Tucker, the director of Go Baby Go!
Approximately 40% of the children the Early Communication and Play Lab and UCF Go Baby Go! serve are diagnosed with autism.
Approximately 40% of the children the ECAP Lab and Go Baby Go! serve are diagnosed with ASD. Together, they are studying how their interventions improve communication, mobility and participation. They accept new participants on an ongoing basis.
The work doesn't stop there. The Florida Alliance for Assistive Services and Technology (FAAST) Center at UCF connects Floridians with disabilities, including those with autism, with assistive technologies and related services to increase their independence. The Center pairs children and adults with the right devices, like specially designed communication apps, cognitive aides and adapted computer equipment, and helps families and service-providers learn how to support their use by individuals with disabilities in everyday environments.
At the College of Medicine, researchers are studying ASD on a molecular level, Daly says, and the Toni Jennings Exceptional Education Institute in the College of Community Innovation and Education spearheads initiatives to prepare and retain teachers to serve students with special needs.
"Receiving an ASD diagnosis can be overwhelming," Daly says. "We are here to help families get the resources and care they need at a time when we know their minds may be in a million different directions."