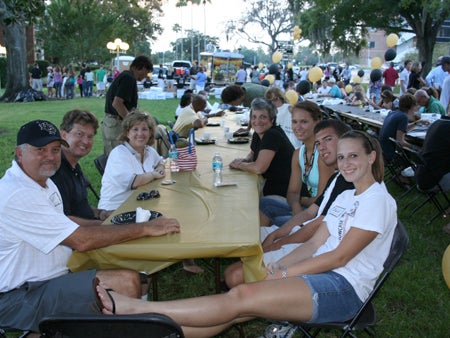 UCF was proud to host Family Weekend from September 10 through the 12. As a new initiative, Family Weekend showcased Friday Knight Welcome, an opportunity for students and their families to gather together at the Reflecting Pond for a casual dinner.
Knightro made a guest appearance to welcome students and their families. He brought UCF spirit to the event and a photo opportunity of remembrance to all in attendance.
Family Weekend also saw the return of the College Open House program with many colleges provided special programs for parents that showcased academic and extracurricular aspects of their college to provide insight into their areas of study.
Throughout the weekend, many student organizations provided activities. Students and their parents were able to bond while enjoying all of what UCF has to offer. The UCF Alumni Association and the Annual Fund collaborated to entertain over 1,000 guests at Memory Mall during tailgating activities prior to the UCF Football game against North Carolina State.
Overall, Family Weekend was a great success and the UCF departments and colleges look forward to continue to provide students and families great opportunities to get connected to UCF.
First Year Experience in the Division of Student Development and Enrollment Services organized the event.